We knew that the excitement about the return of the iconic Ford Bronco was palpable. We knew that would spur not only consumer enthusiasm, but likely launch a healthy and vibrant aftermarket industry. That is proving to be true as one of the largest retailer of 4x4 and off-road products globally just launched a Bronco-exclusive portal.
4 Wheel Parts announced a new affiliation with Ford Bronco as the go-to retail destination for new Ford Bronco off-road aftermarket accessories, with availability in all 95 of their brick and mortar locations starting Summer 2021 and also the Bronco HQ online portal.
This new collection will aim to support Bronco owners and provide them with a variety of off-road and aftermarket accessories to create their own custom builds. Aftermarket accessories exclusively available at 4 Wheel Parts locations include rock sliders, bumpers, heavy-duty off-road suspension, rear tire relocation, side steps and an overhead tent by Smittybilt.
See the video of 4 Wheel Parts Bronco build below.
"We are extremely excited to rollout the new 4WP Bronco Headquarters, highlighting the all-new Ford Bronco," says Joey DiGiovanni, Director of Marketing at 4WP. "We've worked hard to prepare an online portal and campaign to engage with our customers and Bronco enthusiasts. The new 4WP Bronco HQ page at 4WP.com is full of content that consists of video, photo, editorial and user generated content that is both informative and will provide inspiration to those looking to transform their own Ford Bronco."
Related story: The Ford Bronco is (finally) in production.
Popular Ford Bronco Accessories
I asked Kathryn Reinhardt, Director of Retail Marketing for 4 Wheel Parts what some of the popular accessories will likely be along with some other questions related to the two-door and four-door Bronc, which is in production now.
Reinhardt said several areas will be incredibly popular when it comes to Bronco accessories. "The wheel, tire and suspension items will most likely be the first aftermarket products a consumer purchases. We also think bumpers, trail accessories and spare tire relocations will be on the top of the list to get Bronco's ready for the dirt," she said.
The painted modular hard top has led to some production order delays. This has been well documented. But I was curious if that would lead to customers turning to the aftermarket suppliers like 4 Wheel Parts to find alternatives. Reinhardt's answer was intriguing, but also unclear.
"The MIC tops from Ford were delayed due to Covid, but the aftermarket is eager to get their hands on the Bronco to create some top options that extend beyond the hardtop. Keep an eye out for some innovative options coming to the market soon," she said.
Will The Bronco Aftermarket Resemble the Jeep Aftermarket?
We know that, according to Ford, upwards of 70 percent of the orders for the new Bronco have come from outside of Ford. That means they've come from other brand loyalists, perhaps and certainly Jeep.
For years, Jeep has done well with the off-road segment and also helped create a healthy aftermarket in accessories. It's likely the Bronco will follow suit, and Reinhardt and 4 Wheel Parts hope that is the case.
"We are anticipating that the Bronco will be very similar to the Jeep in terms of aftermarket customization. A lot of the Bronco owners had full intentions of modifying their vehicle to fit the needs of their lifestyle." Reinhardt said.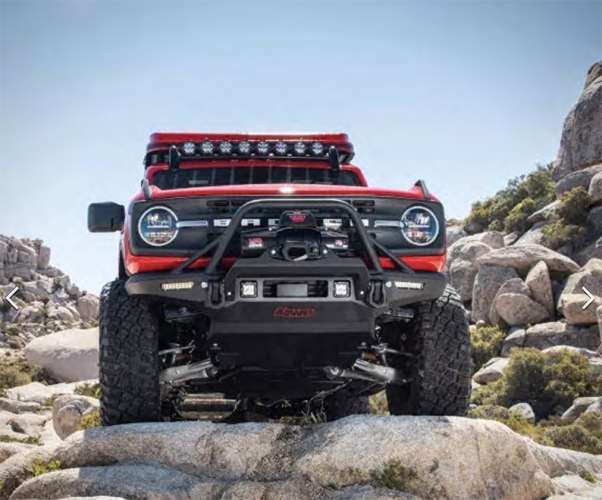 4 Wheels Parts Bronco
4 Wheels Parts (4WP) received a Bronco and built a tricked-out 4-door Black Diamond edition. The 4WP 4-door Black Diamond series SUV features a mix of 4 Wheel Parts Factory brand parts including a full width front bumper, with options for a skid plate and winch platform. Additional accessories include rock sliders, rear bumper and tire relocation bracket, fender deleted, plus a Smittybilt Hard Shell Roof Top Tent and camping gear, and refrigerator/air system. It rides on 37-inch BFGoodrich KM3 Mud Terrain tires mounted to 17-inch Method Race Wheels.
"The 4WP Bronco gave us a leg up in terms of engineering aftermarket products for the Bronco," Reinhardt said. "We are patiently waiting on the Broncos to be delivered to their new homes and 4 Wheel Parts is ready to outfit each and every one of them at our 95 stores nationwide."
More information is available on their website.
Related story: Ford partners with more aftermarket companies to expand options for Bronco.
What is the first accessory you will buy for your Bronco? Leave me your comment below.
Jimmy Dinsmore has been an automotive journalist for more than a decade and been a writer since the high school. His Driver's Side column features new car reviews and runs in several newspapers throughout the country. He is also co-author of the book "Mustang by Design" and "Ford Trucks: A Unique Look at the Technical History of America's Most Popular Truck". Also, Jimmy works in the social media marketing world for a Canadian automotive training aid manufacturing company. Follow Jimmy on Facebook, Twitter, at his special Ford F-150 coverage on Twitter and LinkedIn. You can read the most of Jimmy's stories by searching Torque News Ford for daily Ford vehicle report.