Stellantis called today's event its Jeep 4xe Day and is promising to unveil four all-electric vehicles in North America and Europe by 2025. Jeep is also promising to produce 4xe versions of all of its vehicles by 2025. A Wagoneer 4xe is planned for 2024. Chief Design Officer, Ralph Gilles described the new 2024 Jeep Recon EV as "Inspired by the Wrangler". Gilles says the new 2024 Jeep Wagoneer S EV stands for "Speed, Striking and Sexy".
The plan debuted as a video on Jeep's YouTube Channel. Jeep CEO Christian Meunier leads it off. You can watch the video here.
"Driven by the success of our electrified 4xe portfolio in North America and Europe, we are designing and developing the most capable and sustainable Jeep SUVs to date, on our path to becoming the leading zero-emission SUV brand in the world," said Christian Meunier, Jeep brand CEO. "This is a forward-thinking strategy to help ensure millions of Jeep fans around the world continue to have a planet to explore, embrace and protect. Electrification is great for our brand, making it even more capable, exciting, sustainable and fun."
The All-New 2024 Jeep Recon EV
One of the first all-new electric SUVs that will launch in North America is the 2024 Jeep Recon. It looks much like the extremely popular Jeep Wrangler and Ralph Gilles says it is a brother to the Wrangler. It brings the popular Wrangler attributes like removable doors and open-air roof to the all-electric market. The Recon SUV will be offered exclusively as a BEV.
Jeep Recon Features
True trail-rated capability with Jeep Selec-Terrain traction management system
E-locker axle technology, under-body protection, tow hooks and aggressive off-road tires
One-touch powertop, removable doors and glass 
The latest generation Uconnect system, including detailed travel guides of the most notable off-road trails
"The all-new, all-electric Jeep Recon has the capability to cross the mighty Rubicon Trail, one of the most challenging off-road trails in the U.S., and reach the end of the trail with enough range to drive back to town and recharge," said Meunier.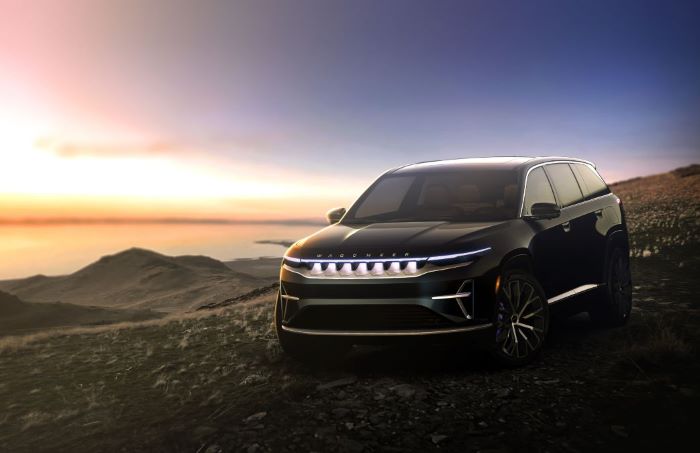 The All-New Midsize Jeep Wagoneer S EV
The Wagoneer family will expand with a new midsize version. Code-named Wagoneer S, this all-electric vehicle will be considered a premium 4x4 SUV. It will also be released only as a BEV. Designers are hoping that the Wagoneer S will be able to travel 400 miles on a single charge. Jeep is targeting it as 600 horsepower with a 0-60 time of 3.5 seconds.
"We'll delight our customers with a premium, highly efficient SUV that is loaded with technology and high quality craftmanship, offering 4x4 capability, high performance, rapid acceleration and a target range of 400 miles on a single charge," added Meunier.
Jeep says that both the Recon and the Wagoneer S will be global vehicles. They will be shown publicly next year. They will both be built in the U.S., but Jeep isn't saying where. Jeep will start taking reservations for both vehicles early next year.
Jeep is promising that 50% of sales in the U.S. and 100% of sales in Europe will be battery-electric vehicles by 2030.
Jeep also announced that a small BEV called the Avenger will only be sold in Europe. Originally, it was announced that the compact SUV vehicle would be Jeep's first BEV in North America, but the company changed the plan to sell the tiny SUV here in 2023. Now, the Avenger will debut at the Paris Motor Show on October 17. It will be sold in Europe, Japan and South Korea.
Jeep's New Motto as it Charges into the Future

"Today we shared only a glimpse of our new portfolio of all-electric SUVs, providing tangible evidence of what is to come in the next 24 months and why we say that 4xe is the new 4x4," said Meunier. "This powerful combination of Jeep design, legendary 4x4 capability and electrification will reshape the SUV market, allowing more customers in more countries and in more segments to join us on our path toward Zero Emission Freedom."
Jeep Photos and Video
Mary Conway is a professional automotive journalist and has decades of experience specializing in automotive news analysis. She covered the Detroit Three for more than twenty years for the ABC affiliate, in Detroit. Her affection for the Motor City comes naturally. Her father ran a gas station while Mary was growing up, in Wisconsin.
Follow Mary Conway at @maryconwaymedia and send her car news tips for future stories.