All-New 2021 Jeep Grand Cherokee L is Already Winning Honors
When I first saw the 2021 Jeep Grand Cherokee L in person, at the Rocky Mountain Driving Experience in August, I was struck by how luxurious the interior of the all-new vehicle is. It appears I am not alone. The 2021 Jeep Grand Cherokee L has been named to the Wards 10 Best Interiors List. This is only the first year it has been eligible.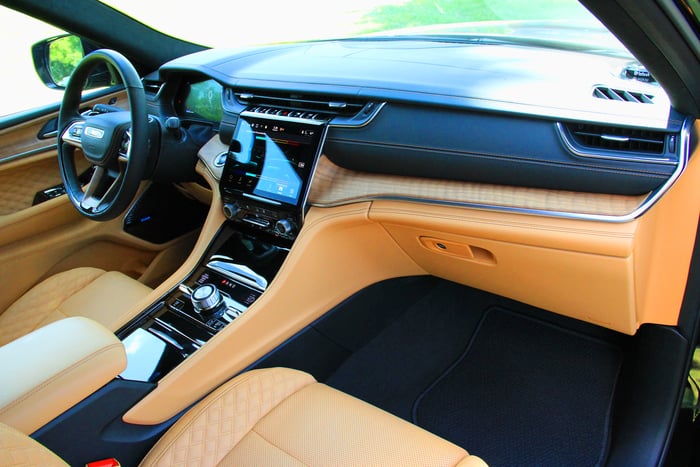 Luxurious Makeover
It appears that Jeep gave the 2021 Grand Cherokee L a makeover similar to the one that Ram gave its Ram 1500 pickup a few years ago. Jeep concentrated on using all premium materials. The seven passenger L version features beautiful leather, real wood and premium metal trim. The interior also features 10-inch digital screens and the latest new five-times-faster Uconnect 5 technology.
"When it came to the interior design of the all-new 2021 Jeep Grand Cherokee L, our team's objective was to create one of the most exquisite and technically advanced interiors in the industry," said Ralph Gilles, Chief Design Officer – Stellantis. "This all-new interior features a much more focused approach to attention to detail of materials and design as a system. Our goal was to deliver an experience for drivers and passengers that delighted the senses and perhaps set a new standard of luxury for the segment, while also setting a new internal benchmark for our future generations of Jeep brand vehicles. We are truly honored to be recognized for the collective team's effort."
Premium Seating and More Comfortable Climate Control

The seating in the all-new seven passenger family Jeep has been upgraded. Jeep has also reconfigured the climate zones to better focus on the passengers. The second- and third-row vents, now wider and slimmer, are located in the pillars, as opposed to overhead, to better target passengers without compromising headroom. No more complaints from the kids that "It's blowing on me" or "It's too cold"! Jeep even added a new premium package to its lineup. The Summit Reserve package has premium hand-wrapped, quilted Palermo leather seats that even offer a massage.
"Utterly breathtaking interior," notes Wards 10 Best judge Drew Winter. "A stunning mixture of rich colors and lavish materials."
The new family Jeep even offers customizable interior LED lighting with different daytime and nighttime settings. Drivers have five different colors to choose from for the lighting to make it truly personalized.
The Jeep Grand Cherokee L is equipped with more than 110 safety and security features. It also has available driver-assist systems and 360-degree surround view and night vision cameras. It offers several technological advancements, including a rear-seat monitoring camera, digital rearview mirror, windshield Head Up Display and frameless digital cluster.
Different Trims for Different Budgets
Prices for the different trim packages range from the Laredo model, starting at $36,995 (all prices exclude $1,695 destination fee) and run all the way up to $65,290 for the luxurious Summit Reserve trim, 4x4 model with a V-8 engine. There are several different models available, including the Laredo, Limited, Overland and Summit models.
The Wards editorial staff evaluated 33 all-new or significantly redesigned vehicles. Vehicles were scored by the Wards editors on ergonomics, comfort, fit-and-finish, material quality and aesthetics. See the Wards review of the 2021 Jeep Grand Cherokee L interior.
Follow Mary Conway at @maryconwaymedia and send her car news tips for future stories.