When Toyota announced the 2022 GR86 in June of 2021, people were glad to see GR (Gazoo Racing), Toyota's motorsport division, unveil an iconic car that was once a very sought-after JDM vehicle. With pricing in the U.S being set from $27,700 to around $30,000 with extra additions, people and journalists liked the car. I liked the design and the option to get it in a manual really hardened the cement for me.
However, today, Toyota UK just released the pricing and specs for the 2023 GR86 for the United Kingdom and what sort of trim models they will get. Starting at £29,995, you can get Toyota's PCP financing, (personal contract purchasing), for just £299 a month.
With that sticker price, you are given the option to either get the automatic or the 6-speed manual transmission. While there is only a slightly higher 0-62mph time with the automatic by 0.6 seconds, it is still a fun car with Toyota reporting it as having 205Nm (151.2 ft-lb).
The big question here is, is this worth £30,000? Of course, you'll probably reach that much if you factor in the additional dealer and delivery fees. Let's look at a sports coupe starting at around 30k that has better specs than the GR86. The first cars that come to mind are base model Ford Mustangs and Chevy Camaros. The 2022 Ford Mustang Eco-Boost Automatic pushes out 310-330 HP and 350 ft-lb out of a 2.3L 4-cylinder engine. While the top speed is topped at around 121 mph, it still has higher torque and better hp. While I wouldn't recommend this for track use (it's a base model Mustang), if you are looking for better specs, this is the car for you.
However, the GR86 wasn't designed for the quarter-mile, it was designed for the track. Not a lot of RWD sports coupes in that price range can compare the track features that come with the GR86. If you would like to wait a bit more and dish out another $10,000, you could buy the new 400Z Nissan is making which has better handling and performance than the GR86. With a top speed of 160mph, it may be a better buy for the track than the GR86…assuming you are not basing your purchase on price.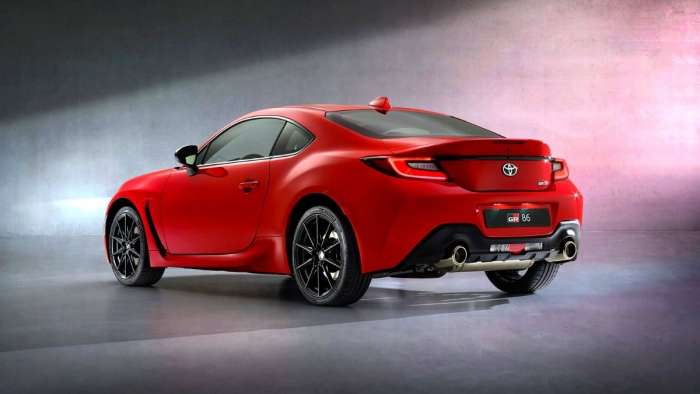 With a lot of anticipation for the GR86, I think it'll do well in the UK. Its price is not that high, the specs are mediocre for a track car, and the looks are nice as well. Critics said the GT86, which was the previous model, wasn't fast, but rather a fun car to drive. Remember that this car is also being sold in Europe where there is a tax on engine displacement.
While people in the United States thought the Toyota GT86 was slow, Redditor, "Gonnacrushit" posted three years ago, "If you live in America and have access to cheap Mustangs and Corvettes, then yea, they're (GT86) slow.
If you live in Europe where you don't have access to cheap American pony/sports cars and you have taxes on engine displacement/power then no, they're fun and economical cars."
I think for us Americans, we will have better sports coupes to play with within that price range. However, I think the Europeans and Brits will like the GR86.
Also, check out our latest story on the debut of the 2023 Toyota GR Corolla which made big headlines. If you want to hear about a new statistic that pushes the Toyota Tundra ahead of everyone else, check out my newest story here.
What do you think? Will the GR86 do well in Europe with that price range? Would you buy a GR86? Let's start a discussion in the comments below.
Harutiun Hareyan is reporting Toyota news at Torque News. His automotive interests and vast experience test-riding new cars give his stories a sense of authenticity and unique insights. Follow Harutiun on Twitter at @HareyanHarutiun for daily Toyota news.