Kia Sorento Plug-in Hybrid Drive Modes Continue to Mystify
Today I performed a new test, as described in a previous article. I drove a roughly 23 mile loop (22.3 miles) twice, once in Auto mode (which leaves it up to the vehicle to decide whether hybrid or electric propulsion is optimal), and once manually selecting between the two. I did this after my first test yielded surprising results; the vehicle stayed in electric mode when I figured it would switch to hybrid. After my second test, I am surprised yet again though this time I feel like I have gotten closer to understanding exactly how the Kira Sorento PHEV "thinks".
Here's what happened: On the first loop, in Auto mode as soon as I pulled out of my garage, I started on my route to the freeway (.7 miles from my house). At the crest of a steep hill halfway to the freeway, there's a stop sign. When I was pulling away from the stop sign, the gas engine suddenly fired up. I looked down at the instrument cluster to check and the car said I was still in EV mode and Auto was showing (and the battery was fully charged!). There was no illuminated "HEV" light to be seen. What was going on?
I coasted downhill most of the rest of the way to the freeway. The gas engine kept running (even though I was coasting). This was totally unexpected, and I wondered why it happened. I think it is probably because I mashed the accelerator down a little too hard on that steep hill at the stop sign. Once the gas engine comes on, it may not shut down right away if the engine block is cold and it was since I hadn't started the engine before. This makes sense as it would protect the engine from lots of short duration operation, which can wear it out faster.
I came to another stop sign just before the freeway, and then the engine turned off. I glided on electric power onto the onramp, which heads down a long hill, and mashed the accelerator to get to 60 mph before the end of the onramp, which is about a quarter mile down the road. Doing this turned the gas engine back on and that is when I may have distinguished an important part of the Sorento's decision making logic. Technically, I am guessing, but I noticed when the tachometer needle (right side) touched the second peg in the "Power" band, that is when the gas motor woke up. Below is the point on the tach I am referring to and I think, but will have to test another day, that regardless of which mode the Sorento is in (even in EV mode), when it hits this mark the gas engine comes on: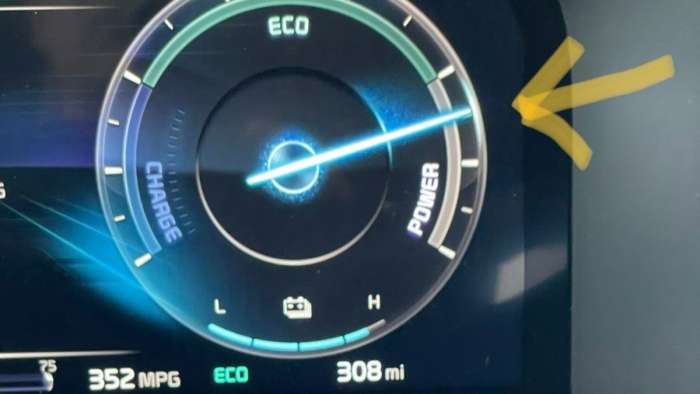 On with my first loop! The Sorento switched into hybrid mode just before I merged onto the freeway. Traffic was slower today with lots of rubber banding. There were multiple sections on the freeway where 30-40 mph was as fast as I could go. After about 4 miles, it opened up, but the vehicle remained in HEV mode throughout. Also, I noticed that the gas engine warmed up very quickly (via the temperature gauge). Only 8 minutes into the trip and it was already close to optimal temp (1/4 of that in EV mode). I assume that, by design, the gas engine will quickly reach optimal temperature.
The loop included about 11 miles of freeway driving and I hit speeds of up to 75 mph, briefly. I then exited to a 2 lane 40-50 mph highway that goes between two small mountains. There was no traffic to speak of on these roads, so I drove the speed limit or a couple clicks over the rest of the way home. What surprised me here, just as it had as I started out, the gas engine remained on almost the entire way, even when coasting! I could get it to go to sleep sometimes by coasting for a tenth of a mile or so and then very gently pressing on the accelerator, but once the tach got about 1/3 of the way through the "Eco" zone, the gas engine came back on. It felt like the Sorento PHEV was taunting me. You think you're smarter than me? I'll show you! Regardless, even though the first loop, in Auto mode, was done mostly in HEV mode, I still got pretty good gas mileage:
48.4 miles per gallon, in a 6 seat SUV/family hauler is nothing to sneeze at. But still, I felt like the Auto mode had let me down. I knew there had to be a way to do better.
Loop 2 was actually done several hours later, just as it was getting dark a little after 4pm in Seattle, these days. The temperature outside was still in the upper 50's (61 when I did the first loop), in December, in Seattle. The world is turning upside down I tell you! It feels like September out there. I intentionally kept the PHEV in EV mode until about 4 miles into the test in order to better simulate how I would use it on a longer trip. I want to use up enough of the battery at the start so that I can fully capture braking and coasting regeneration; if the battery is full when I go into hybrid mode, I'll miss some or a lot of that "free" electricity.
At 4 miles I switch to HEV mode and drive the next 7+ miles on the freeway at speeds between 60-75 mph. When I exit the freeway and come to a stop at the end of the offramp, I switch back to EV mode. Traffic is much heavier here this time through the loop and it takes about an extra 10 minutes to finish the drive. My 9 year old daughter is really going to enjoy this. That's not sarcasm by the way. She is in the middle row behind me, with nothing to play with or occupy her mind besides the "chill" house music on the XM radio station I tuned in to. "Turn up the radio please!" she says, and proceeds to call out her kitten's name to the steady beat of the music. Note, she is doing this because the kitten's name is Chili, and she thinks that's the name of the radio station. See, traffic isn't always such a bad thing.
Not surprisingly, the Sorento stays in EV mode the rest of the way home. I am being careful not to punch the accelerator, and the vehicle has adequate power to make it up hills without need of gas assist as long as you aren't laying into the pedal too hard. I get home, and sure enough, I am smarter than my Kia Sorento PHEV, this time:
151 mpg, with a kid in the back seat and the headlights on and the house music thumping, is much better than 48.4 mpg. So, not that I have definitively figured out how the algorithm in the Kia Sorento PHEV works in Auto mode, I have gotten closer. Hey Kia, would you be open to providing us with more specific information on how your PHEVs decide when to be in HEV or EV modes?
Until we might hear from Kia, additional tests may have to prove things out and I am planning my first real road trip for more testing, after I can get a shattered window replaced on my Sorento (thanks criminals!). Here's how I think it works though: There is a speed at which the gas motor will come on and I believe it is around 75 mph (I read this online, but haven't tested it yet, technically). There is also an accelerator position or tachometer peg at which point one can also force the gas engine to come on (see my first photo, above). This sounds familiar. I read in a European Kia PHEV user forum that someone had heard from Kia Italy, regarding the Kia Exceed PHEV, that speed and accelerator position are two factors. If that is true for the Sorento, that means there are also road conditions that might encourage the Kia PHEVs to turn on the gas motor (something else I will have to test the first time I take it offroad or in the snow I guess). We'll have to keep testing for now. Please leave any feedback or your own testing results below in the comment section.
Justin Hart has owned and driven electric vehicles for over 14 years, including a first generation Nissan LEAF, second generation Chevy Volt, Tesla model 3, an electric bicycle and most recently a Kia Sorento PHEV. He is also an avid SUP rider, poet, photographer and wine lover. He enjoys taking long EV and PHEV road trips to beautiful and serene places with the people he loves. Follow Justin on Twitter for daily KIA EV news coverage.