Shelby Is Building 900HP Rental Mustangs For Hertz
Shelby American and Hertz have announced a three-year deal which will see the keys to some of the world's most powerful rental cars handed to Joe Public from this summer on. It all kicks off with a series of 2022 model year Mustangs inspired by the original "Rent-A-Racer" 1966 Shelby GT350-H.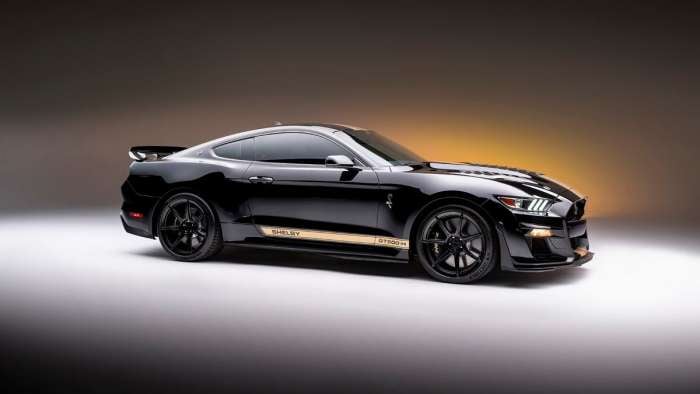 Shelby GT500-H
Power's up considerably on the original black-and-gold icon, with the new GT500-H pumping out more than 900 horsepower and surpassing the "regular" GT500 by more than 140 ponies. The supercharger comes from Whipple with a 3.8-liter capacity and a coat of gold paint to match the exterior stripes. Performance half-shafts are installed to handle the extra twist, while a carbon fiber hood adds many air intakes/outlets and saves 30lbs on the original.
Forged aluminum mono-block wheels wrapped in performance rubber will attempt to keep the GT500-H pointing in the right direction, while a stainless steel cat-back exhaust by Borla makes sure the sound matches all that fury. Just 19 examples will be built in black with a further six (one for each decade since Shelby's founding) will sport Oxford White paint.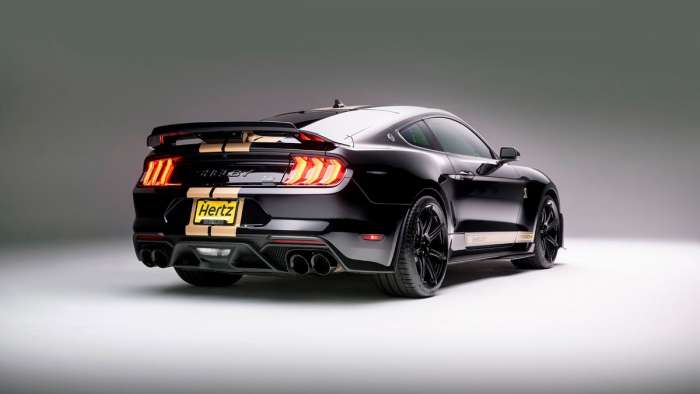 "Shelby American and Ford Motor Company changed the perception of American sports cars, starting with the Shelby Cobra in 1962. Shelby later teamed with Hertz to create the 1966 Shelby GT350-H, which immediately became one of the most exciting rental cars in the world. Together, we made history again with both a reborn Shelby-GT in 2006, 2007 and in 2016. Now we're going even further with the first Mustang Shelby GT500-H, which is the most powerful rental car that Shelby has ever built." - Joe Conway, CEO of Shelby American
Shelby GT-H
There'll also be a more widely available versions of the Mustang GT as fettled by Shelby in the form of the Shelby GT-H. Allowing drivers to hear the GT's 5.0-liter V8 sing through the same Borla exhaust as its mad brother, the GT-H will be available in fastback and convertible body styles. It also features staggered 20-inch aluminum wheels with visual tweaks to the fascia and will be available in red, black, white, and gray.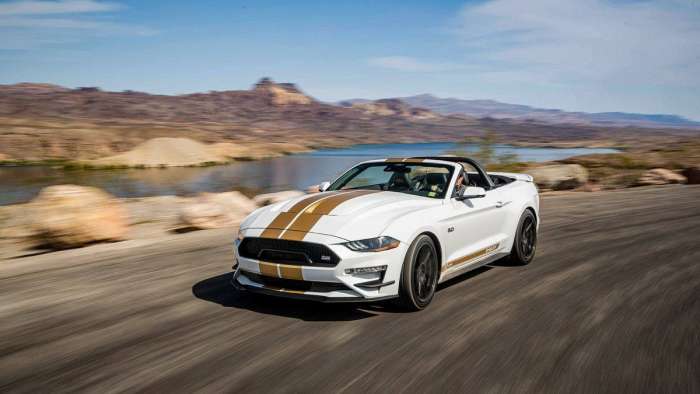 Assembly & Availability
All GT500-H and GT-H models feature gold racing stripes, rocker stripes and plenty of gold emblems and badging throughout. Assembly will take place at Shelby's facility in Las Vegas with the GT500-H available at certain Hertz airport locations in Fort Myers, Las Vegas, Miami, Orlando, Phoenix and Tampa. The GT-H will be available in Atlanta, Dallas, Fort Lauderdale, Fort Myers, Las Vegas, Los Angeles, Miami, Orlando, Phoenix, San Diego, San Francisco and Tampa.
Related Story: Polestar Will Build 65,000 EVs for Hertz Rentals By 2025
Images by Shelby American licensed by CC BY 2.0.
James Walker is an Automotive Journalist at Torque News focusing on Lucid Motors. If it's got wheels he's interested, and he's looking forward to seeing what kind of cars the EV revolution brings us. Whether it's fast, slow, new, or old, James wants to have a look around it and share it in print and on video, ideally with some twisty roads involved. You can connect with James on Twitter, Instagram, and LinkedIn.