Lucid Motors was recognized as a major player in the automotive industry on Wednesday with its inclusion in a virtual White House meeting to discuss EV infrastructure and the future of the American auto industry. Senior officials from the Biden administration met with auto industry executives from a wide range of companies to discuss the funding required to build 500,000 electric vehicle chargers across the country. The administration wants half of all new vehicles sold in the US to be EVs or plug-in hybrids by 2030.
Walking with Giants
Lucid's invitation to the meeting is significant because as a relatively young company it produces way fewer cars than anyone else involved. Everybody knows the Lucid Air is a home run, but Lucid doesn't have the validation that comes with millions or even hundreds of thousands of sales like every other brand represented at the meeting. If you ever needed a sign that Lucid's record-setting proprietary tech is the real deal, here it is. Even Tesla, with a lion's share of the US electric vehicle market, was seemingly ignored until recently, and Elon Musk took to Twitter to fire shots across President Biden's bow on the subject.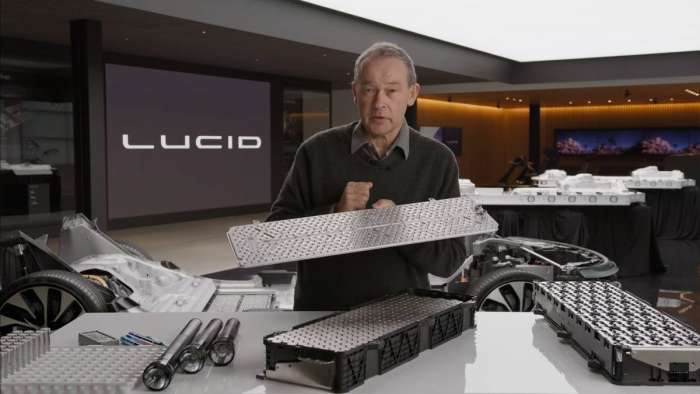 Biden and Musk: Friends at Last?
The whole fracas began on August 5th 2021 when the Biden administration invited the CEOs of Ford, GM, and Stellantis to a signing ceremony for an executive order urging American automakers to sell more EVs. Musk and Tesla were conspicuously absent from the ceremony, with speculation that an invitation was withheld because Tesla's employees aren't part of a union or because Elon would do something to embarrass the president. Mr. Musk made his displeasure known on Twitter, and was further irked when Biden gave a speech crediting GM CEO Mary Barra with electrifying the nation's auto industry. At the time, GM's EV market share was miniscule while nearly 80% of every EV sold in America was a Tesla.
President Biden finally acknowledged Tesla's role during a speech in February where he referred to the company as "our nation's largest electric vehicle manufacturer."
Guestlist
In addition to Lucid CEO Peter Rawlinson and Tesla's Musk, the meeting included CEOs Jim Farley of Ford, Mary Barra of GM, and Carlos Tavares of Stellantis. Also present were high-ranking executives from Nissan, Mercedes-Benz, Hyundai, Subaru, Toyota, Mazda, and Kia. Transport secretary Pete Buttigieg, Energy Secretary Jennifer Granholm, and National Climate Adviser Gina McCarty represented the government, with each official given roughly 90 seconds to state their organization's views on the future of EV charging.
All parties reportedly agreed that stations should provide charge regardless of car brand, and that there need to be more chargers accessible to the public as soon as possible, with a statement from the administration saying "there was broad consensus that charging stations and vehicles need to be interoperable and provide a seamless user experience, no matter what car you drive or where you charge your EV."
Related: Lucid Announces Air Grand Touring Performance With 1000+ Horsepower
Auto industry leaders are paving the way to an EV future. Great discussion yesterday about working collaboratively to create a reliable, convenient, and affordable national electric vehicle ecosystem including a charging network to support all Americans in all communities. pic.twitter.com/8Xswle0qyr— Secretary Pete Buttigieg (@SecretaryPete) April 7, 2022
The Biden administration has pledged $7.5 billion towards strengthening America's EV infrastructure, and Tesla has previously stated that it would be open to opening its 16,000-strong network of Superchargers to all EVs as long as it receives monetary incentive from the government for doing so.
Images by Lucid Motors licensed by CC BY 2.0.
Related: Lucid Air Named Best Luxury Electric Vehicle By US News & World Report
James Walker is an Automotive Journalist at Torque News focusing on Lucid Motors. If it's got wheels he's interested, and he's looking forward to seeing what kind of cars the EV revolution brings us. Whether it's fast, slow, new, or old, James wants to have a look around it and share it in print and on video, ideally with some twisty roads involved. You can connect with James on Twitter, Instagram, and LinkedIn.