Lucid Air Named Best Luxury Electric Vehicle By US News & World Report
News and consumer advice service US News & World Report has released its annual list of the best hybrid, plug-in, and electric vehicles on the market with the Lucid Air taking home another trophy as the organization's pick for Best Luxury Electric Vehicle. US News provides rankings for vehicles, states, hospitals, universities, and more with scores determined by expert consensus and, in the case of vehicles, metrics like safety and reliability.
This year's awards featured electrified vehicles from eight different categories with the winners judged as delivering the best mix of quality, value, and efficiency. Top honors were chosen by considering existing US News test scores, MRSP, fuel economy/efficiency, EV range, and charging data provided by the EPA. Of the 82 contenders assessed no vehicle scored higher than the Lucid Air which received a 9.1/10 across all metrics.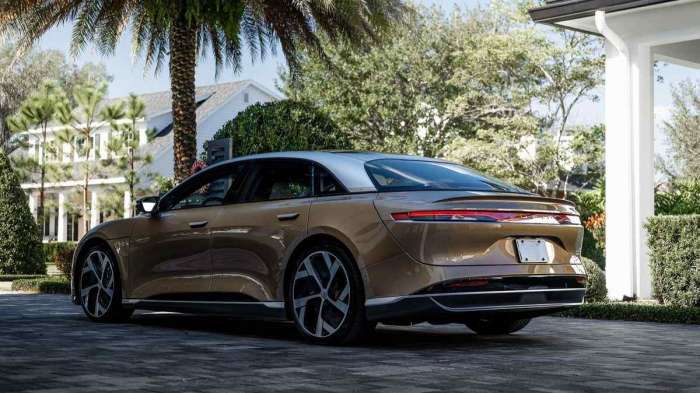 Top of the Pile
US News praised the Air for its range, spacious interiors, and luxurious feel which enable it to take the fight to established luxury brands, calling it "one of the most capable new luxury machines to hit the road with electric motors." Proof positive that the hard work going on behind the scenes at Lucid is paying off.
The judges doubled down on the Air's Best Luxury EV status calling Lucid's flagship one of the best luxury cars on sale today, regardless of powertrain:
"Whether you look at range, interior experience or performance, the Lucid Air is one of the most capable electric cars on the market today, and it's one of the best new luxury vehicles in general. As such, it earns the title of our Best Luxury Electric Car in 2022. If you're in the market for a cutting-edge sedan, you would be remiss not to consider the new Lucid."
It's another trophy to add to the Air's growing collection and one that carries significant weight with a rankings organization whose lists of best schools in the US and around the world have the ability to noticeably influence university application patterns.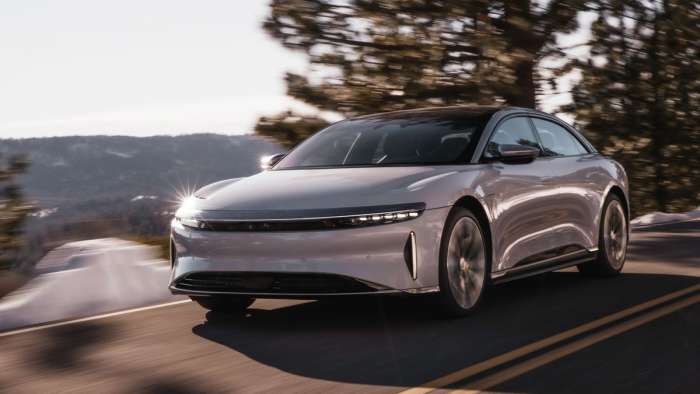 Best Hybrid, Plug-In, and Electric Vehicles 2022
While none of the other winners scored as highly as the Lucid, some came quite close. Here's a list of 2022's champions, as well the features and capabilities US News praised them for.
Best Electric SUV: Kia EV6 - 8.5/10
- Sleek design, spacious interior, athletic handling
Best Luxury Electric SUV: Tesla Model Y - 8.3/10
- Commendable range, seating for 7, Tesla's trademark tech
Best Hybrid Car: Toyota Prius - 7.7/10
- Good daily driver, spacious, available all-wheel drive and excellent fuel economy
Best Hybrid SUV: Toyota RAV4 Hybrid - 8.1/10
- Well-made, rides well, 40 mpg fuel consumption
Best Luxury Hybrid: Lexus ES Hybrid - 8.2/10
- Winner for the fourth year in a row, great interior features and a comfortable ride
Best Plug-In Hybrid: Hyundai Tucson Plug-In Hybrid - 8.9/10
- Spacious, high quality interior, 35 mpg fuel economy and 33 mile all-electric range
Best Luxury Plug-In Hybrid: Volvo S60 Plug-In Hybrid - 8.2/10
- AWD, 40 miles electric range, famously comfortable Volvo seats, quality interior materials
Images by Lucid Motors licensed by CC BY 2.0.
James Walker is an Automotive Journalist at Torque News focusing on Lucid Motors. If it's got wheels he's interested, and he's looking forward to seeing what kind of cars the EV revolution brings us. Whether it's fast, slow, new, or old, James wants to have a look around it and share it in print and on video, ideally with some twisty roads involved. You can connect with James on Twitter, Instagram, and LinkedIn.