Hot off the boost it received from delivering the first Air Dream Edition sedans, Lucid's stock has received another bump from the passing of the $1.2 trillion infrastructure bill by Congress on Friday. The bill dedicates $550 billion per year to roads, bridges, and broadband, as well as the nation's water and energy grids.
Investing in EV
Carrying the EV market higher as a whole, the plan promises $7.5 billion towards the installation and upgrading of charging infrastructure as well as $5 billion to replace ICE-powered buses (school or otherwise) and ferries with zero-emission vehicles. The bill is widely regarded as a sign of the government's commitment to supporting renewable energy for years to come.
Good News for Lucid
The bill's passing by Congress has provided a healthy bump to Lucid's stock price and has come as the cherry on what has been a rather profitable cake for the company as of late.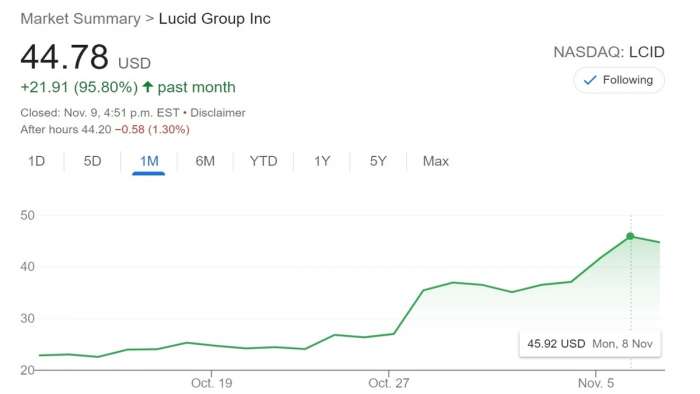 Gaining 45.7% during the last week of October alone, Lucid's run of good fortune was helped immensely by staying on schedule and delivering the first Air Dream Editions at the inaugural Lucid Rally. Additionally, the Air seems to garner glowing reviews everywhere it goes, with the luxury EV, which has 100 miles more range than its nearest competitor, recently being called "The most compelling American luxury car in recent memory." Lucid also opened its newest Studio, located in the Washington, D.C. Metro Area, on Saturday.
All Eyes on November 15th
That's when Lucid will release its Q3 figures, including a detailed earnings report and production numbers so far. With revenue predictions of $2.2 billion for 2022 followed by $5.5 billion in 2023 with the start of production of the Gravity SUV, November 15th will provide shareholders and analysts with valuable insight into the forecast for this very exciting company.
Torque News will have coverage of all the important numbers out of the Q3 report, as well as any other important Lucid news and events from the wider world of cars.
Cover image by Lucid Motors on Twitter licensed under CC BY 2.0.
James Walker is an automotive journalist at Torque News focusing on Lucid Motors electric vehicles. If it's got wheels he's interested in it, and he's very excited to see what kind of driver's/performance cars the EV revolution brings us. Whether it's fast, slow, new, or old, James wants to have a look around it and share it in print and on video, ideally with some twisty roads or a track involved. You can follow James on Twitter, Instagram, and LinkedIn.