Lucid Keeps The Momentum Going, Opens More Studios In California
Saturday December 11th saw the opening of another two Lucid Studio/Service Centers in Torrance and Millbrae, California as the EV manufacturer bolsters its sales, support, and service infrastructure across the US.
The opening follows the most recent addition to Lucid's network in Tysons, Virginia, and the pop-up Studio that Lucid recently opened inside the Kingdom Tower in Riyadh, Saudi Arabia. The Saudi location is the company's first outside the US, and can be attributed to the Kingdom's sizeable investment in the company via its Public Investment Fund.
The Studio Experience
Lucid's Studios provide a space for prospective customers to experience the manufacturer's design aesthetic while enjoying the kind of hospitality that comes from a startup brand eager to impress. Guests can sample the various interior and exterior materials that make up the Lucid Air, as well as configuring their car's interior with altered reality headsets and a front seats/dashboard 'blank' onto which they can impose their chosen materials, pictured below.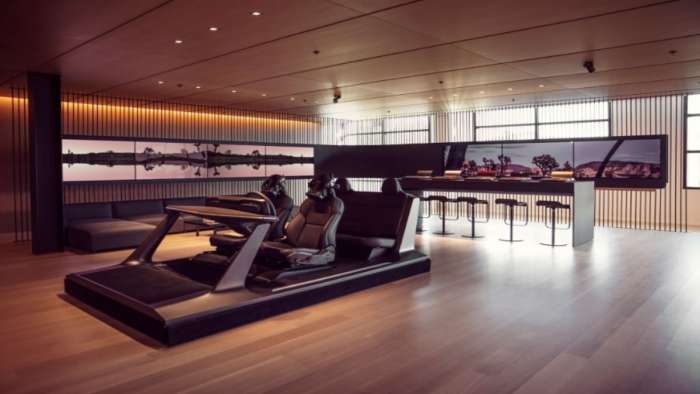 Coming Soon
Lucid expects to open Studio/Service Centers in Boston, Long Island, Dallas, and Toronto during the first quarter of 2022 with more to follow soon after. Germany looks poised to receive the company's first European Studio as hiring ads have been placed on the Lucid website for Munich, along with locations in Amsterdam and Taiwan.
Meanwhile, Lucid's customer deliveries continue to move out across the country as production ramps up at the AMP-1 production facility in Casa Grande, Arizona.
Lucid has previously stated that it aims to build more than 550 Air sedans before the end of 2021, and you can be certain that we'll be watching with bated breath to see if the company achieves this lofty goal. We'll have all the latest updates on Lucid here for you at Torque News.
Images by Lucid Motors licensed under CC BY 2.0.
James Walker is an automotive journalist at Torque News focusing on Lucid Motors electric vehicles. If it's got wheels he's interested in it, and he's very excited to see what kind of driver's/performance cars the EV revolution brings us. Whether it's fast, slow, new, or old, James wants to have a look around it and share it in print and on video, ideally with some twisty roads or a track involved. You can connect with James on Twitter, Instagram, and LinkedIn.