Lucid Motors has again expanded its presence in Canada with a new combination Studio/Service Centre opening tomorrow in historic Montreal West.
The new facility, which will handle all facets of the Lucid buying and owning experience, is the first in the province of Quebec and Lucid's third in Canada. The Montreal opening is Lucid's 32nd in North America and 36th globally to date with sales, delivery and service will all taking place under one roof.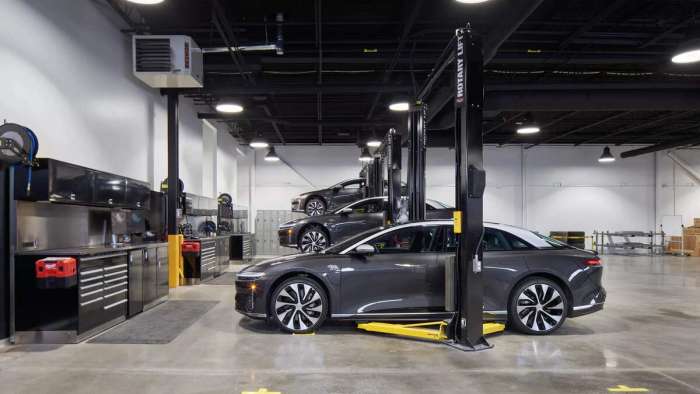 Canada's Third Lucid Studio
Lucid has previously opened Studio locations in Vancouver and at Yorkdale Mall in Toronto. Montreal's two-story retail and service space covers 19,170 square feet, or about one third of a football field.
"The opening of our first retail location in the province of Quebec is a significant milestone for Lucid in Canada. Canadians have proven they're serious about EVs, so we're looking forward to providing Montreal and surrounding areas with the innovation and dynamic experience of our award-winning lineup of Lucid Air." - Zak Edson, Vice President of Sales and Service, Lucid Group.
The new location, at 6700 Rue Saint-Jacques, lies near the historic area of Notre-Dame-de-Grace which was first settled in the 1600s. Montreal's Circuit Gilles-Villenueve plays host to the annual Formula 1 Canadian Grand Prix so expect Lucid to be a staple at the events and supercar parades that accompany the race weekend from now on.
Related Story: Lucid Motors Are Powering Formula E Race Cars
Lucid Studio Experience
Lucid's Studios give prospective buyers the opportunity to explore the brand digitally or in person with VR equipment allowing them to configure and explore the Lucid Air's various configurations and trims. Studio visitors can sample interior materials and paint colours while getting up close and personal with examples of the brand's flagship sports sedan. One-on-one appointments with Lucid team members allow shoppers who can't make it to the Studio to explore the Lucid Air.
Lucid's new Studio/Service location opens tomorrow, January 28th, at 10.00 am local time.
Related Story: Morgan Stanley: Lucid Stock 40% Overvalued
Images by Lucid Motors licensed by CC BY 4.0.
James Walker is an Automotive Journalist at Torque News focusing on Lucid Motors. If it's got wheels he's interested, and he's looking forward to seeing what kind of cars the EV revolution brings us. Whether it's fast, slow, new, or old, James wants to have a look around it and share it in print and on video, ideally with some twisty roads involved. You can connect with James on Twitter, Instagram, and LinkedIn.