Morgan Stanley analyst and long-term Lucid bear Adam Jonas believes LCID has trouble ahead, and points to Tesla's price cuts as evidence of major changes taking place in the EV market.
Jonas believes that Tesla can take the hit to profits that price cuts create but worries that newer EV players like Lucid and Rivian cannot, as Marty Shtrubel reports for TipRanks. Jonas says that Tesla's cuts put "significant fundamental pressure on its peers" that they may not be able to withstand.
Outlook Bearish
The analyst has long been bearish on the Californian company and predicted prices of $12.00 per share back when LCID was near $40.00. He anticipates an "EV deflation" is on the horizon with supply catching up to and outstripping demand.
Jonas places his support behind self-funded companies like Tesla over younger ones still requiring periodic cash injections that run into the billions
His bearish stance on LCID is based on the fact that the company currently operates at a loss on every vehicle it sells; a problem that'll only get worse if Lucid decides to follow suit with Tesla and lower its prices further.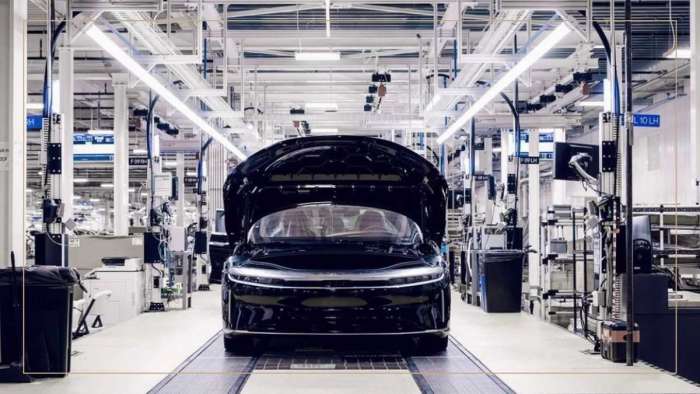 Lucid's Options
As Jonas sees it Lucid has two options: sell vehicles for less at an increased loss on each vehicle, or keep prices high and sell a lower number of vehicles overall. Neither are particularly attractive, but Mr. Jonas believes that to maintain the luxury manufacturer status it has worked to create Lucid will choose the latter.
"Jonas rates the stock an Underweight (i.e., Sell) and lowers his price target from $10 to $5, suggesting the shares are currently overvalued by approx. 40%."
Contrasting Mr. Jonas's view is a recent 'Buy' rating from Citi's Itay Michaeli among others. The average target for LCID is reportedly $13.28 which represents a 50% appreciation. The current average rating for LCID is 'Hold' with four 'Buys', two 'Holds' and three 'Sells'.
Where do you stand on the matter? Do you think Lucid has the cash and technology to weather the storm, or will it be priced out of the game by Tesla and legacy brand EVs?
Related Story: Lucid Stock Soars On Saudi Takeover Rumors
Images by Lucid Motors licensed by CC BY 4.0.
James Walker is an Automotive Journalist at Torque News focusing on Lucid Motors. If it's got wheels he's interested, and he's looking forward to seeing what kind of cars the EV revolution brings us. Whether it's fast, slow, new, or old, James wants to have a look around it and share it in print and on video, ideally with some twisty roads involved. You can connect with James on Twitter, Instagram, and LinkedIn.