We all love a success story: With 2016 Civic Sedan setting a sales record for the second month running, 54,448 of your family, friends and neighbors now drive new Civics. Why? There's plenty of competition on the market, crossover, SUVs, and pickup trucks continue to lead automotive market trends -- yet Civic continues to buck that trend.
Here's why
Dynamic styling leads the compact sedan segment. Granted, on looks alone the curious will visit their local Honda dealer for a Civic test drive. But in truth, it's the Civic Sedan drive and ride experience that proves to be the "hook" when it comes to purchasing the most dynamic and refined Civic in the mark's 43 year history.
Although not the least expensive compact sedan offering in the North American,(MSRP $18,640 to$26,500) Civic's arguably the best looking, and the best standard equipped -- you get what you pay for.
2016 Civic's success story may be one of greatest standard feature value
Looking to the base model 2016 Civic LX, we find a much improved compact sedan in direct comparison to the retired 9th generation offering. For we driving enthusiasts, the ground up reinvention of Honda's best selling compact brings with it a European inspired design cue and performance dynamic new to the Honda brand. This "spark" if you will, runs through 10th gen's D.N.A., and is evident throughout the lineup.

Our first drive in 2016 Civic Sedan was an eye opener. Even at the entry level Civic LX base of the Lineup, one discovers a more powerful, responsive 2.0 Liter Earth Dreams ™ dual overhead cam 1-VTEC 4 cylinder engine developing 158 horsepower, +15 over 2015 Civic, -- the difference in on demand torque is measurable.
Furthermore, fuel economy is increased while Civic runs quieter, with a steering wheel to the road feel that is greatly improved. For the first time in Civic history we'd consider purchasing one as our primary daily driver. This statement comes from a guy that presently drives a 300 horsepower twin turbocharged Volvo S80.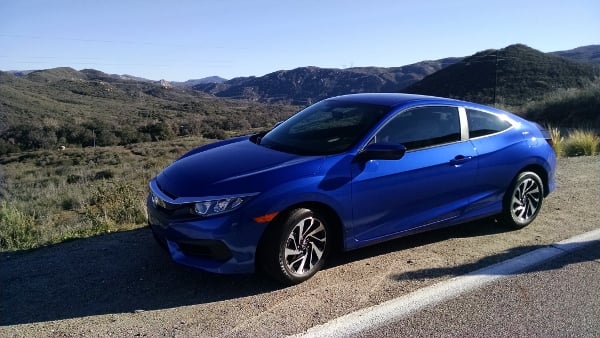 Family comfort, personal electronic connectivity and safety
2016 Civic will retain the brand's title of the best selling family sedan in North America. While that factoid shouldn't influence your next car purchase decision, it is an indicator as to the overall exceptional drive and ride experience that Civic is. For those of you considering a fuel efficient daily commuter with new found head turning styling, 5 Star rated safety, tech rich personal electronic connectivity, and class leading fuel efficiency, 2016 Civic Sedan has earned your test drive.