With the automotive industry transitioning to electrification as the logical path to lower emissions, Acura takes the best selling SUV of any size availble in the U.S., and incorporates an NSX derived 3-motor hybrid drive system under what is arguably the best looking MDX in Acura history.
Thanks to electric motor enabled torque vectoring, MDX SH-AWD is seamless in its automation, and track-tire sticky in it's tight cornering attributes; regardless of road surface or weather conditions. We first experienced Acura MDX sport hybrid on the roads of Santa, Barbara.
The sensory rich 2017 Acura MDX sport hybrid sports class leading fuel efficiency
For we that hold road performance second only to the fit and comfort of the driver's seat, 2017 Acura MDX sport hybrid is remarkably agile and road confident for a 3-row SUV. Under the hood a complicated, computerized dance of fuel efficient 3.0 Liter port injected 24 valve aluminum V6 gasoline engine, meets high torque output electric motors. Find 2017 Acura MDX hybrid specifications here. In short, MDX Hybrid out handles many midsize sport sedans.
You won't find a nine or ten speed transmission in MDX hybrid. Instead Acura engineering opts for a close ratio automatic ( DCT) 7 speed, wheel steering wheel mounted sequential paddle shifting, 'sport" and select drive mode. For me, normal or comfort mode worked for most driving conditions, with sport and 'sport+ reserved for freeway onramps and passing dutty -- it works!
I found the regenerative braking to feel rather natural, and the electric assist steering, well, yes, it too felt natural, with just enough road feedback to keep the driver engaged.
The end result is a quiet, comfortable, and aesthetically posh SUV that accelerates and handles more like an Acura TLX A Spec sedan than an SUV, and does so with drive-by-wire instantaneous response and athleticism. The premium leather seating while power adjusted, heated and cooled, wear leather loafer soft on first seating -- no break in time required.
The Acura MDX environment showcases the maker's future design directive
Looking around the premium cabin, real wood trim, burnished metals, soft and hard molded surfaces, intersect with premium pile carpeting, light gray tight knit headliner material, aviation-like reading lights, integrated ceiling stereo speakers, tinted glass, pull up window shades, and a very comfortable second and third row seating; that handily converts to a near -flat cargo deck when called for.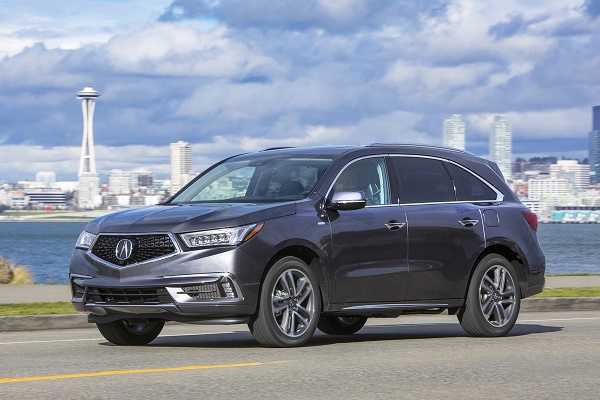 Seating 6 to 7 people, depending on seating options, MDX lives large, yet is easy to maneuver in congested city traffic, and tight parking lots. Remarkably, despite MDX's newfound torque and horsepower, real-world fuel efficiency clocks in at 26 city/27 highway, impressive by any measure. We verified Acura's E.P.A. rating with a week of behind the wheel, and surpassed published estimates despite frequent fits of manic sport-driving sprint episodes.
Our 2017 Acura MDX Hybrid Advance MSRP's at $58,975.00 fully loaded
Fully equipped with near autonomous driver assist and active safety features, the leather wrapped confines of 2017 Acura MDX Hybrid Advance presents a concert hall surround sound music experience rivaling the competitions 6 digit offerings. Furthermore, the active dampening combined with a lighter, more rigid, manufacturing architecture, lends itself to a quieter, more refined ride, nothing truck-like about it.
Acura engineering goes to great lengths to present a premium midsize 3-row SUV that lives large, without being overly ostentatious. There's enough "bling" to catch the eye, without offending. That's Acura style, MDX brings it home without compromise.
You won't find a glass ceiling or pull down theater monitor in MDX hybrid
But that's cool! Personally, I appreciate Acura keeping the price point attainable. At the end of the day, 2017 Acura MDX sport hybrid brings an injection of Acura NSX supercar engineering magic to the midsize premium SUV segment, resulting in a very good, do almost anything, sport-utility daily driver. Very cool!
What I like: Electric-only launch, instantaneous mountains of torque, smooth and quiet ride, premium interior, standard all-wheel-drive.
What I don't like: 3rd row headroom, or lack of it, fidgety double stack monitor setup, voice recognition, still not perfect.