It reminds us of a Subaru Crosstrek, but with a whole lot more attitude. It's got all the ingredients to appeal to a new urban-adventure with an active lifestyle. It's got a raked roofline like the new Toyota C-HR hatch but this Subaru comes standard with all-wheel-drive while the Toyota doesn't even offer AWD. It's what made the Subaru brand successful from the jump and we think this small Subaru SUV would be a big hit with urban customers.
Subaru needs to connect with a new generation of consumers who don't care about visibility. This small all-wheel-drive SUV has a new raked roof that Subaru has been reluctant to use because of its core value of building visibility into their 
SUVs. This would be a departure from past vehicles, but this new Subaru SUV is the first concept vehicle designed under Subaru's new "BOLDER" design philosophy. Subaru says It features a unique roof design, which reinforces the body structure, as well as body protectors. The white accents going through the wheels to rugged all-terrain tires "emphasize the feel like outdoor gears."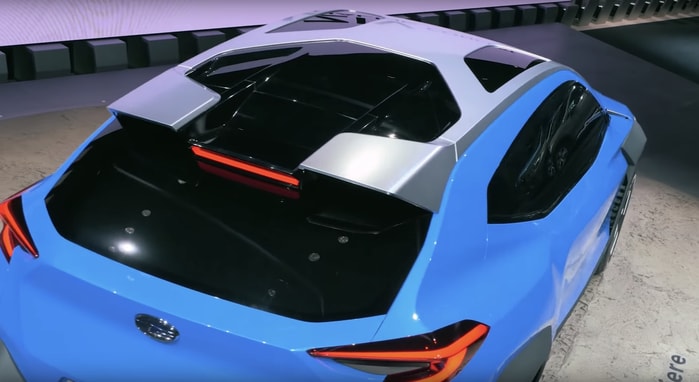 Subaru needs a new AWD hot hatch
Subaru Corporation's new President, Tomomi Nakamura is changing things up at Subaru and he seems to be listening to customers. Subaru's STEP plan says in their product plans and design direction, that Subaru will launch fully-redesigned versions for key models every year and enhance distinctive SUV and sports models. It says, "We will evolve Subaru's "Dynamic x Solid" design identity to a "bolder" expression.
What the Japanese needs is a brand new model added to their all-wheel-drive lineup. Give new customers a radical new all-wheel-drive 5-Door hatchback that is aggressive and "Bold" in its design. Let the older customers worry about outward visibility. Give a younger demographic a new bold exterior design language that will impress their peers when they head to the high country for a fun outdoor adventure. What they care about is appearance and that it gets them there safely.
It's been eight years since Subaru brought a new launch. It was the Crosstrek crossover that's been a giant hit with the millennial generation. Now it's time to reach the Gen Z/iGen generation with a new Subaru that keeps with the "go-anywhere" attitude. If Subaru brings it, they will come and buy this new Adrenaline Urban-Adventurer vehicle. 2020-2021 would be the perfect timeframe for a new Adrenaline Subaru all-wheel-drive hatch. Would you buy it if they bring it?
Watch SUBARU VIZIV ADRENALINE CONCEPT World Premiere Video
Leave your comments below, share the article with friends and tweet it out to your followers!
Follow all Subaru news on Facebook, Twitter and Instagram
Photo credit: Subaru Corp