When the Subaru Crosstrek launched in 2012, it was the third vehicle in the Japanese automaker's stable with the ground clearance and attitude needed for off-road pursuits. Subaru Corp took the Impreza hatch and gave it the Subaru all-wheel-drive, all-terrain DNA and it became an instant success.
Crosstrek is used by active individuals who take it on back-country adventures to go hiking, mountain biking, snowboarding, kayaking, and camping. For more fun in the dirt and extreme off-road situations, Subaru's X-Mode traction assist system is standard on all 2019 Subaru Crosstrek trims. But there a number of adventure enthusiasts who want to get further off the beaten path with their vehicles.
Active consumers in North America who want more attitude for their new second-generation 2019 Subaru Crosstrek have a number of aftermarket options. One option comes from LP Adventure in Quebec, Canada. They produce lift kits, bumper guards, skid plates, and performance mufflers for the new Crosstrek Small SUV that will give it a more aggressive stance for more extreme off-road pursuits.
You can improve the look and ground clearance of your 2019 Crosstrek with the lift kit seen in the picture above, and won't need to worry about traveling through scrub brush, a river or a rocky trail. But for extreme off-road use, you'll want a skid plate to protect your oil pan, engine, and transmission.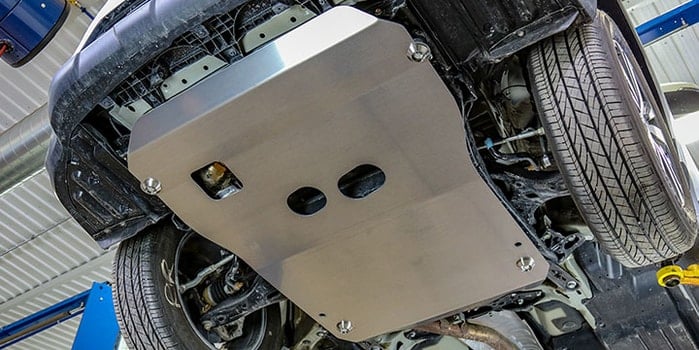 Protect your Crosstrek with a skid plate
When headed out on the trail for an extended amount of time, it's crucial that a vehicle's undercarriage is protected. From the factory, the Crosstrek has 8.7 inches of ground clearance. A skid plate can offer additional protection to the radiator, oil pan and other components that are exposed to rocks and uneven terrain. One popular option for extreme off-road use is the LP Adventure Skid Plate. These bolt-on skid plates are made of lightweight 3/16-inch aluminum plate. They attach to the subframe using rubber mounts to minimize noise and vibration. They also offer a rear differential skid plate, bumper guards and performance muffler for the new Crosstrek Small SUV.
Checklist for extreme off-road adventures
Here's a list of items from Drive Performance Magazine you will want to take on extreme adventures. Having the right All-Terrain tires is critical. You'll also need an air compressor, air-line, inflation chuck, tire gauge, and tire sealant.
If you get stuck in the backcountry you will need a few essentials so you can recover your vehicle. You will need a tow strap, towing eyes or recovery points (One is included in your Subaru emergency kit, but it's a good idea to have one pre-installed at the front and rear before you head out on the trail, in case the vehicle is buried in deep sand, mud or water, which would make installing the point a challenge.) Portable recovery tracks/ramps.
You can need a variety of tools once you are far away from civilization, from a basic set of hand tools to every possible wrench and socket that could disassemble your Subaru. Here are a few things that you should never leave home without: Duct Tape, multitool, baling wire, two-part epoxy cold-weld bonding compound, and zip ties. Fluids: oil, brake, 50/50 premixed coolant, transmission (for automatic), and spray lubricant.
You will need an emergency kit with a fully charged booster pack, jumper cables,
emergency lights/reflectors (flares are not recommended, especially in dry, fire-prone parts of the country), emergency air horn/whistle, flashlight, gas can and a funnel. Also have CB radio, and a Personal Locator Beacon.
Now your 2019 Subaru Crosstrek or older model is ready for serious off-road adventures. The last thing you'll want to do before you leave is tell someone where you are headed and when you're coming back.
Leave your comments below, share the article with friends and tweet it out to your followers!
Follow more Subaru news on Facebook, Twitter and Instagram
Photo credit: LP Adventures