New car prices are rising, and that includes the all-new 2024 models. I recently reported that Subaru is about to raise prices for its 2024 model lineup. That's not good for new SUV shoppers, but a few new SUVs won't break the bank and will fit your budget. One is the 2024 Subaru Crosstrek. 
Check out the top picks from Cars.com; you'll see six good choices for new model shoppers. But I think one is the best: the 2024 Subaru Crosstrek.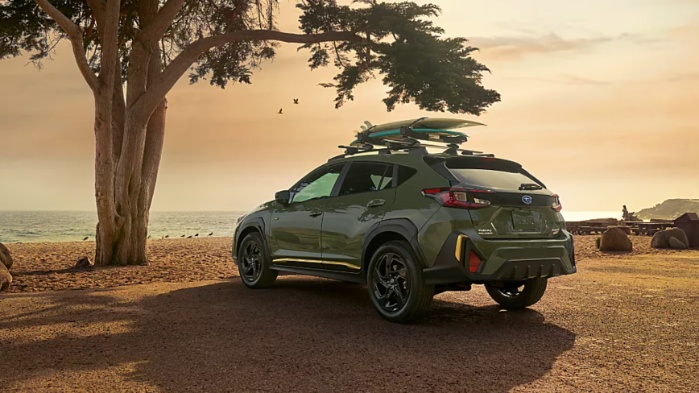 The 6 Best Affordable SUVs of 2023
1. 2024 Kia Seltos SX Turbo
2. 2024 Subaru Crosstrek Premium
3. 2024 Chevrolet Trax Activ
4. 2023 Honda HR-V EX-L
5. 2023 Volkswagen Taos SE
6. 2023 Toyota Corolla Cross Hybrid S
Cars gives the 2024 Subaru Crosstrek Premium 714 points.
"The verdict: The redesigned Subaru Crosstrek coddles occupants with its cushy ride and comfortable front seats. It's also good for the smallest passengers, as it was the lone SUV in this test to earn a perfect score in our Car Seat Check."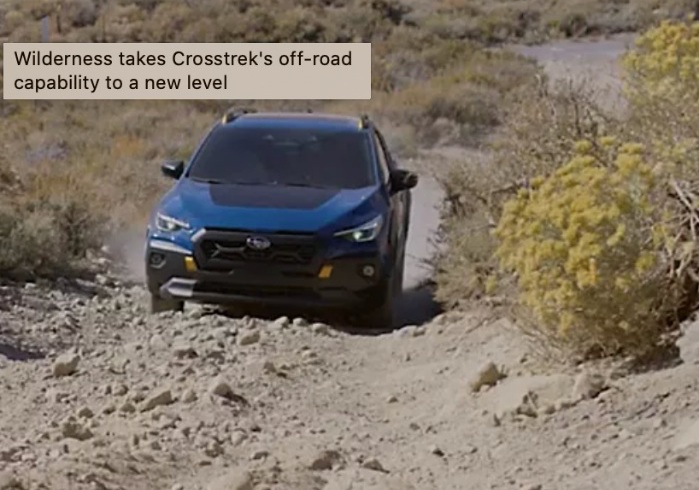 The Crosstrek Test Vehicle as-tested price: $29,685
Powertrain: 152-hp, 2.0-liter four-cylinder engine; CVT; AWD
Observed fuel economy: 33.6 mpg
Measured cargo space: 12.69 cubic feet
0-60 mph: 10.5 secondsCategory wins: Front-seat comfort, visibility, braking, ride quality, Car Seat Check, driver-assist tech (tie)
Cars says, "Earlier versions of the Crosstrek have done well in our previous Challenges, and so has this time. It follows a formula similar to its predecessor, with standard AWD and familiar styling. It's also as practical as ever thanks to good comfort, visibility, and safety features."
The Crosstrek's good and bad points according to Cars.com
The Crosstrek gets high grades for ride comfort, front-seat comfort, visibility, backseat space, car-seat accommodations, and adaptive headlights. 
The Crosstrek gets low scores for poky acceleration, handling, interior noise, sensitive safety features, touchscreen concerns, and small backup camera view. 
I have covered the 2024 Crosstrek extensively and have driven the all-new model. Here is what I think sets the 2024 Subaru Crosstrek apart from the other small SUVs.
The Subaru Crosstrek comes with 8.7 inches of ground clearance, which no competitor exceeds (9.3 inches on Wilderness). Crosstrek also comes with X-Mode on Base and Premium trim levels for all-weather performance and dual function X-Mode on Sport, Limited, and Wilderness trims for improved off-pavement performance.
Which trim level is the best for urban dwellers?
2.0-liter engine vs 2.5-liter engine
The 2.0-liter engine in the Base and Premium trim levels is ideal for city driving. It stays with 152 horsepower and 145 lb-ft of torque. The 2.0-liter engine gets an EPA-estimated 27/34 city/highway mpg and 29 combined mpg.
The 2.5-liter engine in the Sport, Limited, and Wilderness trim levels is ideal for those who want more power for carrying extra cargo or if you live in an area with mountains to climb.
Subaru announced the 2024 Crosstrek Sport and Limited with the 2.5-liter gets a small bump in torque. The previous model had 182 horsepower and 176 lb.-ft. of torque. The 2024 Crosstrek now has 182 horsepower and 178 lb.-ft. of torque.
The ultimate off-road trim level is the new outdoor-themed 2024 Crosstrek Wilderness. It gets new Wilderness upgrades for getting further off the grid.
The most rugged and trail-capable Crosstrek has an upgraded suspension, all-terrain tires, more prominent wheel arch cladding, a metal front skid plate, unique hex-design LED fog lights, and an anti-glare hood decal in a matte-black finish. It has everything you want in an off-road-ready small SUV except a heated steering wheel.
What is the price of the 2024 Crosstrek?
The 2024 Crosstrek Base has a starting price of $26,290 (the same MSRP as the 2023 Base model equipped with the Lineartronic CVT automatic transmission). The 2024 Crosstrek Premium has a starting price of $27,440, Sport ($30,290), and Limited ($32,190). Pricing includes destination and delivery fees ($1,225). 
The all-new Crosstrek Wilderness costs $33,290, including dealer destination and delivery fees.
For active customers looking for superior all-wheel-drive performance, safety tech, utility, and fuel efficiency, the 2024 Subaru Crosstrek is the best pick in my analysis. 
Thanks for reading, everyone. I hope you enjoyed this Subaru Crosstrek information. See you tomorrow for my daily Subaru Report.
Here are a few of my top stories for additional articles related to the Subaru Crosstrek. 
MY TOP PICKS
Here is a 2024 Crosstrek features YouTube video from Alex Prestigiacomo that you may be interested in watching
Denis Flierl - I have over twenty years of Subaru and automotive journalism experience. I enjoy bringing you, the Subaru fans and customers, the most up-to-date Subaru news, reviews, and new model information. You'll find the latest Subaru stories on the Subaru page. Follow me on my The Dirty Subaru website, Dirty Subaru blog, SubaruReport, AllSubaru, and WRX STI News X social media. Also Facebook, @DenisFlierl, and Instagram for my daily reports! 
I've got you covered! - I cover all Subaru all the time - It's called the "Subaru Report." Check back daily for my expert Subaru analysis!
Please leave your comments below, share the article with friends, and post X to your followers! 
Photo: Subaru