The new 2018 Subaru WRX STI S208 gets upgrades over the standard STI but it's a Japan-only model and fans in the U.S. won't see it up close. It made its global premiere at the Tokyo Motor Show 2017 and only 450 examples of the performance sedan will be produced. Performance fans in the U.S. won't get to touch it, but we can get a look at how it performs as a professional race driver from Japan takes it out and attacks a narrow two-lane tree-lined road in the video below.
The 2018 Subaru WRX STI S208, is based on the newly-refreshed WRX STI, and it's the top-end model for the Japan market. Subaru worked with its motorsports subsidiary, Subaru Tecnica International (STI) for the exclusive development of the engine and suspension on the limited edition performance car.
Here's what sets it apart
The 2018 WRX STI S208 is powered by an STI hand-built EJ20 2.0-liter DOHC 16-valve dual AVCS twin scroll turbo boxer getting a small bump in power over the S207. STI increased the maximum power output to 329 PS (325hp) which is 2hp more than last years S207. It gets a maximum of 432 Nm of torque (318 lb ft of torque).
The S208 EJ20 2.0-liter balanced engine also gets an intercooler water spray (with toggle switch), STI-designed strengthened silicon intake duct, and performance muffler with lowered back pressure (featuring STI logo) with exclusive rear exhaust pipe.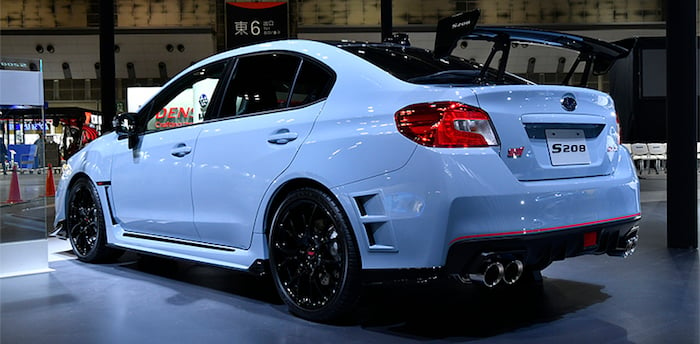 The driver says the EJ20 2.0-liter has been perfected to the limit of how good it can be. The S208 compared to the standard STI is more responsive, feels light in the corners, and turns like it has "4-wheel steering". The drive attacks a two-lane tree-lined road and gets the S208 up to 170 km/h (106mph) and says "Sugoi"!!! (amazing). He says it's very fast, but he feels safe.
The Brembo performance brakes are tested after going full-throttle and has the stopping power to slow the STI down quickly. The upgraded 18-inch Brembo brakes front and rear feature an exclusive silver finish and come paired with cross-drilled rotors for improved heat dissipation.
The driver finishes his attack of the narrow two-lane road by saying, "This car is worth driving to the limit", "You just can't get enough of it", and compares it to the Nissan NISMO GTR R35.
Subaru will produce 100 units of the S208 in WR Blue Pearl and Crystal White Pearl, and 350 examples of the STI S208 NBR Challenge Package featuring a dry carbon-fiber roof and a dry carbon-fiber rear spoiler with S208 logo. S208 NBR also gets a special new Cool Grey Khaki exterior color. Performance fans in the U.S. can only look and not touch.
Photo credit: Subaru Global