Five Subaru Outback, Forester, Crosstrek, and other model features are hidden in plain sight that you may not know about. They are hidden but not meant to be secrets. Many Subaru retailers need to be made aware of them. You can find out about them here.
Check out the hidden features if you own a newer Subaru vehicle or shop for a new 2024 model. These are the "hidden" Subaru features that are most commonly missed. Credit for the five features listed here goes to Alex Prestigiacomo of Bachman Subaru. Check out his video below for additional information.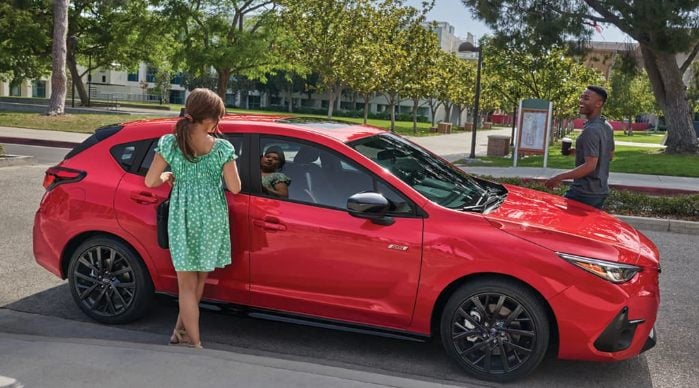 These hidden Subaru features are most commonly missed on newer Subaru Outback, Forester, Crosstrek, and other models. 
1. There is a door under the hood, with additional fuses and a diagram showing the fuses that go to the specific feature. Depending on your model, the compartment is in different spots under the hood. It can be helpful if you have a blown fuse that needs to be changed without going to the dealer. 
2. Under the rear hatch is a cargo net. The net is not a hidden feature, but what it does is helpful. There are two cargo nets. One stretches across the back to keep cargo contained. The net opens at the top to help prevent your other cargo items from shifting.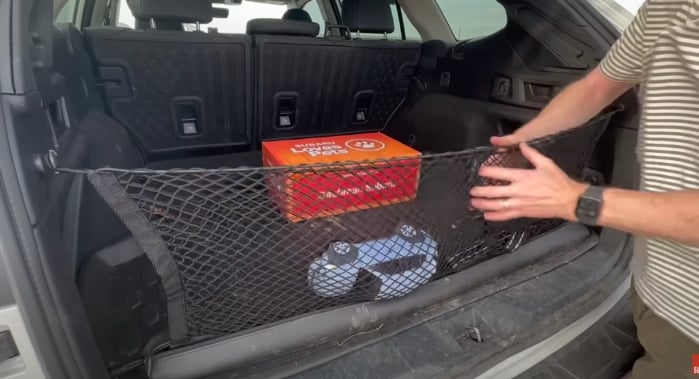 There is a second cargo net in the same pouch with two additional hooks attached to either side of the rear area to hold more oversized cargo items in place. The nets help maintain things that would slide around the back cargo area. 
3. On the touchscreen menu, swipe over to the second screen to the Auto Vehicle Hold button. When activated, it will auto-hold the brake when you come to a complete stop. You will see the AVH light flashing on the dash when activated. 
The AVH eliminates putting the vehicle in park at a long light, in stop-and-go traffic, or waiting for a long train to pass. 
4. The High Beam Assist works with the steering responsive headlights. When you have your lights on Auto and push the light switch forward, your bright headlights will come on automatically when it gets dark enough outside. Your vehicle's high beams will automatically drop down when the lights of a car approach you.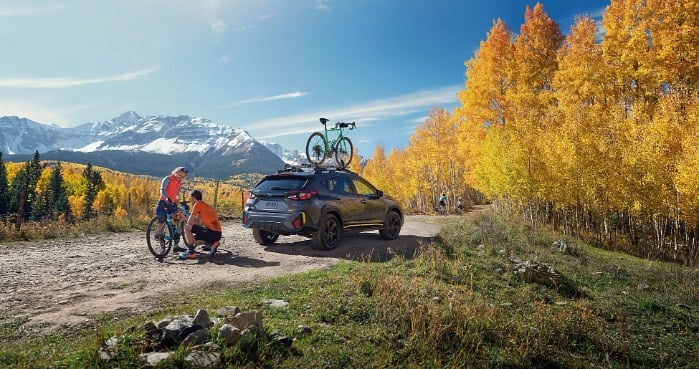 5. The most overlooked hidden feature on your Subaru allows you to unlock your doors if you ever lose your key fob. It's located on the back of the vehicle. There is a small button under the right side of your rear hatch, and when you push it, the car automatically locks. 
Sometimes, you want to avoid carrying your car keys, like when you are trail running, mountain biking, kayaking, or surfing. Wouldn't it be nice to be able to leave the keys someplace safe? 
The feature is little-known, even by Subaru retailers, for the newer Subaru Forester, Outback, Crosstrek, WRX, WRX STI, Impreza, and Legacy. It allows you to unlock your vehicle without using the key fob.
You can use the feature to unlock your car if you lose your keys or if they get locked in the vehicle. Leave the key locked inside the car if you need to stay light on a hike. 
You can quickly get back inside using a customized feature called Pin Code Access. This feature has been offered on some Subaru models since 2014, so check your owner's manual to see if it's available on your Subaru.
If you found this information helpful, check back daily for the Subaru Report, as I bring you the latest news, reviews, and new model information. 
For additional articles related to Subaru, here are a few for your consideration:
Watch the How to Configure PIN-code Access YouTube video below. 
Denis Flierl - I have over twenty years of Subaru and automotive journalism experience. I enjoy bringing you, the Subaru fans and customers, the most up-to-date Subaru news, reviews, and new model information. You'll find the latest Subaru stories on the Subaru page. Follow me on my The Dirty Subaru website, Subaru Report, All Subaru and WRX STI social media channels:  Also Facebook, Social Platform X, and Instagram. 
Subaru Report - We've got you covered! Check back tomorrow for more unique, informative SUBARU news, reviews, and previews you can trust.
Please leave your comments below, share the article with friends, and post X to your followers!
Photo credit: Subaru