When it comes to wagons, there aren't a lot of choices here in the U.S. Subaru's Outback is in a class of it's own except for the Volvo XC70 and Audi's Allroad which will cost a lot more. They also don't offer the interior space of the Outback. The Outback is named after the remote regions in Australia where this vehicle underwent severe testing. It's a vehicle for families wanting to get away from civilization, yet it's civilized enough for the daily commute. We''ll let you know why it's such a popular choice in the mountain and cold weather states.
What's new for 2016?
Outback was redesigned last year and gets a few upgrades for 2016. The new subscription-based Starlink Safety and Security system is available with services like emergency SOS and automatic collision notification. Several new features have been added to the EyeSight active-safety system. Our Outback tester came with a new Lane Keep Assist. Above 40 mph, it can detect when the wagon is drifting out of its lane, then apply steering assist to nudge it back into place.
Features and options
The 2016 Subaru Outback 2.5i Limited ($30,695) gets extra luxury features like heated leather seats, 18-inch alloy wheels, a comfort-tuned suspension, rear air vents, power-folding side mirrors, a power rear liftgate, a four-way power passenger seat, driver memory settings, heated rear seats, an upgraded Harman Kardon 12-speaker sound system, blind spot monitoring and rear cross-traffic alert.
Added options
This Outback Limited came with the optional power moonroof package, navigation and EyeSight Driver Assist System ($3,090). It also featured the popular package #5 ($674) that included a rear bumper cover, splash guard kit, all-weather floor mats, rear seat protector and dimming mirror with bind spot and light. Other options: 120v outlet ($402) and Remote engine start ($437). Total MSRP including destination: $36,148.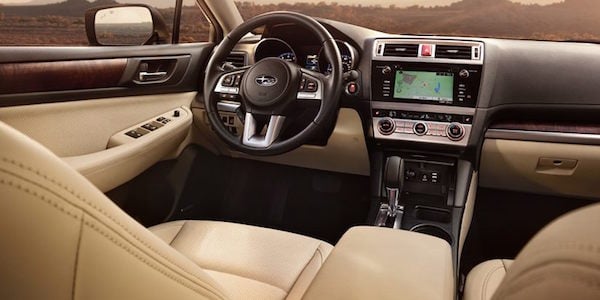 Interior highlights
The Outback Limited's cabin feels much more upscale than the standard model and compared with previous generations, it's much improved. Overall, quality is high and there's lots of soft-touch materials throughout the cabin. It's a place where driver and passengers won't mind spending lots of time in the city or on the mountain trail. The impressive-looking perforated leather seats are comfortable and supportive for long trips to the mountains for weekend getaways. The rear setbacks recline making it a comfortable place for rear passengers to sit back and enjoy the ride. Our passengers this week said they could have used a bit more legroom in back though.
This model is ready for the winter months and gets heated seats in front and rear. Passengers in the rear will stay comfortable too. It also comes with convenient rear air controls and a handy fold down cup holder for added comfort and convenience. The back doors are big enough and it's easy to get in and out and load cargo with the Outback's slightly higher ride height. The driving position is more car-like, higher up than in a sedan but not as tall as in most SUVs.
If you need to haul cargo, the Outback's hauling capabilities are a strong point among wagons. It features 35.5 cubic feet of space behind the rear seat. The setbacks fold flat with a 60/40 configuration. They can be dropped easily thanks to the rear-seat fold-down levers in the cargo area. Cargo grows to 73.3 cubic feet with the seatbacks dropped. With the optional all-weather floor mats, it's a good place to haul the family dog.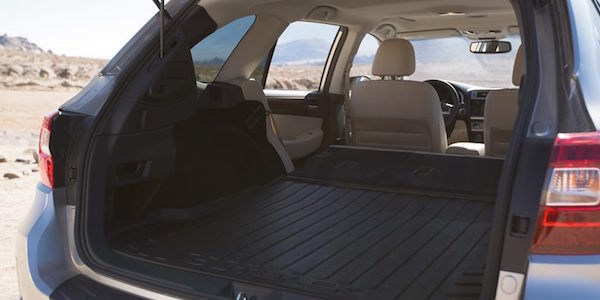 Compared to SUVs, the Outback's stance isn't as tall, making it a good choice if you frequently load gear on the roof. The Outback Limited comes standard with roof rails, cross bars and tie downs for easy carrying of kayaks, small boats, cargo carriers and mountain bikes.
Engine and fuel mileage specs
The standard engine for the Outback is a 2.5 liter horizontally opposed boxer engine which generates 175 horsepower and 174 pound-feet of torque. All Subaru's, except for the rear-drive BRZ, come with the Japanese automaker's Symmetrical all-wheel-drive. A continuously variable automatic transmission (CVT) drives all four wheels. For those who like to shift manually, Outback comes with steering wheels paddle shifters. Fuel mileage is an EPA-estimated 25/33 city/highway mpg and 28 combined mpg. Outback takes regular unleaded fuel.
Driving dynamics
We took the Outback Limited on a number of different roads this week to see how it performs. We took it on twisty mountain roads, city streets and up the highway at altitude. Overall, the Outback delivers a satisfying driving experience that is higher on the fun-to-drive meter than most crossovers and small SUVs. Because of its 190-inch overall length, it's easier to park in the city than a lot of rivals. The standard rear view camera made it easy to spot the fence as we backed into a spot to unload some cargo this week.
The downside to the Outback is the acceleration performance that doesn't match the wagon's other merits. We tested the Outback at extreme altitude in Colorado and if you live on the flats, it may not be an issue. We felt the 2.5-liter engine was a bit underpowered for mountain driving. Subaru does offer a more powerful 3.6-liter engine which may be a better option for those living in mountain settings.
Even though we don't like CVT automatics because of the way the wind up, Subaru's continuously variable transmission feels more like a conventional 6-speed automatic transmission. Performance from Outback's CVT beats that of many rivals. During leisurely acceleration, the ratios change quickly and subtly, without a hint of engine/transmission mismatch.
If your looking for all-wheel-drive, all-weather security, you've come to the right place. Subaru's Symmetrical AWD will get you anywhere you need to go as long as you have the clearance underneath. Active torque vectoring provides control of each wheel when traction is an issue. It's ideal for snow, ice and wet muddy conditions. Outback won't leave you stranded on the side of the road when conditions get extreme.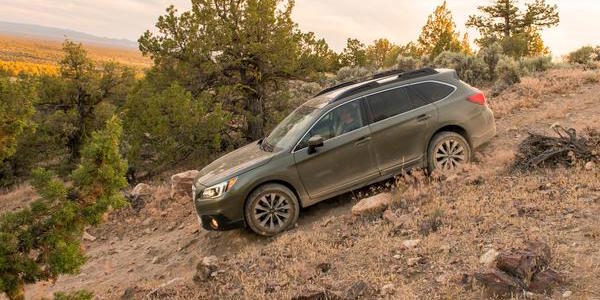 X Mode with Hill Descent
You won't find this feature on any other wagons or small SUVs. Outback now uses the Forester's Enhanced Active all-wheel drive system with X-Mode. If you plan on getting off the pavement and onto the trail, this feature is a must for those with active lifestyles. X-Mode lets the Outback become more adept along the trail and steep inclines. On regular pavement, it delivers greater response by altering the CVT's shift pattern.
Outback safety
This Limited tester came with the optional EyeSight safety system. It adds a Lane Keep Assist function for 2016. Lane Keep Assist can activated by the driver with a steering wheel mounted switch. The new enhancement activates above 40 mph if the EyeSight camera detects the vehicle drifting from the lane and a steering assistance control engages to direct the vehicle back into the lane. If the vehicle continues across the lane, Lane Departure Warning is triggered and audible and visual alerts are engaged. 2016 Outback Limited trims also feature standard Blind Spot Detection + Rear Cross Traffic Alert, which are included with the EyeSight option. For more information on EyeSight and to learn how it reduces accidents, read the full report here.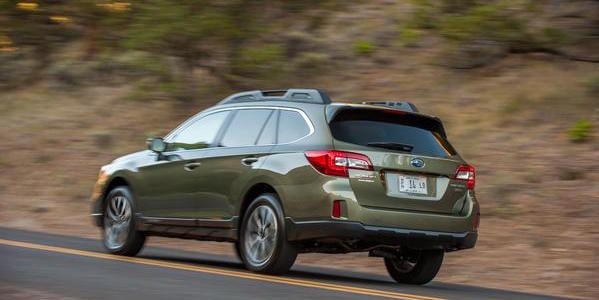 Conclusion
The 2016 Subaru Outback Limited offers generous cargo capacity and a refined interior. The Outback wagon is a good option for families, especially those who enjoy getting away from civilization. If all-weather traction and utility are the top attributes you're seeking, and you lead an active lifestyle, the new Subaru Outback should definitely be on your short list.