Subaru performance fans have been asking for the return of a Subaru WRX STI Hatchback 5-Door, but an Impreza hot hatch could be the answer. Fans have also been asking for a Crosstrek STI with a turbo Boxer under the hood. But that could be too much of a challenge for Subaru engineers to pull off with the Crosstrek's 8.7-inch ground clearance.
The Impreza is a much better candidate to drop the FA20 2.0-liter turbocharged WRX engine in to. It's already got a low ride height and STI could give the Impreza 5-door hatch the suspension upgrades it needs to handle the extra horsepower. Subaru will unveil a new Impreza STI at the Tokyo Auto Salon 2019 and they could have plans for the Impreza hatchback. But we've seen this before.
This isn't the first Impreza STI Subaru Corp has unveiled in Japan. Last year, they brought the Impreza Sport STI Concept to the Tokyo Motor Show. The Impreza 5-Door is the perfect vehicle for Subaru to let their performance partner, Subaru Tecnica International (STI), get their hands on. Subaru needs a hot hatch model since they dropped the WRX/STI hatch in 2015. Now that they build the Impreza at their US plant in Indiana, it would fit perfectly in their portfolio of U.S. performance cars.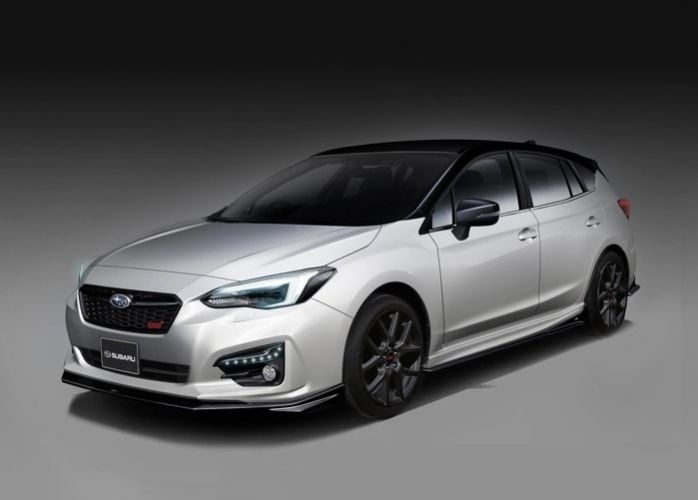 It's all speculation and Subaru hasn't confirmed anything yet, but Subaru keeps teasing these Impreza STI hatch models. It's time Subaru Corp gives fans something to get excited about. The Impreza STI hatch would likely be a big hit with performance fans around the globe and especially in the U.S. since Subaru doesn't offer a hot hatch WRX/STI. Fans would certainly buy a compact sports tourer like the 2019 Subaru Impreza STI Concept coming to the Tokyo Auto Salon 2019. Stay tuned.
Leave your comments below, share the article with friends and tweet it out to your followers!
Follow more Subaru news on Facebook, Twitter and Instagram
Photo credit: Subaru Corp