I'm not surprised that the 2023 Subaru BRZ is last again in sales for Subaru of America. The 2023 BRZ sports coupe is still the bottom dweller in SOA's lineup, with 270 sales in September, compared with 231 sport coupes delivered in September 2022. BRZ was up 16.9 percent in September and a 38.3 percent increase for the year, with 3,361 sport coupes delivered to customers.
But the Subaru BRZ is quick on the track. Scott Speed and MonsterMotoring took the 2024 BRZ tS to Thunderhill Raceway Park for a test run. The new BRZ tS is the highest-performance BRZ in the Subaru lineup. It's track-ready, with Brembo brakes and an STI-tuned suspension for sports car enthusiasts.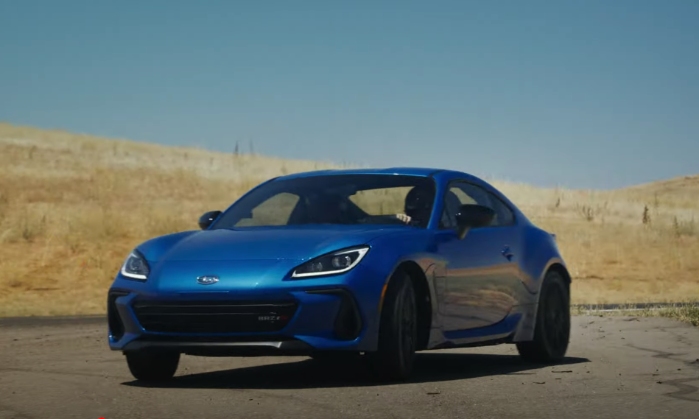 Pro driver Scott Speed invited TikTok influencer Jordan Farrell of @MonsterMotoring to ride along for a test drive at Thunderhill Raceway Park in Willows, California.
Speed drives a 2024 BRZ tS in WR Blue Pearl, and the words out of Jordan Farrell's mouth are "Oh my goodness, that's ridiculous, my God," as he hangs on and gets thrown around in the sports coupe. He laughs and says, "Oh wow."
Check out the 2024 BRZ tS | Test Drive with Scott Speed and @MonsterMotoring YouTube video. Scott Speed was the first to drive the new 6-speed manual transmission model with EyeSight driver assist safety technology.
As I reported earlier, the 2024 BRZ tS is the first U.S.-specification model with a 6-speed manual transmission with Subaru's Eyesight driver assistance system with adaptive cruise control, pre-collision braking system, lane departure and sway warning, and lead vehicle start alert.
Outside, the BRZ tS comes with tS badging, Crystal Black Silica finish mirrors, roof-mounted shark fin antenna, and 18-inch aluminum alloy wheels in a dark gray finish. It will be available in all colors for the 2024 BRZ model line.
The new tS trim will include black upholstery with tS-only contrasting blue stitching on the front seat bolsters, a leather-wrapped steering wheel, shifter boot, and parking brake boot. Front seats feature a blue leather accent down the middle. 
The STI logo is displayed on the red starter button and customizable 7-inch digital instrument cluster, updated with tS-exclusive red accents.
The 2024 BRZ tS is powered by the 2.4-liter (naturally aspirated) 228 horsepower and 184 lb-ft of torque engine paired with a six-speed close-ratio manual transmission.
For driving enthusiasts who can't wait for the BRZ tS, here is the 2023 model year pricing.  
The 2023 Subaru BRZ comes in two trim levels with two transmission options. The BRZ Premium with a 6-speed manual gearbox has a starting price of $29,615. BRZ Premium with an automatic transmission starts at $33,115. The Limited (6-speed manual) has a starting MSRP of $32,115. The Limited with an automatic transmission starts at $33,255.
Subaru says the BRZ tS trim level will be available nationwide at Subaru retailers early next year. Pricing will be announced later this year.
I like the new 2024 BRZ tS trim level. I've driven the 2020 BRZ tS, and it's a track star. But I would have liked to see Subaru Tecnica International get their hands on the 2.4-liter Boxer and bump up the horsepower. 
It's time for your Subaru BRZ tS comments. Do you like what Subaru has done with the sports coupe?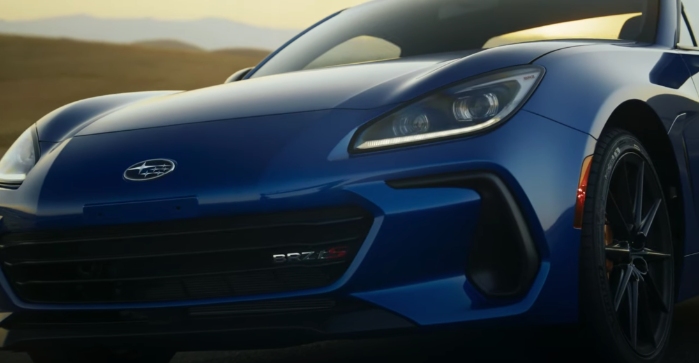 Thanks for reading, everyone. See you tomorrow for my latest Subaru Report story.
For additional articles related to the Subaru BRZ tS, here are a few of my top stories:
Denis Flierl - I have over twenty years of Subaru and automotive journalism experience. I enjoy bringing you, the Subaru fans and customers, the most up-to-date Subaru news, reviews, and new model information.
Check back daily for my expert Subaru analysis. You'll find the latest Subaru stories on the Subaru page. Follow my Subaru Report and All Subaru social media channels: Facebook, Social Platform X, and Instagram. 
I've got you covered! Subaru Report - I cover all Subaru all the time. 
Please leave your comments below, share the article with friends, and post X to your followers!
Photo credit: Subaru