It was the Subaru WRX STI driven by Scott Speed that sits on top of the leader board after the first ARX race of 2019. Subaru gets their first podium in ARX and it's a big boost for the team after Scott Speed made the switch from Volkswagen to Subaru. The team showed off their new Blue, Yellow, and Gold livery in style with Speed bringing home the win at Cooper Tires ARX of Mid-Ohio this weekend.
It didn't look good for Subaru after the qualifying rounds on Saturday. The Subaru team was up late fixing Speed's STI after a big hit by Tanner Foust ripped out the whole rear end of the car. But Subaru was ready on Sunday.
In Semi-Final 1, Chris Atkinson gets a holeshot to take the lead and holds off Tanner Foust to take the win. This sets him up for a first-row spot in the Final. In Semi-Final 2, Scott Speed gets the lead going into turn one and never looks back beating Steve Arpin in the Ford Focus RS. Speed sets up perfectly on the inside front row going into the Final.
The Final
It's Scott Speed and Chris Atkinson in the Blue and Yellow Subaru WRX STIs sitting on the front row. Tanner Foust and Steve Arpin are on the second row with Patrik Sandell and Travis Pecoy in the third row. Scott Speed gets the lead after some hard hitting and leads the race from start to finish.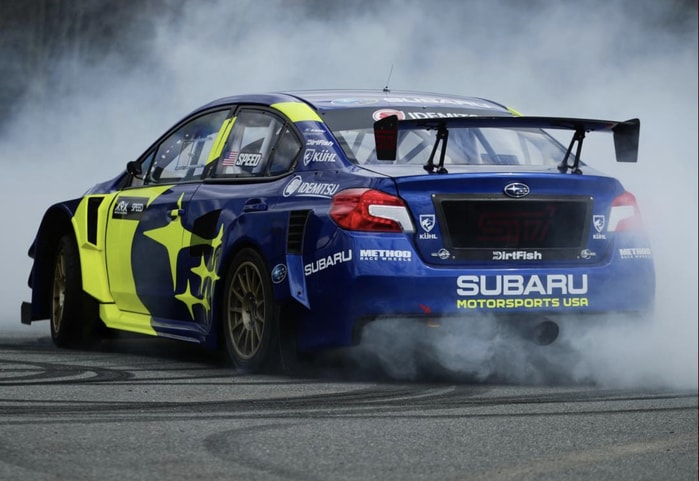 The race was full of carnage behind the faster Speed who didn't even get his car dirty. Foust gets hit hard after being pushed wide leaving him in the last place to try to catch up. Sandell hits his own teammate Atkinson knocking him out with a broken rear wheel. Travis Pecoy gets his first podium in ARX taking second place and Steve Arpin rounds out the podium in third.
Subaru gets a big first win in their new blue and yellow livery on the 2019 WRX STIs. After the race, Scott Speed says it was the most challenging course he has raced. "This is one of the most demanding tracks I've ever driven with all the potholes. My first win with Subaru, we are going to have the biggest party ever!"
Next up for the three Subaru WRX STIs will be more hard-fought rounds two and three July 13-14 at Gateway Motorsports Park in Madison, Illinois. Stay tuned.
You Might Also Like: Can Scott Speed Dominate Andretti Volkswagen Beetles?
Leave your comments below, share the article with friends and tweet it out to your followers!
Follow more Subaru WRX STI news on Facebook, Twitter, Instagram, Subaru Report
Photo credit: Subaru Motorsports