Oliver Solberg gets his first American Rally Association win and beats David Higgins to win the DirtFish Olympus Rally. Solberg and Giraudet get their first victory for Subaru Motorsports USA in the Blue, Yellow, and Gold 2019 Subaru WRX STI rally car. The pair beat teammates David Higgins and Craig Drew by 25.9 seconds in a hard-fought battle throughout the rally's two days of competition.
Solberg in the #70 WRX STI ended day one first overall and had a comfortable lead of +41.4 seconds over Higgins. Brake issues lost Higgins over 20 seconds on the mega SS7 giving Solberg a lead of over 30 seconds with one stage to go. Solberg finished the day with 7 out of 8 stage wins for one of his best days ever in a rally car.
Even though Solberg is young (17), Denis Giraudet has rallied almost 400-times in the past, but this was his very first U.S. stage rally. Day two saw dry and dusty conditions and Solberg had a double puncture on SS10, a 20-mile stage and saw their lead over Higgins drop to 16.6 seconds. Solberg didn't let up and drove the #70 STI's tires to the cords the last two stages to get the win over Higgins.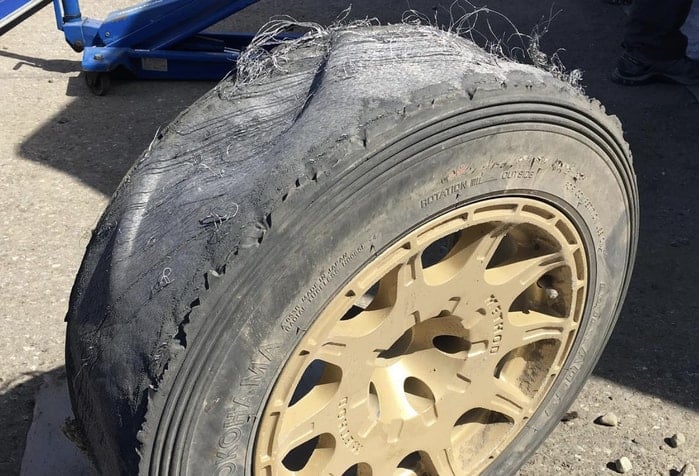 Using every bit of tire available
After the win, Solberg said, "It's an amazing feeling! Thank you very much! Winning with the classic Subaru colors and the Solberg on the side window and managing to win, it's fantastic! I couldn't even dream about it. It's been a fantastic race!" 
 
"On the last stage, I was very clean and very careful on braking and out of corners to save the tires for a while, then when there was not long left, I could push like hell. It was flat out and we managed, so it was fantastic."
 
David Higgins said, "I think when you finish second, it's not really positive, you know. But it was disappointing yesterday when we lost a lot of time, didn't lose as much as we could have with the problem. And then today we had a good morning getting back into the fight again. And this afternoon we made a tactical decision to not go balls out on the last stage because we knew that he was going to, and you know his tires were on the limit of finishing anyway. He obviously handled the pressure well today and hats off to him for a perfect rally."
Up next for Subaru Motorsports is the Oregon Trail Rally, in Portland, OR May 31-June 2 where Higgins and Drew will take on Pastrana and Durant in the Blue, Gold, and Yellow 2019 Subaru WRX STI rally cars.
You May Also Like: Subaru Hits Unexpected Trouble At 100 Acre Wood Rally; Ken Block DNF
 
Leave your comments below, share the article with friends and tweet it out to your followers!
Follow more Subaru WRX STI news on Facebook, Twitter and Instagram
Photo credit: Oliver Solberg, American Rally Association