Subaru's razor-thin new model inventory just got thinner. The Japanese automaker's inventory for new car shoppers looking for a 2024 Crosstrek, 2024 Forester, or 2024 Impreza may be harder to find this fall. It's the first negative report for new model customers in seven months as Subaru Corporation released its new production report for August 2023. 
Production is down at the Japan factory.
I have been covering Subaru's new model production all year, and it's been on an upward trend for six months. Subaru Corporation reported its new vehicle production is down at its Gunma Japan factory. Subaru says new vehicle production decreased 12.0 percent in August, the first decrease in seven months.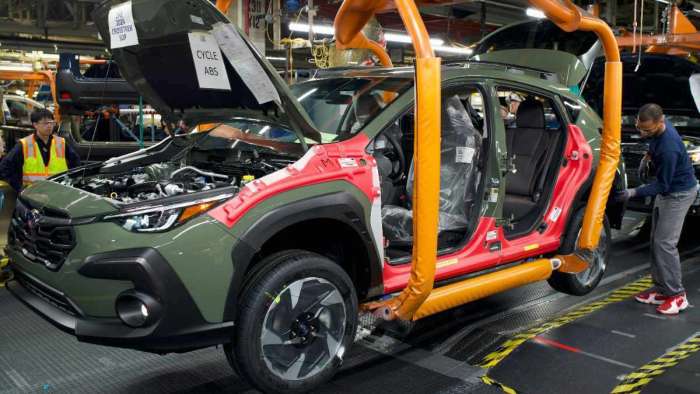 Subaru makes the U.S.-specification 2024 Subaru Forester, the all-new 2024 Subaru Crosstrek Base and Premium trims, the new 2024 Subaru Impreza compact hatchback, the 2023 Subaru WRX performance car, and the BRZ sports coupe at the Japanese factory.
Even with the drop in production, Subaru Corporation says exports from Japan increased 12.1 percent in August, the seventh consecutive monthly increase. But the decline in production means fewer 2024 Forester compact SUVs,  2024 Crosstrek Base and Premium subcompact SUVs, and new 2024 Impreza hatchbacks are coming to U.S. customers this fall.
Production is up in the U.S. factory.
At the U.S. factory in Lafayette, Indiana, where Subaru manufactures the all-new Crosstrek Sport, Limited, and Wilderness subcompact SUV, 2024 Outback midsize SUV, 2014 Ascent 3-Row SUV, and 2024 Legacy sedan, there's good news for new car shoppers.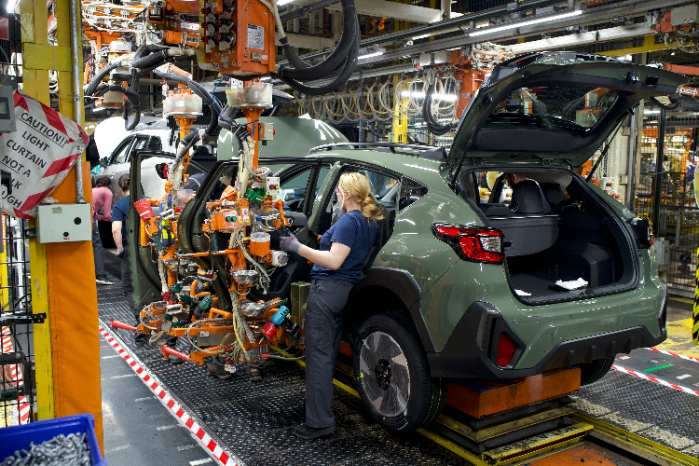 Production improves in the U.S. factory.
Subaru has the assembly lines in the U.S. factory humming. Subaru also announced its new model production and export numbers at Subaru of Indiana Automotive. According to the report, new vehicle production increased 36.1 percent in August, the seventh month of a consecutive increase. 
New models are now built in the U.S. factory.
As we reported earlier this year, Subaru shifted production of some models to Japan and brought other new model assemblies to the U.S. factory. The 2024 Crosstrek Sport, Limited, and Wilderness trim levels are now built in Indiana. The next-generation Impreza hatchback is now manufactured in Japan. 
The next-generation 2024 Subaru Crosstrek Sport, Limited, Wilderness trims, 2024 Subaru Outback, 2024 Subaru Ascent, and 2024 Subaru Legacy are coming this fall to U.S. retailers. They are manufactured in Lafayette, Indiana, where production has increased, which should improve customer deliveries and wait times this fall.
Subaru's new vehicle production is down at its Gunma Japan factory, affecting the Forester compact SUV, some Crosstrek models, Impreza hatch, WRX sports car, and BRZ sport coupe customers. But production is up in Lafayette, Indiana. Some U.S. customers will be affected negatively depending on what model and trim level they are buying. 
For additional articles related to new Subaru models, here are a few for your consideration:
Here is the ALL NEW… BUT BETTER? 2024 Subaru Crosstrek review video from TheStraightPipes.
Denis Flierl brings over thirty years of combined auto industry and automotive journalism experience to Torque News readers. He is an accredited Rocky Mountain Automotive Press (RMAP) member. The last twelve years have been spent with Torque News, covering Subaru vehicles and the latest news. Check back daily for his expert Subaru analysis. You'll find the latest stories on the Torque News Subaru page. Follow Denis on Facebook, Social Media Platform X, and Instagram. 
Subaru Report - We've got you covered! Check back tomorrow for more unique, informative SUBARU news, reviews, and previews you can trust.
Please leave your comments below, share the article with friends, and post X to your followers!
Photo credit: Subaru of Indiana Automotive