A big problem with buying a small SUV is the lack of rear seat legroom, headroom, hip and shoulder room. It's also not easy for young families to install a child seat in the back because of smaller door openings. And urban-adventurers who use their small SUV for weekend get-aways, often don't have enough cargo room for all their gear. Subaru Corporation has addressed these issues in the all-new 2019 Forester that arrives this fall.
Subaru engineers increased the wheelbase to 105.1 inches from 103.9 inches, with the gain benefitting rear seat legroom, which is now 39.4 inches, a 1.4-inch increase. Gains in headroom, hip and shoulder room in the rear further improve passenger comfort and a feeling of spaciousness in the cabin.
The Japanese automaker also made it easier to install a child seat for families. The 2019 Forester comes with wider rear door openings and a steeper C-pillar angle making ingress/egress easier.
Forester's new design brings added function
Subaru Forester has long been known for its "go-anywhere" attitude, and many owners use their SUV to go on camping, hiking, and mountain biking excursions. Because the fifth-generation Forester rides on the new Subaru Global Platform, the architecture increases cargo space to 76.1 cu. ft. with the 60:40 split rear seatbacks lowered, a gain of 1.4 cu. ft. The load floor sits flatter, and the cargo area's squared-off shape has been further optimized for ease of carrying large objects.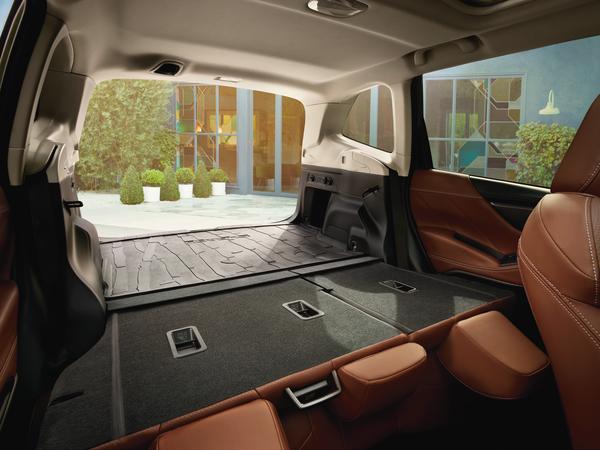 Another Forester improvement increased the maximum width for the rear gate opening to 51.2 inches wide, a 5.3-inch increase over the outgoing model, and the new Forester is up to 8-inch wider than on some competitive SUVs.
Subaru Corp increases the all-new fifth-generation 2019 Forester's interior cabin room, improves ingress/egress, and brings added function for active families. All Forester models also feature lower bodyside cladding, which helps protect against mud, rocks and other road debris when owners use the small SUV to get away from civilization.
Leave your comments below, share the article with friends and tweet it out to your followers!
Follow more Subaru news on Facebook, Twitter and Instagram
Photo credit: Subaru USA