This winter season is expected to be snowier than normal, and if you are looking for new SUVs that are the best for snow, check out the top models from Kelley Book Book (KBB). They ranked the thirteen best 2024 model year SUVs for driving in the snow this winter. Subaru, known for its all-wheel-drive models, only has two top picks by KBB. Where are the other three?
I have covered the Subaru brand extensively and why they are the best snow vehicles. Having driven all Subaru SUVs in deep snow, I was surprised KBB only has two Subaru SUVs on the top model list: The 2024 Subaru Forester and the 2024 Subaru Outback. 
Before I discuss Subaru's top two picks, here are KBB's 13 Best SUVs For Driving In Snow.
2024 Acura RDX SH-AWD
2023 Chevrolet Tahoe 4WD 
2024 Ford Bronco Sport 
2024 Honda CR-V AWD
2024 Hyundai Kona AWD
2024 Hyundai Santa Cruz AWD
2024 Jeep Grand Cherokee 4xe/Laredo
2024 Kia Telluride AWD
2024 Mercedes-Benz GLA 250 4Matic
2024 Subaru Forester
2024 Subaru Outback 
2024 Toyota RAV4 Hybrid
2024 Toyota Sienna AWD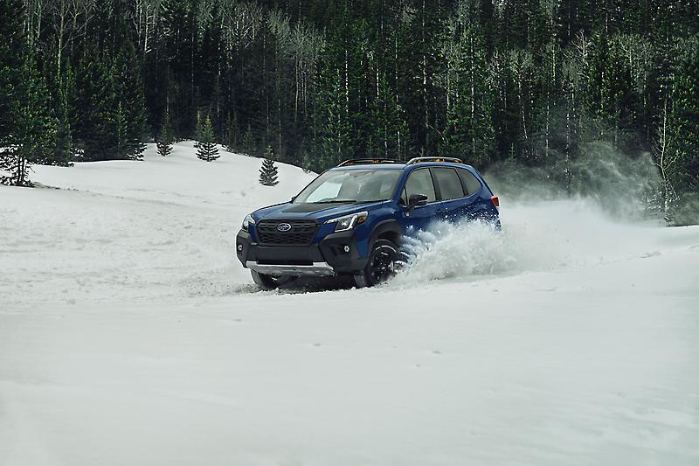 I am not surprised the Subaru Forester and Outback make the cut. KBB says the 2024 Subaru Forester compact SUV and 2024 Subaru Outback midsize SUV are among the best new SUVs for severe weather this winter. I would agree. 
KBB says to qualify for its picks, "Vehicles need to boast an effective drivetrain — the array of components from the transmission to the tires. Look for safety and driver-assist technologies, such as rain-sensing wipers, blind-spot monitoring, etc. Then, consider comfort or convenience features, such as heated seats and headlight washers, to make driving easier in snowy weather." 
KBB's Best Value for Snow: $30,095 | Forester Premium
Base Price w/AWD: $26,895 | Expert Rating: 4.3
IIHS Rating: Top Safety Pick+ 
KBB says, "Every Subaru Forester boasts standard AWD with impressive ground clearance (8.7 inches). LED adaptive headlights, automatic high beams, automatic climate control, a rearview camera washer, and forward collision warning with automatic emergency braking are included."
"You must move up to the Premium trim to qualify for blind-spot monitoring and rear cross-traffic alert. Also included in the Premium are fog lights, windshield wiper de-icer, heated front seats, and heated outboard mirrors. A 182-hp 2.5-liter 4-cylinder engine sends its output to the wheels via an automatic transmission (CVT)."
What about Subaru's X-Mode? 
KBB fails to mention the Forester's X-Mode for severe snow driving that comes standard on the Base and Premium trim levels. The Forester Sport and Wilderness trims have an added dual-function X-Mode for the Deep Snow/Deep Mud setting. The other SUVs on the list do not have such a feature.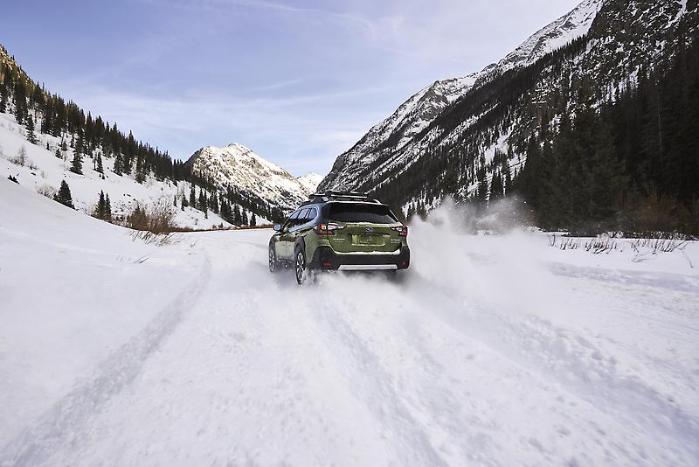 The 2024 Subaru Outback is a top pick. 
KBB's Best Value for Snow: $31,195 | Outback Premium
Base Price: $28,895 | Expert Rating: 4.6
IIHS Rating: Top Safety Pick+ 
KBB says, "Every Subaru Outback comes right out of the box with AWD as standard, along with 8.7 inches of ground clearance. That makes this a great — and the best — car for snow. A snow/mud X-Mode transmission setting includes a forward collision warning with automatic emergency braking, adaptive LED headlights, and automatic high beams. We recommend stepping up to the Premium grade to gain heated front seats, windshield wiper de-icers, LED fog lights, and automatic climate control. Move up to the Limited grade for heated rear seats."
"A blind-spot monitor, rear-cross traffic alert, and other goodies are in a Premium trim option package ($1,400). An 182-hp flat 4-cylinder engine uses a CVT to usher power to the wheels."
KBB touches on the Outback's X-Mode but fails to mention the Outback's dual function X-Mode on the XT and Wilderness trim levels. Like the Forester, the Outback has an added dual-function X-Mode for Deep Snow/Deep Mud. 
I would also choose the Subaru Forester and Outback in my twenty years of testing and driving all the above vehicles. The question is, where are the 2024 Subaru Crosstrek, 2024 Subaru Ascent, and 2023 Subaru Solterra? All are not just above-average SUVs in their snow-driving capabilities, but they are superior winter vehicles.
Thanks for reading, everyone. I hope you enjoyed this Subaru snow-driving report. See you tomorrow for my latest Subaru Report.
For additional articles related to Subaru and winter driving, here are a few of my top stories you may enjoy. 
My Top Picks
Check out the Driving Sports TV YouTube video: Subaru Forester Wilderness Snow and Ice Off-Road Test
Denis Flierl - I have over twenty years of Subaru and automotive journalism experience. I enjoy bringing you, the Subaru fans and customers, the most up-to-date Subaru news, reviews, and new model information. You'll find the latest Subaru stories on the Subaru page. Follow me on my The Dirty Subaru website, Dirty Subaru blog, SubaruReport, All Subaru, WRXSTI, @DenisFlierl, Facebook, and Instagram.
I've got you covered! - I cover all Subaru all the time - It's called the "Subaru Report." Check back daily for my expert Subaru analysis!
Please leave your comments below, share the article with friends, and post X to your followers! 
Photo: Subaru