The 2024 Subaru Forester is an affordable compact SUV. A 2024 Subaru Forester Base trim starts at a reasonable $28,190, but how much does a full-loaded Touring trim cost? The top-of-the-line Forester Touring trim starts at $38,490, but it's over $45,000 with all the goodies. 
Here is what you get on a 2024 Forester Touring trim level with all the options and accessories. 
The Touring comes with black or saddle brown leather upholstery, a leather steering wheel, a power rear tailgate with auto close and height memory, dual USB ports, and voice-activated climate control.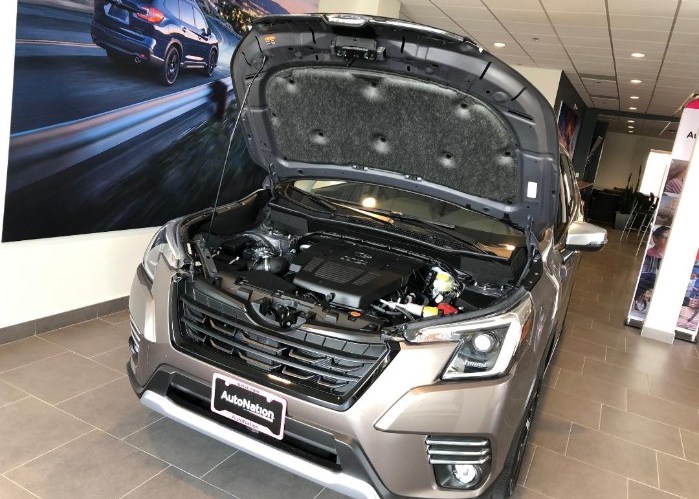 Outside, it comes with 18-inch black aluminum alloy wheels with a dark grey finish, exterior mirrors with integrated turn signals, and chrome accent trim for the fog lights. The Touring has a 7-speed manual mode for the Lineartronic CVT automatic transmission.
The Forester Limited comes with chrome door handles, satin chrome folding mirrors with integrated turn signals, and LED fog lights with chrome trim. It also features silver metallic finish mounts on the roof rails and a silver finish on the front, rear, side valences, and chrome badges.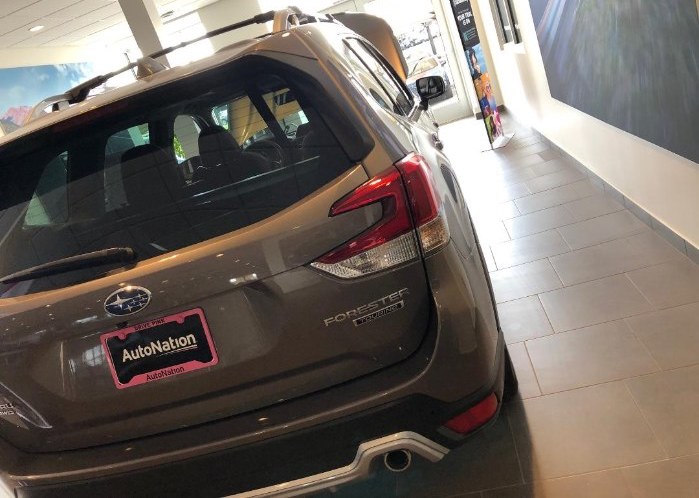 The top-of-the-line Touring trim offers a gesture climate control capability, allowing the driver to raise and lower the automatic climate control system's temperature through hand gestures. 2024 Touring trims add gloss black trim on the B- and C-pillars for a Premium appearance.
Forester Touring features a 10-way power driver's seat with 2-position memory, an 8-way power front passenger seat, and heated rear seats. The cargo area has LED lights in the tailgate and dome lights with an off-delay.
Other standard features include a Tweeter Kit, Cargo Cover, Cargo Tray, Fog Light Kit, and Bumper Under Guard - Front.
Check Out This Related Story: 2024 Subaru Forester Pricing And Model Guide - One Hot Trim Stands Out
The 2024 Forester Touring MSRP with destination and delivery ($1,225) is $38,490—around $10,000 more than the lowest-priced Base trim level. But add in all the options and accessories, and Forester Touring is $45,089.
Here is what you can get. 
Cargo Net $52 
Phone Holder - Cup Holder Mounted $54.95 
All-Weather Floor Liners $132 
Auto-Dimming Exterior Mirror with Approach Light $278 
Battery Charger and Maintainer $149.95 
Cargo Sidewall Protector $105 
Door Scuff Protector - Front $136 
Rear Seatback Protector $153 
Door Projector Light $275 
LED Upgrade $78 
Crossbar Set - Aero $252 
Thule Awning - Roof Mounted $849.95 
Thule Bike Carrier - Hitch Platform - 2 bikes $799.95 
Thule Roof Top Tent $2,799.95 
Collapsible Pet Kennel - Medium $199.99 
Console Lid Protector $49.95 
Seat Cover - Rear $249.95 
Auto-Dimming Mirror with Compass and HomeLink $403 
Thule 2-Inch Hitch Adapter $49.95 
What is the price of all 2024 Subaru Forester trim levels?
All 2024 Forester trim levels increased by $770 in price, including destination and delivery. The Forester comes in six trim levels; The Base Forester starts at $28,190, Premium ($31,390), Sport ($32,960), Limited ($35,070), Wilderness ($36,015), and Touring ($38,490). Pricing includes destination and dealer fees ($1,295).
The 2024 Subaru Forester is an affordable compact SUV for about $28,000 for the Base trim level. But a full-loaded, top-of-the-line Forester Touring trim with all the goodies is over $45,000. The 2024 Forester arrives this fall. 
Should customers wait for the 2025 model year Forester? The 2025 Forester is expected to get a complete remodel and will be worth the wait.
Don't Miss This Related Story: The One 2024 Subaru Forester Trim To Avoid And 2 That Will Be The Hardest To Find
Denis Flierl brings over thirty years of combined auto industry and automotive journalism experience to Torque News readers. He is an accredited Rocky Mountain Automotive Press (RMAP) member. The last twelve years have been spent with Torque News, covering Subaru vehicles and the latest news. Check back daily for his expert Subaru analysis. You'll find the latest stories on the Torque News Subaru page. Follow Denis on Facebook, Twitter, and Instagram. 
Subaru Report - We've got you covered! Check back tomorrow for more unique, informative SUBARU news, reviews, and previews you can trust.
Please leave your comments below, share the article with friends, and tweet it to your followers!
Photo credit: Subaru