If you don't think the Hyundai brand is an automaker to watch, you better not blink. Hyundai Motor USA announced it's bringing eight "new or re-engineered crossover utility vehicles" (CUVs) for U.S. consumers by the year 2020. During a press conference at the Hyundai America Technical Center, the South Korean automaker laid out a plan that will catapult the brand forward in the U.S. market.
It begins with the new Kona small CUV launching in March 2018. After that Hyundai says they will assault the CUV segment with seven other new vehicles encompassing models from the A-segment (entry level) size class all the way up to the eight-passenger midsize class.
If that's not enough, Hyundai Motor says they have 13,000 engineers woking right now on bringing four new engine technologies that will power these vehicles. They are developing new gasoline engine, diesel engine, hydrogen fuel cell and battery electric technology powering these 8 vehicles. Hyundai will be the only automaker in the world to offer CUVs with four different fuel choices.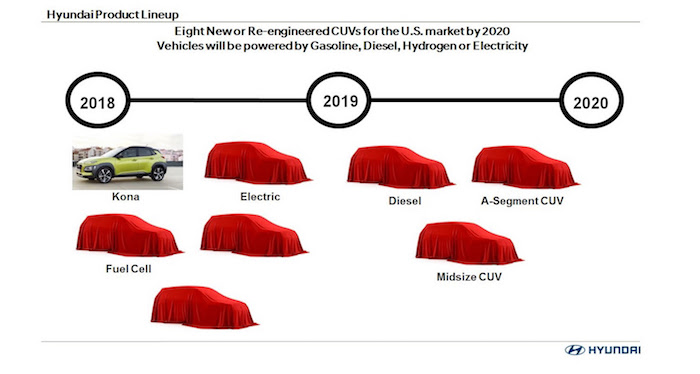 "Very soon we are going to have the most diverse CUV powertrain lineup in the industry," said Mike O'Brien, vice president, product, corporate and digital planning, Hyundai Motor America. "Our customers are going to have a lot of great CUV choices in our dealerships."
Hyundai USA will begin revealing these new CUVs at auto shows in Detroit, New York and Los Angeles in the next few months. Hyundai is a brand to keep your eye on. Hyundai also says they will introduce 31 "eco-friendly models" to the global market by 2020. If you haven't been paying attention to Hyundai, it all begins with the new 2018 Hyundai Kona.
Photo credit: Hyundai Motor America