Hennessey Keeps New Venom F5 Engine a Secret
The Hennessey Venom F5 was unveiled at the SEMA Show 2017 and was the talk of the show. In an exclusive interview with the guys over at DriveTribe, John Hennessey was asked what engine will power the new vehicle that's expected to break the 300 mph barrier and set a new world record as the fastest production car on the planet.
John Hennessey's response? "Ok, I can't tell you that." What he tell DriveTribe in the video below, is that it will be pumping out over 1,600hp and it will not be a hybrid and won't need an electric motor to produce all that power. It will also be producing more than 1,300 lb. ft of torque to the rear wheels.
Hennessey Performance is only building 24 of these custom hypercars for exclusive customers. 12 will be for U.S. customers and 12 will be shipped around the globe. The cost of these supercars will start at $1.6 million. Hennessey says a fully optioned F5 with a full carbon body and fancy paint, will run $2.2-2.3 million.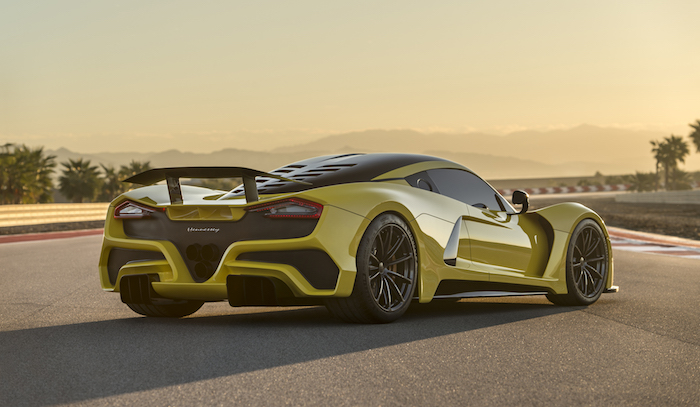 John says it's a legacy car, "I mean really it's a vanity car for our brand in that, we want our clients to have something very special." He doesn't want someone buying an F5 and sticking it away somewhere in a private car collection. He wants them on the road with the owner "showing and sharing them." John is passionate about the automotive and racing hobby and wants to keep it growing.
He also let out a little secret about the tires that he will run on the F5. Hennessey says Michelin wants to sell them the same tires they developed for the Bugatti Chiron. John says, "However, we don't want to upset anybody at Bugatti, Bentley, or the Volkswagen Group. So the F5 could run Michelins or he could develop his own high-performance tire with Bridgestone who he's also having conversations with.
Will the F5 be able to hit 300mph? Hennessey says, "Look, if you ask a submarine commander, how deep will your submarine go? he'll say, 'I don't know, I haven't gone that deep.' "We don't know, but we're going to find out."
Watch Hennessey Venom F5 revealed – 300mph? SEMA 2017 video
Photo credit: Hennessey Performance