1,600HP Venom F5 Debuts at SEMA; Aims For World's Fastest Production Car
Hennessey Performance just put Bugatti and Koenigsegg on notice with the unveiling of the Venom F5. It's at the SEMA Show 2017 at it could become the world's fastest production car. The performance shop near Houston, Texas is developing an all new, twin turbo V8 engine that will pump out over 1600 bhp and they expect it to hit 301 mph.
The Venom F5 is the next evolution of the potent Venom GT, but this car takes high-performance to another level. John Hennessey, owner of the Texas performance shop, started with a completely new chassis and carbon fiber body to achieve a 2,950-pound curb weight, plus it gets additional active aerodynamic functions achieving a coefficient of drag of 0.33. The team originally targeted a coefficient under 0.40.
The monster V8 engine is mated to a 7-speed single-clutch automatic gearbox sending power to the rear wheels, and the Hypercar is expected to launch from 0-186 mph in less than 10 seconds, quicker than F1 race cars, and 0-249 mph and back should take less than 30 seconds. It took the Koenigsegg Agera RS 36.44 seconds for the feat, and Bugatti's Chiron 41.96 seconds.
Hennessey's goal for the F5 is to hit a top speed of 301 mph, something no production car has ever achieved. Before, now, there hasn't been a tire that can hold up to those speeds and temps. The performance shop will be working with Michelin to develop a tire for the F5 Hypercar.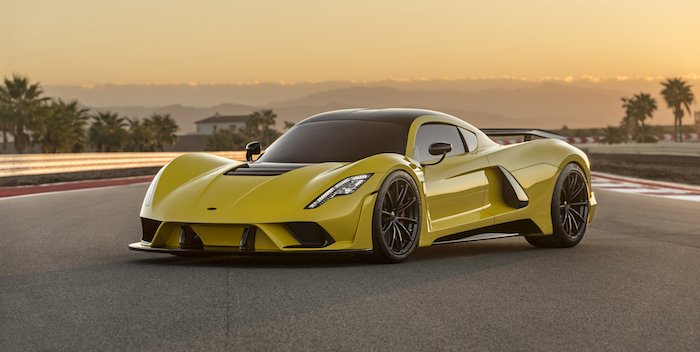 Hennessey's street-legal Venom GT achieved the world's fastest production car designation in 2013 accelerating to 265.7 mph, beating out a Bugatti Veyron Super Sport. The Veyron SS attained a speed of 267.8 mph in July 2010, but the top speed was achieved using a state of tune that is not available to customers paying the $2.5 million dollar purchase price as a production Veyron SS is speed limited to 257.8 mph.
According to a report from the Las Vegas Review-Journal, Swedish hypercar company Koenigsegg closed an 11-mile stretch of Route 160 between Las Vegas and Pahrump over the weekend for an attempt to set a new top-speed world record for a production car. A Koenigsegg Agera RS hit 291 mph according to a reporter from the newspaper.
The new Venom F5 won't come cheap and will have a higher price tag than the Venom GT, which sells for $1.2 million. Production is due to start next year with just 24 examples planned, each with a starting price of $1.6 million. John Hennessey built the Venom F5 for one reason. It looks like the top-speed wars are on between the Koenigsegg Agera RS and the Venom F5. Look for the new Hennessey Venom F5 to attempt the world record next year. Stay tuned.
Photo credit: Hennessey Performance