Swedish super-car automaker Koenigsegg set a high-speed record for production cars this weekend. The Koenigsegg Agera RS is now the fastest production car on the planet. As reported by the Las Vegas Review-Journal, the Swedish company was able to shut down an 11-mile stretch of state highway between Vegas and Pahrump for the high-speed run.
The report says the 1,360 horsepower Koenigsegg Agera RS supercar was driven by factory driver Niklas Lilja at an average speed of 277.9 mph. It beats the old record set by a Bugatti Veyron Super Sport in 2010.
It's not a coincidence that Koenigsegg chose a Nevada highway to attempt the record. It was only a few days ago that Hennessey Performance unveiled the Venom F5 supercar at the SEMA Show 2017 in Las Vegas. John Hennessey, owner of the Sealy, Texas shop built the 1,600hp F5 to set the production car world record. Hennessey's goal for the F5 is to hit a top speed of 301 mph, which would blow away the recent Agera RS record.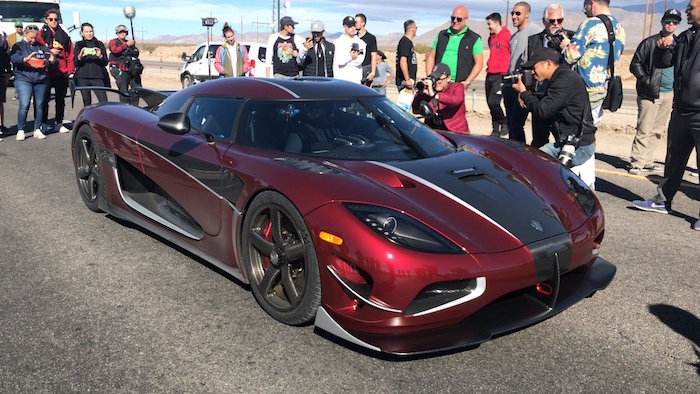 The Koenigsegg Agera RS pumps out 1,360 horsepower and 1,011 lb-ft of torque directed to the rear wheels. For now the Swedish supercar maker owns the record. The record was recorded using a Racelogic VBOX HD2 and two of the three runs were recorded from the cockpit you can see below.
Like the Hennessey Venom F5, the Agera RS is custom built for buyers who can afford the $1 million plus price tag. The fastest production car on the planet is now owned by Swedish supercar automaker Koenigsegg. Hennessey says they will attempt to break their record early next year. Stay tuned.
Watch Koenigsegg Agera RS hit 284 mph video
Photo credit: Koenigsegg Official