They call it the Subaru Crosstrek Desert Racer but it's not anything like the compact Crosstrek SUV urban commuter. This one is built for Subaru Motorsports and completes in the grueling Baja 500 and Baja 1000. The Crosstrek Baja just dominated the Class 5 where it competes and wins its first ever Baja 500 off-road race in Ensenada, Mexico.
This desert racer is built on the same platform as the Crosstrek SUV, but that's where the similarities end. It's built by Crawford Performance/Grabowski Brothers Racing (GBR) who has now secured Class 5 victories at two of the four major U.S./Mexico desert racing events in less than 12 months.
The Baja 500 is tough on machines and it comes with several silt beds which slowed the Crosstrek down early on in the race. Driver Neal Grabowski pushed hard after clearing the start area and by the midway point of the 487-mile event, had a good lead over the other Class 5 teams when son Dusty took over.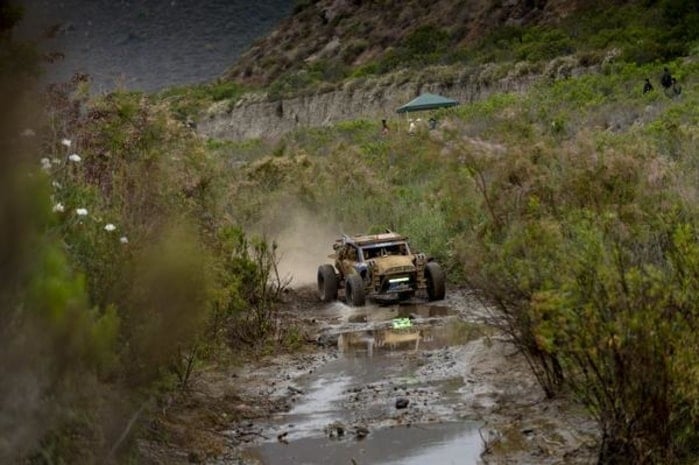 Things looked good until 15 miles from the finish, the Desert Racer team ended up taking a wrong turn after following a competitor's tire tracks right into a ravine in the Mexican outback. The team was able to extract the Crosstrek and finished the remaining 16 miles ahead of the rest of their class.
"Winning at Baja is a dream for anyone who races in the desert," said Dusty Grabowski. "This was a tough one – the conditions were a major challenge, especially getting caught in the ravine so close to the finish and wondering if we'd be able to get across the line. We knew we were the fastest Class 5 out there – just needed to keep going! It's an incredible feeling to get our first Baja class win, especially after finishing second last year and knowing we had a chance at the top spot."
The 2019 Subaru Crosstrek Desert Racer returns to Baja California in November where completes in its first running of the grueling Baja 1000 race.
You Might Also Like: Is Subaru The New Extreme AWD Off-Road Brand?
Leave your comments below, share the article with friends and tweet it out to your followers!
Follow more Subaru Crosstrek news on Facebook, Twitter, Instagram, Subaru Report
Photo credit: Subaru Motorsports