When you think of going off-road with a vehicle everyone thinks of Jeep. But what about Subaru? While most buyers don't take their SUV off-roading, the Subaru brand attracts a different breed who do take their SUVs off-pavement. Todd Hill, Subaru's Car Line Planning Manager, says, 33 percent of Subaru Crosstrek owners will use it for off-pavement recreation. Crosstrek isn't your typical small SUV as it comes with 8.7-inches of ground clearance which no Compact SUV competitor exceeds. It's the same with the newly-redesigned Subaru Forster and all-new 2020 Outback. They are family vehicles owners use for extreme recreation on the weekends.
Straight from the factory, the newly-redesigned 2019 Forester and new 2020 Outback are even more off-road capable with Dual-Function X-MODE on certain models that give the all-wheel-drive vehicles even more "go-anywhere" attitude and extreme off-road ability. The Subaru SUVs are also popular with families because of its all-weather capabilities and its utility.
They tackle the terrain
The 8.7 inches of ground clearance gives the three SUVs the ability to go over rough terrain without scraping the bottom. The boxer engine sits low in the chassis and gives them a lower center of gravity giving the SUVs the ability to handle the steep 1:3 ratio "axle twisting" gully without tipping over. Subaru's vehicles cock their wheels, transfers power to the opposite wheel and tackle the terrain.
Many fans mod their Subarus and there are off-road clubs around the country for adventure enthusiasts. In Colorado where this journalist lives, on weekends, you'll see a long line of modified Foresters with raised suspensions and large off-road tires heading to the high-country for weekend excursions.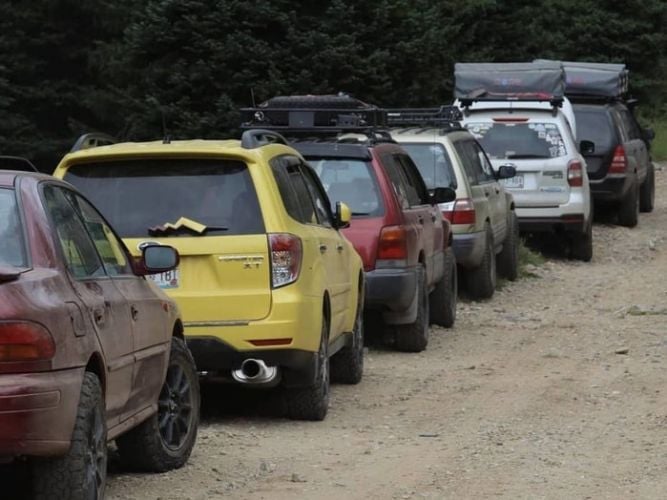 Offroading Subarus of Colorado
The Forester, Outback and Crosstrek all come standard with the brand's highly-capable Symmetrical AWD that will take you just about anywhere. But to get completely away from civilization, a lift kit and skid plates will give extra protection underneath so you can get through scrub brush, a river or a rocky trail without damaging your suspension. Subaru dealers are even getting into the modification business offering customers off-road accessories and lift kits for more extreme adventures.
Lifting your new 2019 Subaru Crosstrek, Forester, or Outback increases its ride height beyond the standard 8.7-inches, increases overall clearance, and will give it much more off-road capability. A two-inch lift kit may not seem like a lot, but combined with larger wheels and tires, it can mean all the difference on getting caught up on a rock or gliding over it. Owners have been taking their Subaru vehicles off-road for decades, but the brand is becoming known with a new generation of customers as the off-road brand for extreme adventures.
You May Also Like: Best Adventure Accessories For Your Subaru Forester, Outback, Crosstrek
Leave your comments below, share the article with friends and tweet it out to your followers!
Follow all Subaru news on Facebook, Twitter and Instagram
Photo credit: Instagram crosstrekcrew, Lunasue_thesubaru, Nate Wellner-Offroading Subarus of Colorado