Not everyone that buys a Subaru is going to get extreme with their all-wheel-drive vehicle, but there are many who want even more adventure. When you want to go off-roading you'll need a lift kit and other adventure accessories for your new Subaru Forester, Crosstrek or Outback. Even though a stock 2019 Subaru Forester may look civilized, underneath it's all about escaping the mundane. But it's easy to retrofit the small SUV for even more extreme adventures.
The fifth-generation Forester comes standard with it's highly-capable Symmetrical AWD that will take you just about anywhere. But to get completely away from civilization, you'll need a lift kit and skid plates for protection underneath so you can get through scrub brush, a river or a rocky trail without damaging your suspension.
Lifting a new Subaru Forester increases its ride height beyond the standard 8.7-inches, increases overall clearance, and will give it much more off-road capability. A two-inch lift kit may not seem like a lot, but combined with larger wheels and tires, it can mean all the difference on getting caught up on a rock or gliding over it. Here's a list of the best lift kits and off-road adventure accessories for your Subaru.
Anderson Design Fabrication
If you are looking for more adventure, Anderson Design Fabrication (ADF) can make the new Forester, Crosstrek or Outback even more capable, giving you the ability to do things people don't think you can do.
ADF throws around words like adventure, no obstacle is too great, the beast within, no dreams too small, no destination too far, and do the unthinkable. They can do it because they take stock Subarus and turn them into true adventure machines with their own in-house designed lift kits and accessories that allow you to get the maximum potential out of your Subaru.
They are located in Sandy, Oregon near the base of Mt. Hood where Subaru is synonymous with adventure. They will take your Forester, Outback or Crosstrek and give it real attitude and they don't mind doing the unthinkable.
LP Aventure
Lifting a new Forester, Crosstrek or Outback can get it from LP Aventure in Quebec, Canada. They produce lift kits, bumper guards, skid plates, and performance mufflers for your Subaru all-wheel-drive SUV that will give it a more aggressive stance for more extreme off-road pursuits. They have produced a lift kit for the new Forester SUV that will give it a more aggressive stance for more extreme off-road pursuits. The LP Aventure edition takes a 2019 Forester Sport and bolts on Work emotion wheels wrapped in BF Goodrich K02 rubber and it gets the LP Aventure jack spacer.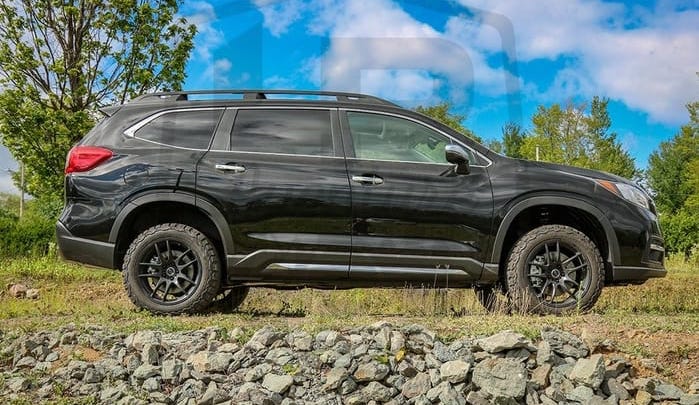 If you don't live in Canada, LP Aventure has distributors in 16 U.S. states where you can get one of these new Forester lift kits ($839 USD). They also have kits ready to go for the Ascent, Outback, and Crosstrek. You can find a U.S. distributor or order your kit here.
Get Primitive
Get Primitive has been providing unique and high-quality products and services for Subaru's since 1998. Stage Rally is their passion and they know how to protect the most vital and vulnerable parts of your Subaru. They offer a full line aluminum skid plates, and they've also developed suspension solutions to make your vehicle do it all.
GP offers King Springs from Australia to lift, lower and or just firm up your vehicles ride as well as all of the necessary parts and knowledge to keep it performing equally well on and Off-Road as well as in competition. All Primitive Racing products are designed and made in the USA including their line of Lightbars, Brush guards, Winch Mounts and Rock Sliders which they make in house.
Subtle Solutions
Around since 2008, Subtle Solutions designs, engineers, and manufactures aftermarket product solutions (Lift Kits, Engine Dress up, Interior/Exterior accessories) for the Subaru community. All of their products are designed, engineered, and manufactured in the U.S. using state of the art CNC operated machinery and from the highest grades of aluminum, stainless, and carbon fiber materials.
Subaru infused the new 2019 Forester with plenty of attitude and the spirit that made the Subaru brand successful in the beginning with lower body side cladding (standard on all models), which helps protect against mud, rocks and other road debris. Add a lift kit, tires and wheels, and underbody protection and it will give your Subaru even more attitude with altitude for extreme adventure.
Leave your comments below, share the article with friends and tweet it out to your followers!
Follow all Subaru news on Facebook, Twitter and Instagram
Photo credit: Anderson Design Fabrication, LP Aventure