It doesn't look anything like a 2019 Subaru Crosstrek, and what powers the Baja racer is even more exotic. This Subaru Crosstrek Desert Racer is powered by a 2.5-liter Boxer engine producing 300 horsepower. The platform for Subaru's Baja off-road racer comes from the Crosstrek crossover but that's where the similarities end. It's going to be running in the Baja 500 tomorrow and it has a good chance of winning the grueling event.
The Crosstrek Baja Racer is powered by a 2.5-liter non-turbocharged Subaru Boxer engine built by Quirt Crawford of Crawford Performance, producing 300 horsepower in a lightweight and reliable package. The 2019 Subaru Crosstrek you could buy is powered by the same horizontally-opposed four-cylinder engine but it's a small 2.0-liter Boxer engine producing 152 horsepower, just half of what the Baja racer is pumping out. Why should customers care about a Crosstrek Desert Racer?
Subaru uses the technology they learn from running their turbocharged rally and rallycross WRX STI performance sedans in motorsports events and put that technology into the engines that power 2019 Crosstrek compact SUV. You might be wondering why you should care because you don't have a turbo engine in your Crosstrek.
Crosstrek runs a non-turbo engine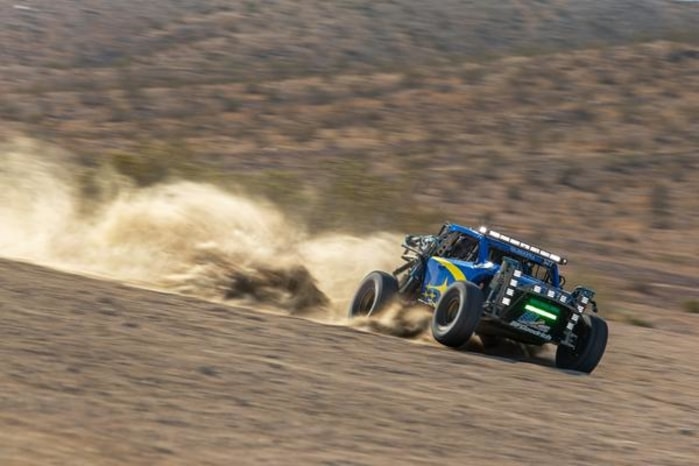 Crawford Performance and Grabowski Brothers Racing who built the Crosstrek Desert Racer, part of the ever-expanding Subaru Motorsports, uses a non-turbo engine in the Desert Racer.
"Subaru is best known for its success in rally, but Subaru engines have been used in off-road buggies for years," said Crawford. "My goal with the Crosstrek Desert Racer program was to show what was possible with a non-turbocharged boxer engine in an unlimited class, and the results so far have been very strong. I'm looking forward to bringing the car back to Baja this year and showing what it can do!"
It's part of the reason we cover Subaru Motorsports at Torque News for our readers. You won't ever see a 300hp Boxer engine in the Crosstrek, but you have some of the same technology under the hood of the Subaru vehicle sitting in your garage. The Subaru Crosstrek pictured above takes part in the Baja 500 Saturday, June 1 and will run a grueling 487.11 miles in a single loop on Mexico's Baja Peninsula. 
Dusty and Parker Grabowski, age 22 and 26 respectively, will be piloting Subaru's Crosstrek off-road racer in the 51st running of the SCORE Baja 500 in Ensenada, BC Mexico tomorrow. Stay tuned for race results.
You Might Also Like: Turn Your Subaru Crosstrek Into A Serious Off-Road Machine
Leave your comments below, share the article with friends and tweet it out to your followers!
Follow more Subaru Crosstrek news on Facebook, Twitter, Instagram, YouTube, Google Business
Photo credit: Subaru USA