If you didn't get a new-generation Subaru Impreza yet, the 2018 models are arriving in showrooms this fall. The Impreza was all-new for 2017 and it doesn't change much for 2018. They get a small bump in price and one new feature is coming across all trims for 2018.
What's new for 2018? The 2018 Subaru Impreza gets new automatic headlight activation, when the windshield wipers are turned on. It's now standard on Premium, Sport and Limited trims. The Premium trim now brings wider option availability, including a power moonroof and driver assist technology systems.
2018 Impreza pricing
The 2018 Impreza sedan and 5-Door gets a small bump in price across all trims. The base 2.0i Impreza sedan starts at $18,495, 2.0i Impreza 5-Door $18,995, 2.0i Premium sedan $21,295, 2.0i Premium 5-Door $21,795, 2.0i Sport sedan $22,095, 2.0i Sport 5-Door $22,595, 2.0i Limited sedan $24,195, and 2.0i Limited 5-Door $24,695. All trims have a starting MSRP of $100 more over the previous model year. Pricing does not include destination ($860).
READ: Subaru Impreza 2.0i Hatchback Sport Review; 5 Things Consumers Should Know
The new Impreza is powered by a FB20 2.0-liter 4-cylinder Boxer engine with direct fuel injection. It pumps out 152 horsepower and comes mated to either a 5-speed manual gearbox or a Lineartronic CVT (continuously variable transmission) automatic. Subaru says the Impreza achieves up to 38 highway mpg and more than 450 miles on a full tank "making it one of the most fuel-efficient all-wheel drive vehicles sold in the U.S."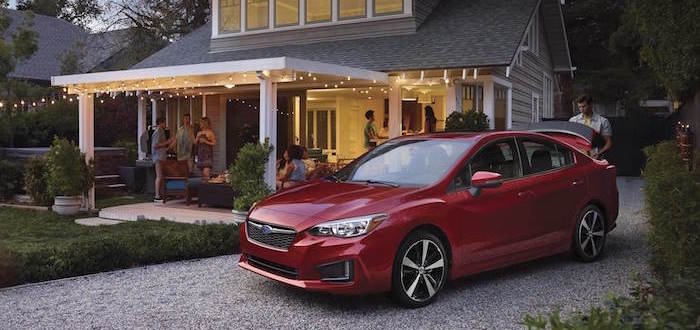 The 2018 Subaru Impreza sedan and 5-Door models begin arriving in showrooms this fall. The Impreza was all-new last year and it gets new automatic headlights with windshield wiper operation, and a $100 price increase across all trims.
Photo credit: Subaru of America