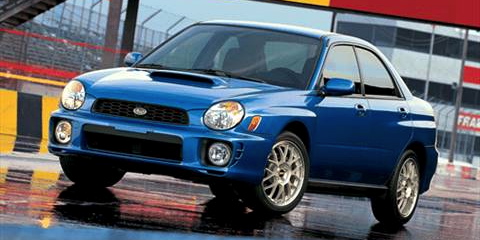 2002 Subaru WRX started the WRX STI performance craze
Please
SHARE
with friends and include TorqueNews in
Google Alerts
for tomorrow's interesting stories.
The all-new 2015 Subaru WRX STI is a highly-anticipated performance vehicle around the globe. What started it all here in the U.S.? The 2002 WRX was one of the hottest cars on the automotive scene when it arrived in 2001 in the U.S. There were approximately 2000 WRXs sold in the first two weeks of release in the U.S. and it was off to the races for the WRX STI success. It was such a hot ticket, Subaru began shipping almost all Japanese factory WRXs to the U.S. during June, July and August 2011. Why was the new 2002 Impreza WRX in such demand?
Knowledgeable rally enthusiasts had been familiar with the WRX race car for years. The big attraction was its turbocharged and intercooled 2.0-liter engine that developed 227-horsepower and 217 lb ft of torque. It came standard with a five-speed manual transmission. It was fast and fun to drive. Performance enthusiasts couldn't wait to get their hands on the race-inspired production WRX when it became available. Rally-prepared Subarus had been offered in Japan and Europe for several years, but the 2002 WRX was the first to arrive on U.S. shores and could meet U.S. emissions requirements.
Performance enthusiasts were lining up three deep for the new Impreza WRX, with waiting lists at dealerships and fan websites set up even before the car was introduced. It's phenomenon was similar to, if not perhaps to the scale of, the original 1964 Ford Mustang and the 240Z.
The new WRX was more than a Impreza model with a souped-up turbo engine. Inside, the performance model featured rally-style front seats, with large side bolsters to keep driver and passenger in place during hard cornering. It also came with a "Momo" sport steering wheel. Momo was also wheelmaker to Ferrari and other exotic carmakers, so the WRX steering wheel came with the Momo logo in its center, rather than Subaru.The pedals were sporty-looking aluminum alloy with rubber grips. and just like the new 2015 WRX, it came with "WRX"-embroidered floormats.
The 99.4-inch wheelbase sports compact came in either four-door sedan or five-door hatch body styles. It had a firm ride due to its sports-tuned suspension. The WRX featured the Subaru all-wheel drive which contributed to the sports car handling and cornering abilities. The car was extremely stable with the tuned suspension that was developed after years of world-class rallying by Subaru. Customers could order ground effects moldings, a rear spoiler and 17-inch alloy wheels and performance tires to round out the impressive WRX package.
Pages
Please
SHARE
with friends and include TorqueNews in
Google Alerts
for tomorrow's interesting stories.