My Subaru 2016 Forester was only two years old when I brought in for routine service and the dealer told me I "needed an alignment." Four years later, without any alignment, all eight tires it uses have worn absolutely perfectly so far and the car drives straight down the road. Were they right or was I being given a sales pitch for something I didn't need? Apparently, I was being sold something I did not require.
Related Story: The Real-World Costs To Maintain A Toyota Highlander For 100K Miles Will Shock You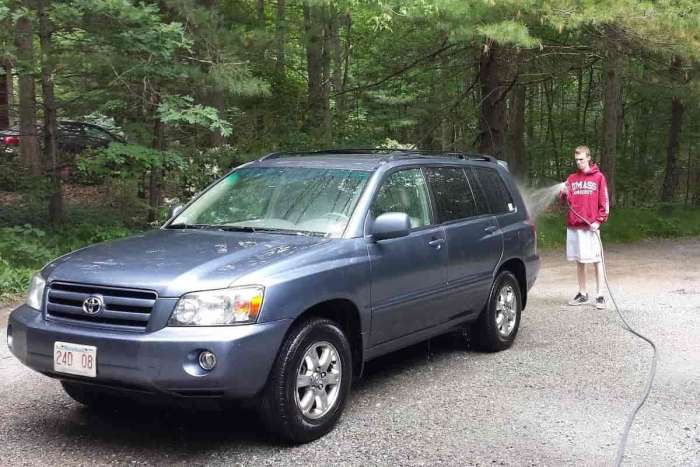 Coincidental to this, my Suby shares a garage with a (much loved) 2007 Toyota Highlander. Now about to enter its fifteenth year of reliable service, that vehicle still drives absolutely straight down the road and I've never had it aligned. The many sets of tires it has used all wore evenly and don't cup or have any other signs of misalignment. The steering wheel is still centered perfectly, just like the day we bought it new.
Here is a detailed look at what an alignment is courtesy of Tire Rack.
Both of my never-aligned vehicles have been over thousands of miles of rural New Hampshire dirt roads, logging paths, and unmaintained seasonal roads. The remaining miles covered include broken-up Metro Boston suburban and city roads riddled with wheel-bearing eating potholes. Neither has been babied.
So when a vehicle service provider tells you you need an alignment, ask them specifically what problem the alignment will correct. They will likely show you a printout of angles and specs they may have taken. So what? Exactly what will the alignment fix?
Here are the symptoms that indicate an alignment may be required:
-The tires are worn unevenly. They have meaningfully more wear on the inside or outside of the tread.
-The tires' tread show signs of "cupping." You'll know it when you see it. The tread is uneven across each tread block. -Typically cars with this problem are also loud when driven.
-The car pulls hard to one side when driven on a straight road. Bear in mind that the crown of a road, its tilt to let water runoff, will cause this. So finding a flat straight road is the best way to test if a car is driving straight down the road.
-The steering wheel is no longer centered. Meaning that when the four wheels are straight ahead, the steering wheel is cocked to one side more than 30 degrees or so.
There are also times when these symptoms have not yet manifested that an alignment is likely a smart move. Some of these include after a strong curb strike, as in a minor collision with a hard curb. Or if major suspension repairs are needed. If you're one of those folks who raise up or lower a car by modifying it you already know that it needs an alignment.
We asked a suspension engineer if he might shed some light on when a vehicle's suspension repairs might warrant an alignment. Mustangman is a long-time contributor to Car Talk's Community. He does all of his own work on the cars in his family fleet and is familiar with many different suspension designs. Unlike most mechanics, he even does at-home alignments on his vehicles. He told us a few very detailed things about when a car will need an alignment after suspension work.
Here's what a suspension engineer says about alignment needs:
-Many cars these days have little to no adjustment for alignment beyond toe-in (or out). If they are out of spec, it usually means something got bent and special parts will be needed to correct the alignment (so a $129 alignment special isn't much help. )
-Mid-priced cars are net-build… bolt it together and the alignment is in spec except for toe.
-If you replace the original struts with OEM-spec factory struts, you don't need an alignment.
-Shock replacement? No alignment is needed at all.
So after what type of suspension work would an alignment be needed?
-A Quick-Strut replacement (springs and all) should have a toe setting check since the ride height will vary a little bit and that will affect toe-in.
-Spring replacement, yes, for the same reason as Quick Struts.
Do vehicles stray from the factory alignment specifications as they age? We think so. Springs sag a bit, and this can mean that the vehicle is not aligned exactly as it was when new. Bushings and joints wear and they do change the angle of the wheels. Will that variance matter? Will it ruin new tires rapidly, make the car pull to one side, or force the steering wheel to be uncentered? No, based on real-world experience.
Why do tire shops typically suggest to you that an alignment is "needed?" They are hedging their bets. They don't want you to return unhappy in ten or twenty thousand miles with tires that have worn unevenly asking about a warranty claim. We don't think they are simply trying to run up their revenues. A long-time shade tree mechanic and Car Talk Community member with the handle Barkydog helps explain this logic. He comments, "I usually spring for an alignment when I get new tires even though no obvious tread wear issues are presented. Tires seem to be lasting 70k or so. That turns into 6 to 7 years. My thought is if there is an issue that has not surfaced yet, it will help the longevity of the new tires."
We think Barkydog's logic is sound when it comes to premium tires like the Michelin CrossClimate2 on a new vehicle. The tires and mounting can cost up to $1,000 or more. An alignment for under $150 is a good insurance policy. That is, assuming you trust the tire shop to do an alignment properly. Honestly, having left tire shops with lug nuts untightened, rim damage, tire balancing weights mounted on top of old ones, tire locks missing, and tire pressures that were not just wrong, but wrong in different ways on different corners of the car, I don't trust chain tire shops not to make my alignment worse. I instead trust my long-time mechanic and the dealers to do it. Specialty alignment shops of course also are a good bet.
The real quandary is with very old cars and when buying bargain tires. If you own a beater that is being fitted with its last set of tires you shopped based on the lowest price possible, is adding the cost of an alignment to your bill really a good move? Not unless you know there is a problem to be corrected.
Subaru Forester Image By John Goreham. Toyota Highlander Image by John Goreham.
John Goreham is a long-time New England Motor Press Association member and recovering engineer. John's interest in EVs goes back to 1990 when he designed the thermal control system for an EV battery as part of an academic team. After earning his mechanical engineering degree, John completed a marketing program at Northeastern University and worked with automotive component manufacturers, in the semiconductor industry, and in biotech. In addition to Torque News, John's work has appeared in print in dozens of American news outlets and he provides reviews to many vehicle shopping sites. You can follow John on TikTok @ToknCars, on Twitter, and view his credentials at Linkedin
Re-Publication. If you wish to re-use this content, please contact Torque News for terms and conditions.