Toyota Begins Building New Corolla Cross Crossover In New Alabama Plant
In January of 2018, Torque News reported that Toyota would build an entirely new manufacturing plant in Alabama that would create as many as 4,000 new jobs. That plant, named Mazda Toyota Manufacturing (MTM), is now complete, and the first Toyota Corolla Cross crossover vehicles have begun to be built. "This is the moment MTM and our North Alabama community have waited for since we broke ground in November 2018," said Mark Brazeal, vice president of administration. "We are excited to see Corolla Cross in dealerships across the U.S."
Background Story: New Toyota & Mazda Plant Will Bring 4,000 Jobs To Alabama
MTM is Toyota's eleventh U.S. plant. Like many of Toyota's most popular models, the plant is in America, and Americans are building the vehicles primarily for the domestic market, as well as some for export. This is known as in-sourcing. When a manufacturer originally based elsewhere builds a plant in the U.S. and adds jobs and wealth to the American economy. The converse of this is out-sourcing when an American-based automaker makes its vehicles outside of America and then imports them. For example, the Ford Mustang Mach-E or EcoSport which are both made outside of the U.S.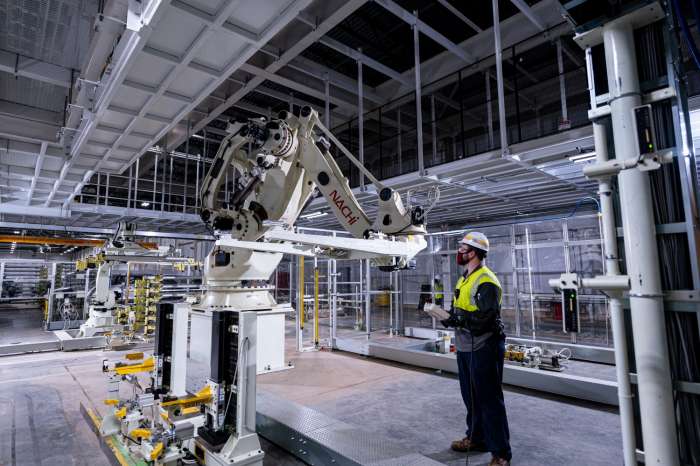 The New Plant is a joint venture with Mazda. The new crossover that Mazda will be building in the plant has yet to be announced but is expected to be this fall. The media press event is already scheduled. "I'm so proud of our team members, and I'm excited to continue our hiring plan to add to our MTM family," said Janette Hostettler, vice president of production. "Our team members exhibit a true commitment to safety and quality, and it is a big day for them to watch the Corolla Cross drive off our line ready to be shipped."
MTM incorporates cutting-edge technologies into its manufacturing processes and employs a diverse workforce of technicians, mechanics, assemblers, engineers, and facilities staff. Toyota directly employs more than 47,000 workers in North America in its plants, design centers, and headquarters.
John Goreham is a long-time New England Motor Press Association member and recovering engineer. John's interest in EVs goes back to 1990 when he designed the thermal control system for an EV battery as part of an academic team. After earning his mechanical engineering degree, John completed a marketing program at Northeastern University and worked with automotive component manufacturers, in the semiconductor industry, and in biotech. In addition to Torque News, John's work has appeared in print in dozens of American news outlets and he provides reviews to many vehicle shopping sites. You can follow John on TikTok @ToknCars, on Twitter, and view his credentials at Linkedin
Re-Publication. If you wish to re-use this content, please contact Torque News for terms and conditions.