In the first quarter of 2022, Toyota's delivery rate of RAV4 Prime plug-in hybrid-electric vehicles (PHEVs) dropped off a bit. In the U.S. market, Toyota delivered just 5,233 RAV4 Primes in the U.S. Although up from the same quarter one year before when the vehicle was still very new, the run rate had been higher in prior quarters. We wondered why RAV4 Prime deliveries slowed and did some digging.
It doesn't take much of a sleuth to know that the war in Europe and the critical component shortages for battery, motor, and semiconductor parts is hurting all automakers. Even simple things like glass and tires have become bottlenecks. So, that is certainly one reason why Toyota isn't able to build more vehicles overall right now. However, there is more to the story.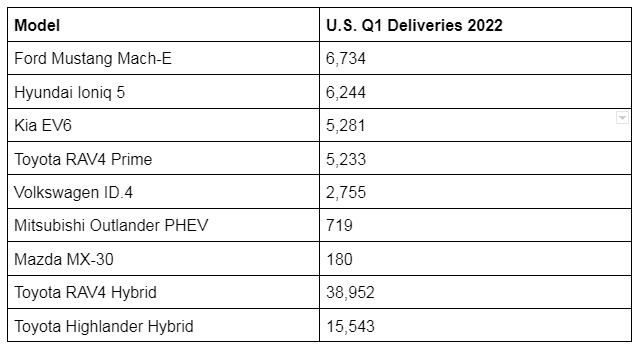 On background, it should be noted that the overall "European Auto Market" is about 4/5s the size of the U.S. auto market. So it's smaller.
A recent press release from Toyota Europe caught our eye because it was highlighting record market share gains by Toyota in that market. Toyota sells fewer vehicles in Europe than in the U.S. In Q1 of 2022, Toyota delivered over 450,000 vehicles in the U.S., not including Lexus models. In Europe at that same time, Toyota delivered just 270,000 vehicles. Yet, Toyota sold about 25% more RAV4 Primes, a total of 7,039 units. Much fewer vehicles delivered overall than in America, yet many more RAV4 Primes.
Toyota's percent of overall sales of the RAV4 Prime in Europe is more than twice that of the U.S. market. Now, if U.S consumers were reacting cooly to plug-in hybrid electric vehicles, it would be one thing, but the opposite is true. American consumers are bonkers for the RAV4 Prime PHEV, and cannot get enough of the vehicle. In fact, at one point last year, it was second only to the Corvette in sales rapidity (Days to sell off the dealer lot).
Clearly, Toyota is allocating much more of its production-constrained inventory of electrified crossovers to Europe than it is to the U.S. Here is where I could easily go on a political rant. Feel free to do that in the comments below.
The trend of supplying more green vehicles to Europe than the U.S. is not uniform. The RAV4 Hybrid is the opposite. Toyota delivered twice as many RAV4 Hybrids in the U.S. as it did in Europe last quarter. Toyota also sold nearly zero Prius Primes in Europe last quarter (156 units) but delivered over 2,500 units in America. It's really just the RAV4 Prime that was allocated in outsized numbers to Europe.
So what is our conclusion? We conclude, based on very few facts, and with almost no effort put into the investigation, that Toyota values the success of the RAV4 Prime in Europe more than in the U.S. market. Otherwise, it could have simply sent more to America.
What about Canada? Toyota doesn't offer a model-by-model breakdown of its Canadian deliveries, but did say that "electrified vehicles made up 23% of overall vehicles delivered." Not much help if all we want to know is RAV4 Prime numbers.
Let us know in the comments below what you think about the RAV4 Prime allocations.
Top of page image of RAV4 Prime courtesy of owner Kate Silbaugh. Crossover delivery chart created by John Goreham using Mfg. Data
John Goreham is a long-time New England Motor Press Association member and recovering engineer. John's interest in EVs goes back to 1990 when he designed the thermal control system for an EV battery as part of an academic team. After earning his mechanical engineering degree, John completed a marketing program at Northeastern University and worked with automotive component manufacturers, in the semiconductor industry, and in biotech. In addition to Torque News, John's work has appeared in print in dozens of American news outlets and he provides reviews to many vehicle shopping sites. You can follow John on TikTok @ToknCars, on Twitter, and view his credentials at Linkedin
Re-Publication. If you wish to re-use this content, please contact Torque News for terms and conditions.