How 2 Avoidable Defects Destroyed the Toyota RAV4's Reliability Rating
From 2012 through 2018, Toyota's RAV4 earned the highest score for reliability from Consumer Reports. A perfect five for five each of those seven years. That run is unusual for any brand except Toyota. Its models often score perfect for many consecutive years. It looked as if the RAV4 was sorted out and would continue to lead the segment for reliability. Then the score dropped to a ⅖ in 2019 and 2020. That score is one away from the lowest possible, and it has resulted in Toyota dropping to number three overall among the highest-ranked brands for reliability. Just two issues caused this fall, and neither are horribly broken engines or transmissions, or vexing infotainment systems. The reasons are odd. And very preventable.
Related Story: Why Toyota's RAV4 Has a Much Lower Reliability Rating Than Its RAV4 Prime
Toyota QDR
The Toyota brand is built on three things; quality, durability, and reliability. Toyota calls this QDR, and you won't attend a media launch for any new Toyota product without hearing that term. A lot. Toyota is not widely known as a performance brand, though it is and always has been. Nor is Toyota known for flashy good looks, though many of its cars are quite handsomely styled. It's reliability that most buyers think of first when they buy a Toyota. And they buy them over and over again. They don't break. You don't burn valuable vacation days dealing with breakdowns. You can pass them to your children as reliable used cars. At least that was the case.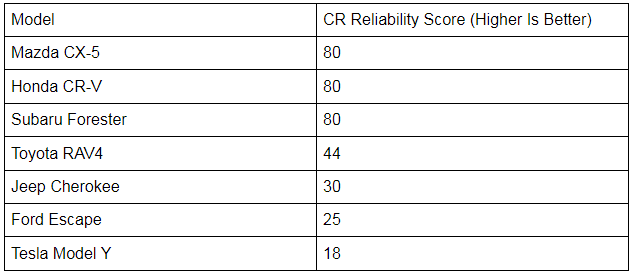 RAV4 Leads The Industry
The RAV4 is Toyota's most important model. It is the top-selling Toyota, the top-selling non-truck nameplate in America, and the RAV4 resides in the largest vehicle segment in America. It is no surprise the RAV4 is so good. Toyota can't afford not to have the best five-passenger crossover in the market. Or at least the one with the broadest appeal to the broadest range of buyers. The RAV4 is available in off-road trims (TRD and Adventure), bare-bones family trim (LE), value trims (XLE), premium trims (Limited), and Hybrid trims which sell in greater numbers than many brands' entire crossover lines. The RAV4 Prime is the pinnacle of the segment and the RAV4 Prime was the second-fastest-selling vehicle in America this past summer. So how in the world did Toyota let its RAV4 fall to a reliability rating just half that of its peers like the Subaru Forester, Mazda CX-5, and Honda CR-V?
Related Story: Mazda Second Only To Lexus In Consumer Reports Brand Reliability Rankings
Problem One - Fuel Pumps
The first problem is one that the above-mentioned peers are not going to escape. Denso, the component manufacture that supplies fuel pumps to all of those models, messed up apparently. An impeller in the pumps it makes had a problem related to solvent exposure and they may fail. This means they need to be replaced. Many owners have reported problems before the recall, and even after it. It's not pretty. To its credit, Toyota was among the first manufacturers to recognize the issue and deal with it. That is why the other brands' models' reliability scores have yet to see the full effect of unhappy consumers being forced to take vehicles in for a recall repair. Our coverage of the fuel pump issue here tapped a nerve. The stories are among the most viewed and have pages of comments from unhappy Toyota owners.
Problem 2 - Fuel Tanks
The second problem is an odd one. Some trims of the RAV4 suffer from a fuel tank that seems unable to make use of about 30% of its capacity. The tanks tell the driver they need fuel after only 11 gallons, even though they have many gallons greater capacity. This has caused frustration, uncertainty, and doubt in the minds of many owners. Which is worse than a problem with a known cause and known fix. Again, our reporting on this topic is widely read and widely commented on.
Toyota is taking a beating from EVangelists and EV advocacy publications for having let its leadership in green vehicles fall away since the days of RAV4 EVs. Toyota doesn't have a single battery-electric vehicle for sale in America and most likely won't for a year or more. New EVs often have some problems, but none of them have defective fuel pumps or gas tank filling problems.
Torque News would like to thank Steven Elek of Consumer Reports for his input on the data related to this story.
Top of page image by John Goreham