Why Toyota's RAV4 Has a Much Lower Reliability Rating Than Its RAV4 Prime
A recent report from Consumer Reports (CR) ranking brands by reliability shows that Lexus and Toyota remain at the top of the mountain. We dug a little deeper than the ranking summary page and discovered something odd. The RAV4 Prime has a reliability score of 82 (higher is better) and the RAV4 just 44. One is among the best crossover for reliability, and one the worst. How can this be? We spoke to Consumer Reports and they explained this apparent contradiction.
Related story: Mazda Second Only To Lexus In Consumer Reports Brand Reliability Rankings
A Bit of Background On the RAV4 Line First
Toyota's RAV4 is the top-selling non-truck nameplate in America. The model line is so large in terms of deliveries that it is larger than many automakers' entire fleets. Within the RAV4 line are three groupings. The first is the RAV4 trims with the gasoline engine and no electrification.
Next up is the RAV4 Hybrid, a model that sells by the tens of thousands per month and is the largest-selling green crossover model in America as far as can be determined from manufacturers' sales reports. Last is the plug-in hybrid-electric version of the Toyota RAV4 called the RAV4 Prime (there are two trims). These various types of RAV4 crossovers have a wide gap in reliability according to Consumer Reports.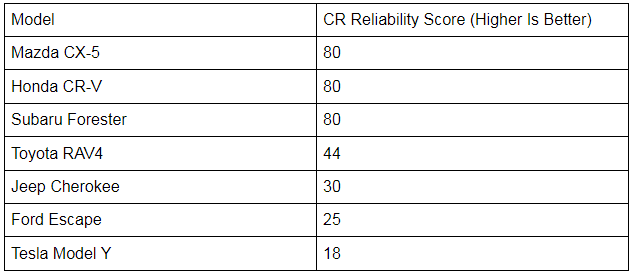 Why Does RAV4 Score Lower Than RAV4 Prime?
Our first guess as to why the RAV4 scored so much lower, literally half the score of the RAV4 Prime's, was that it was the RAV4 Prime's electrified powertrain that made it better. Or maybe the factory that builds it is paying closer attention to detail. It is neither of those things. For clarification we spoke to Steven Elek, Program Leader, Auto Data Analytics at Consumer Reports.
Steven also had noticed the big gap in reliability between the RAV4 and the RAV4 Prime. He also knew why we had called and had the answer handy. It turns out that in CR's reliability studies the group combines the RAV4 and RAV4 Hybrid into one model for analysis and the RAV4 Prime is separated out. There are a few reasons for this. One is that the RAV4 Prime is different enough from the Hybrid and RAV4 that it can stand alone as a model. The Prime is also new as of 2021, and the RAV4 and Hybrid models, or trims if you prefer, have a long legacy of being ranked together.
Steven explained that there are two main reasons why the RAV4 is being dragged down in reliability. The first is the widespread Denso fuel pump defect and subsequent recall. Although this is now also affecting other brands such as Subaru and Mazda, it was first detected and handled in Toyota models. The fuel pump recall coverage here has pages upon pages of unhappy Toyota owners expressing frustration in the comments. It is no surprise to us that the defect has caused Toyota's excellent reliability reputation to be damaged.
The second problem is related to the fuel system as well. Many RAV4 models have a "defect" of sorts that makes it hard for owners to use the full tank of gasoline. The system is either oddly designed or defective. For whatever reason, it shows the tank as empty when there are about 4 gallons still left in the tank. The upshot is owners can only use about 11 of the gallons for range. Toyota has had some vehicles in for a "repair," but many owners say the repair didn't do anything. Worse, Toyota later came out with an "explanation" of sorts saying the system is operating as designed after all, and that using up just 70% of the tanks is exactly what Toyota intended. Sure... Again, our coverage of the fuel tank issue is filled with unhappy owners expressing frustration in the comments section.
Why Is the RAV4 Prime "More Reliable?"
So why hasn't the RAV4 Prime's reliability score been besmirched by this pair of problems? One reason is that the RAV4 Prime is new. The fuel pump issues may not be applicable or may not have occurred yet. So owners are not noting the issue in their CR reliability surveys.
The second issue, the fuel tank capacity issue, has been reported. However, the RAV4 Prime is able to travel for over 40 miles on electricity when charged. Most owners always charge the vehicle. With 11 gallons of fuel and its electric capability, many owners go many months without needing to fuel up. They go so long on a tank they actually worry the fuel may become stale. So for the RAV4 Prime, range is not an issue for the vast majority of owners. They don't rely on gas very much. And when they do, the vehicle can travel almost 500 miles even with the reduced tank capacity.
Toyota makes great vehicles. That the RAV4 has only two problems of note, and one will soon be a problem for all of its major peers in the industry, points to how well the vehicle performs most of the time. Sadly, RAV4 Prime owners may be enjoying a positive reliability experience partly because the two known problems have not yet been discovered.
Torque News wishes to thank Consumer Reports for so generously sharing the group's knowledge.
Click here to go to the Consumer Reports brank rankings study overview.
Top of page image by John Goreham
John Goreham is a long-time New England Motor Press Association member and recovering engineer. John's interest in EVs goes back to 1990 when he designed the thermal control system for an EV battery as part of an academic team. After earning his mechanical engineering degree, John completed a marketing program at Northeastern University and worked with automotive component manufacturers, in the semiconductor industry, and in biotech. In addition to Torque News, John's work has appeared in print in dozens of American news outlets and he provides reviews to many vehicle shopping sites. You can follow John on TikTok @ToknCars, on Twitter, and view his credentials at Linkedin
Re-Publication. If you wish to re-use this content, please contact Torque News for terms and conditions.