The e-bike movement goes hand in hand with the electric vehicle movement. E-bikes are great for casual riding, mountain bike adventures, beach cruising, and commuting. While many of the e-bikes you read about here at Torque News are high-end, the entry-level is a big market. We decided to jump in and purchase the affordable Colorway BK15M e-bike from Walmart to see how well it performed for a total budget, including professional assembly of around $600.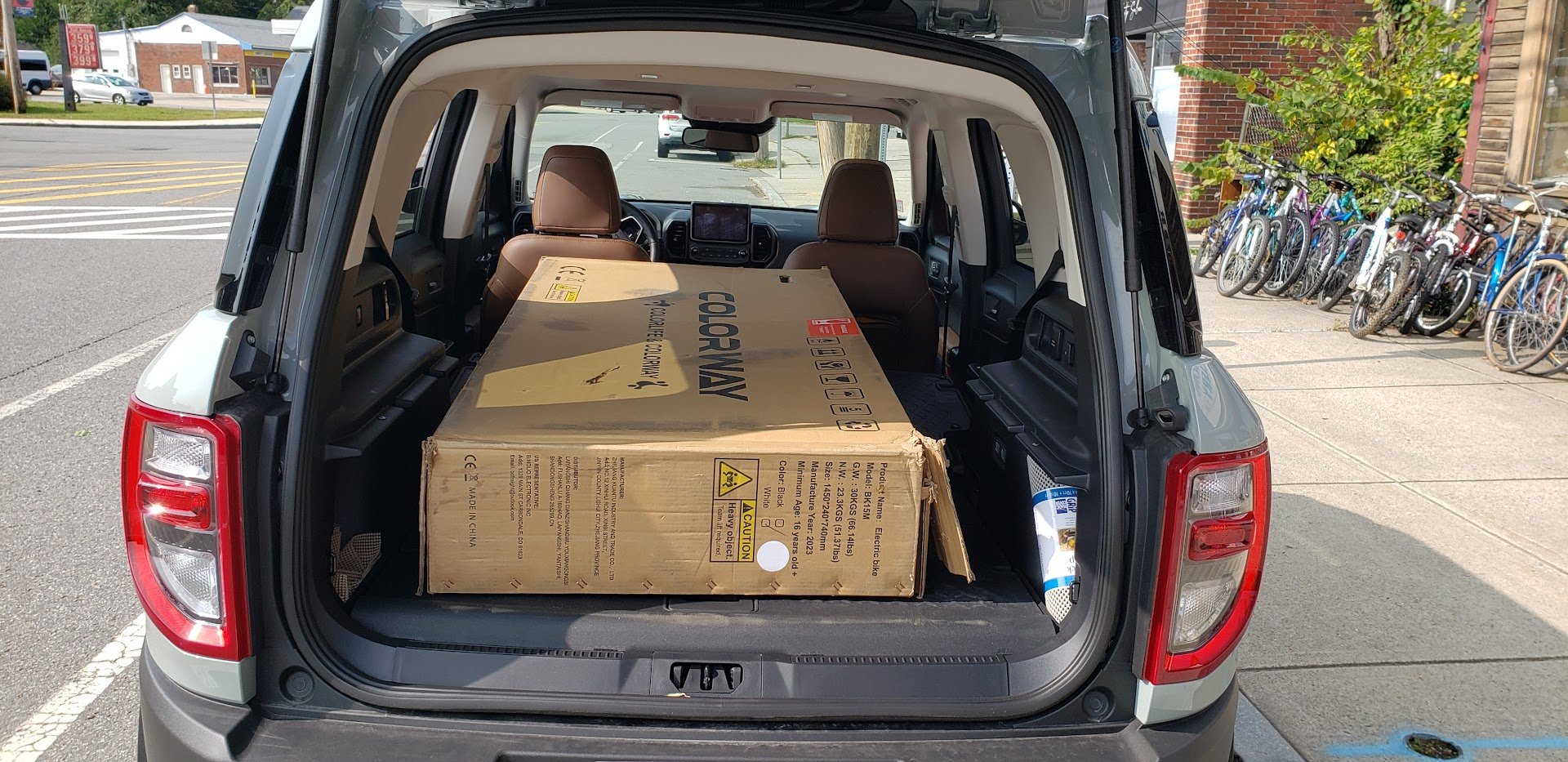 Related Story: An eBike Is the Perfect Companion To Your Electric Crossover - Which To Choose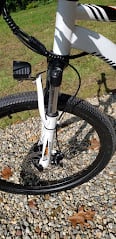 Colorway BK15M  E-Bike - What Is It?
The Colorway BK15M is an electric-assit bicycle. We'd term it a hybrid bike because it is not a true mountain bike and not really just a cruiser, either. The 26" size we purchased would fit an adult up to about 5'9" in height and of medium build or someone a bit less tall. The bike has a steel frame with a total weight of 66 pounds. It has just seven speeds delivered via a rear set of gears. There is no second derailleur for the front.  It comes with a front suspension setup and disk brakes actuated by the handlebar brake levers.
Related Story: FUELL's New Flluid-2 and Flluid-3 E-Bike Lines Aim to Be Viable Car Alternative
Colorway BK15M - Pricing
The Colorway BK15M has a price from Walmart of just $490. At this price, you get a lot of bicycle for your money. The price includes free delivery to your home in a large cardboard box and some neat bonus accessories.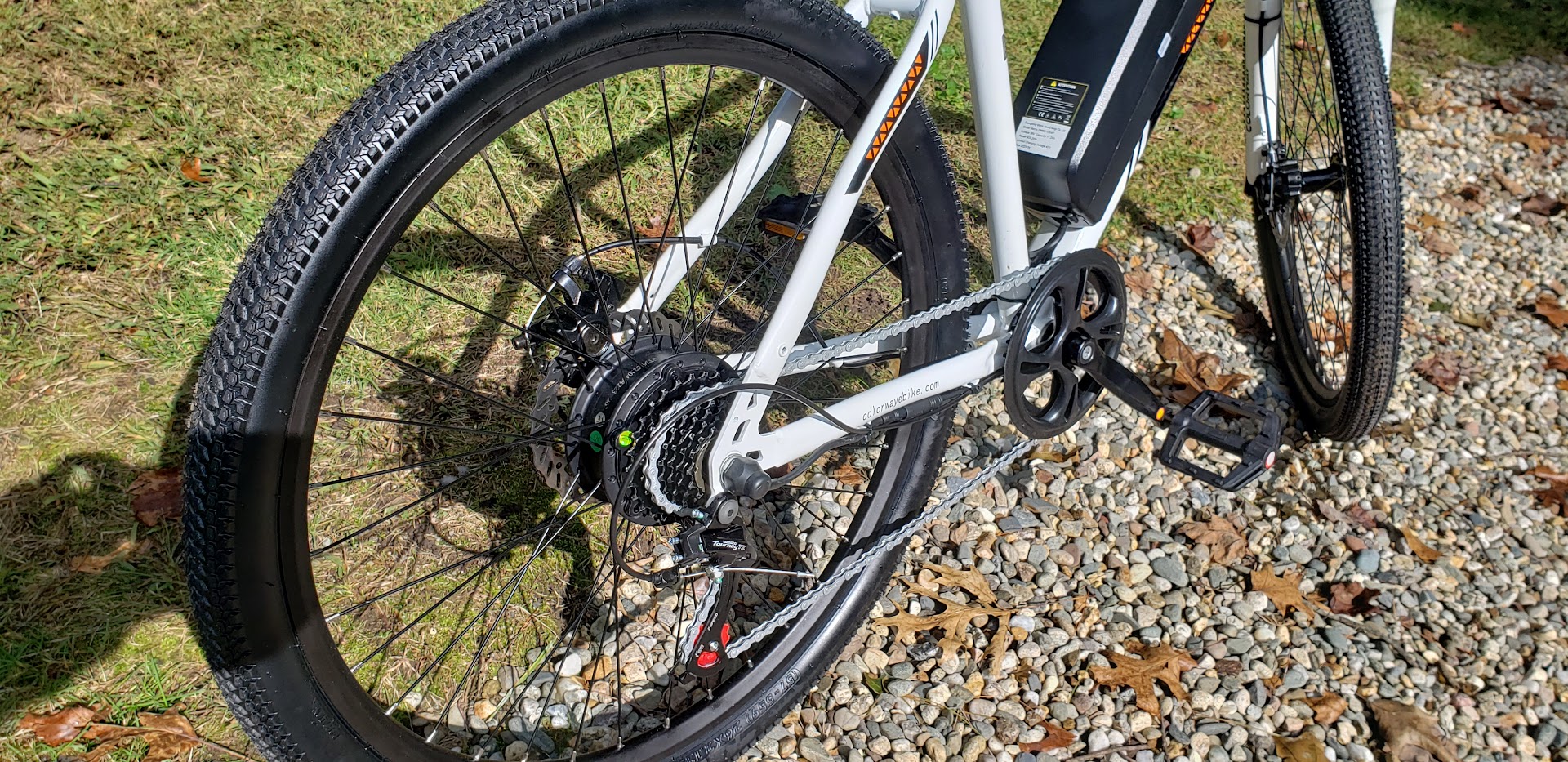 Colorway BK15M - E-Assist Features
The bike has a 36-volt lithium-ion battery capacity of 11.2Ah, and motor rated at 500 watts. The electricity is supplied to your rear wheel in two ways. First, there is a throttle built into the right hand grip. You can simply twist it and start off with electric assist. Second, you can use the pedals to initiate electric assist. There are three levels of power, which you set via a small control screen on the left handlebar.
It takes roughly 3 hours to charge the battery from about half full to completely full on 115-volt AC power. The battery can be removed for charging, or you can plug it while the battery is in the bike's frame. 
It is impossible to say how "long" or "how many miles" the bike's battery can last. In my case, the battery lasted longer than I did. A nice 30 to 60-minute ride is all I wanted, and the bike had much more than enough battery for that. Having covered about 10 miles, the battery was still about half full. We did notice the power was lower as the bike's battery power was consumed, but it still climbed the last steep hill on its own.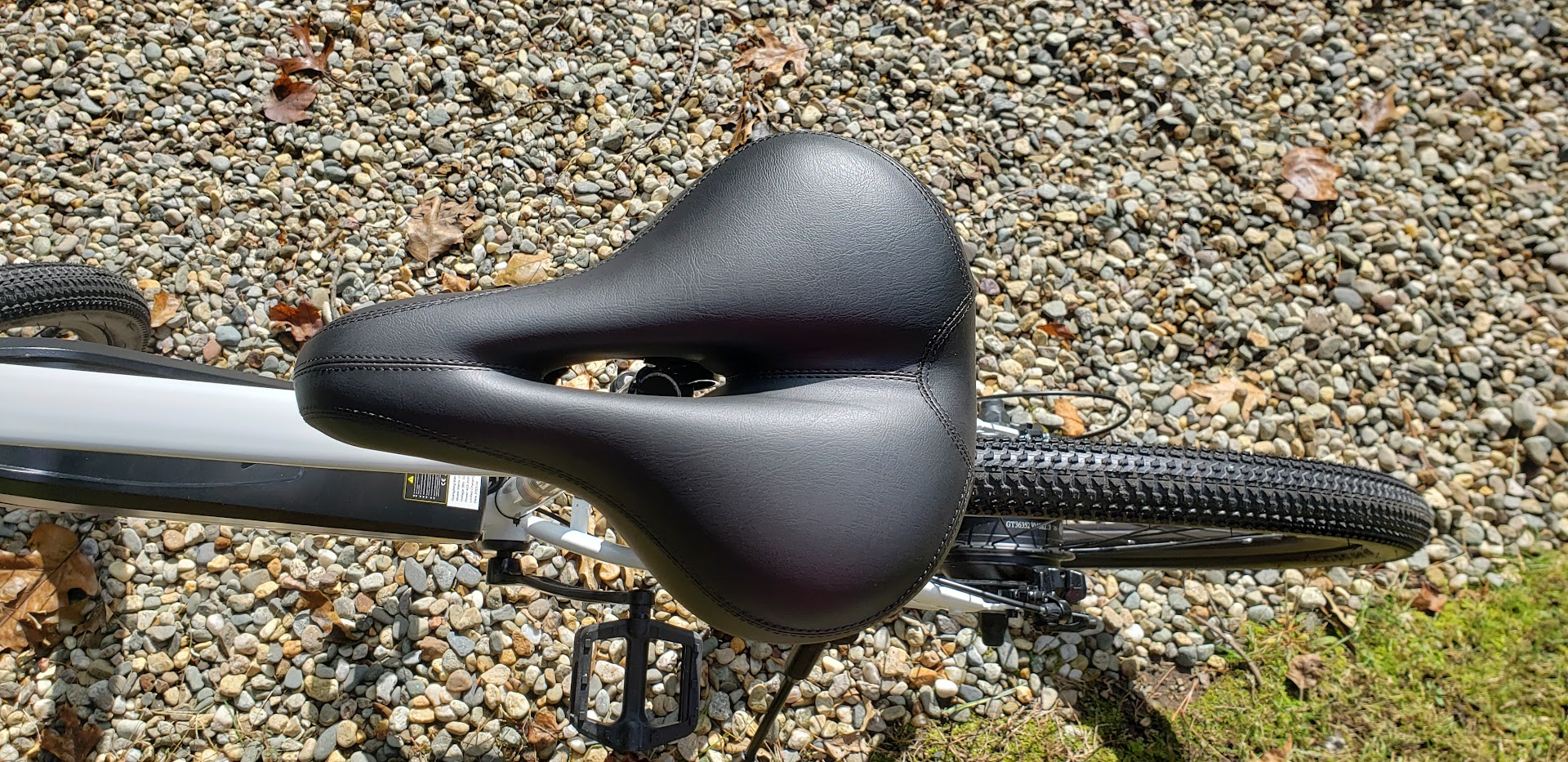 Colorway BK15M - The Ride
The BK15M rides quite nicely. The tires are ideal for rail trail riding, paved roads, or groomed dirt roads. The ergonomics are similar to that of a mountain bike. You sit mostly upright. The hand grips are firm and positioned the way most are on such bikes. The front suspension doesn't do very much, and we would have skipped it if it were an optional item. At a 66-pound weight, you are not going to be doing any technical mountain bike-style rides on this Colorway bike, 
The brakes are absolutely terrible. Following a period of about 15 or 20 short stops to help the parts bed-in, the brakes are still weak. They barely slowed the bike over the first few miles of use and, by the tenth mile, had begun to surge. This means that they brake and let up frequently, and you sort of move forward and back as they grab and release as the disk spins. Possibly the worst brakes on any bike we've ever ridden. Perhaps they will wear in? 
When pedaling along and using the e-assist feature, the assist waits for a few pedal cycles and then kicks in. Once it does, it will keep up the assist until you brake or stop pedaling for a moment. We like it a lot. The settings allow your choice of assist levels 1, 2 or 3.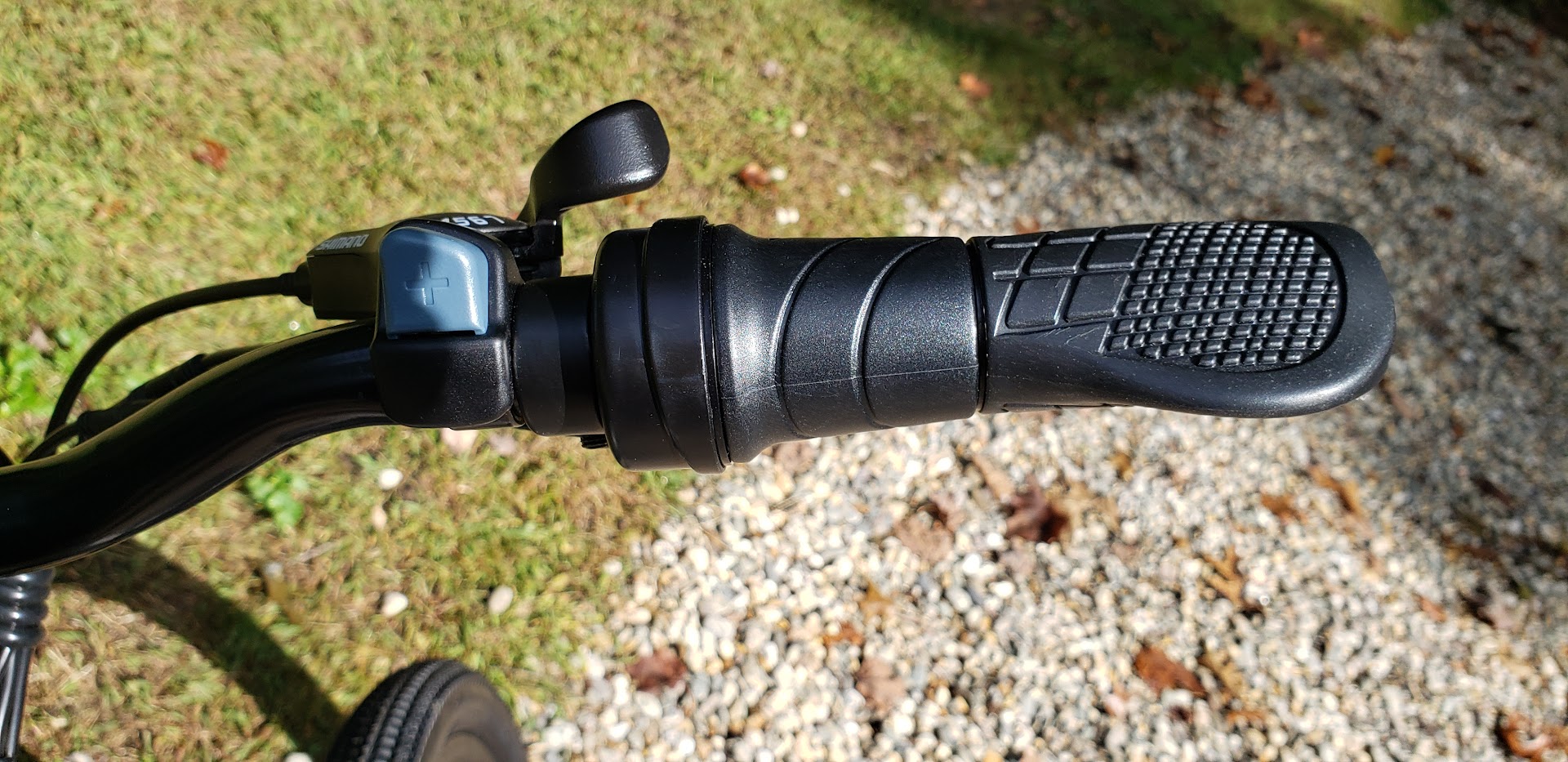 The throttle is the best part. You can start off sitting in the saddle facing uphill in level 3 and just twist the throttle. It works like a motorcycle. You can just drive it under e-assist without ever pedaling if you wish. That is a very nice feature, and we did use it that way a lot. The bike's specs say that it can climb a 25-degree slope, which we don't doubt. We clocked a top speed on level ground without pedal assist of 19.9 MPH, spot on the bike's 20 MPH promise. 
Since you have e-assist, you never miss the added gears and front sprocket. You can pedal at your leisure, get a workout pedaling hard, or never pedal. Your call. 
Colorway BK15M - One Small Annoyance
One issue we have been working through with the bike is the kickstand. Its location is too close to the left pedal. The heel of my sneaker has caught on it many times as I pedaled. My shoe is size 10, not some unusually huge one. I may need to remove the kickstand for safety, which is unfortunate since I like using it, particularly when charging. 
One area where the bike feels cheap is the plastic pedals. Easy enough to swap out with whatever you desire, and likely not a bad idea to help keep costs low. 
Colorway BK15M - Fitment
I'm six feet tall and around 200 pounds. The bike is a smidge too small for me. The bike's product info at Walmart says it is large enough for a person of 195 cm (77 inches) to use. It's not. We would suggest that it may fit a person up to around 5-foot nine inches tall. 
Colorway BK15M - Features
In addition to the e-assist system, the BK15M came with a combination lock and cable, a front headlight, a kickstand, and a small portable air pump. This is a very nice accessory package. 
Colorway BK15M - Assembly and Assembly Cost
We took the bike to Ray's and Sons Cycle Shop in Metro West Boston for assembly. Ray, the owner, and a very experienced bike assembler and tuner, told us the bike went together OK. He had to true the wheels, and he broke the handlebar stem during assembly, something he said he had never before done. He replaced the part for $35. The charge for the assembly was $89. We felt it was well worth the money.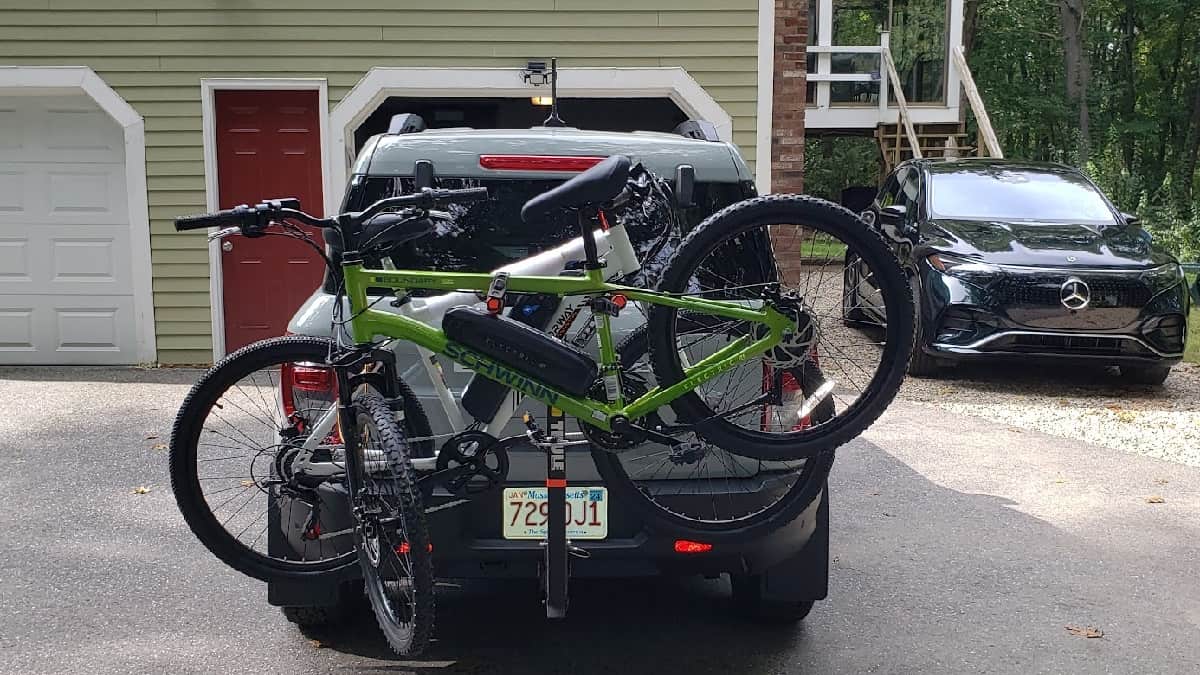 Colorway BK15M - Summary and Conclusion
We feel the Colorway BK15M is a decent bike and a very high value at its price point under $500 before assembly costs. We would recommend it to anyone under 5' 9" tall, and of medium or slight build. However, our recommendation is only if the bike is professionally assembled. There is a reason bike-store bikes cost a bit more than Walmart bikes and proper assembly matters. 
Due to its weight, we would suggest this bike may work best for those who don't commute with it and use buses or trains. If you live above ground level in an apartment and have to carry the bike up stairs, this is not for you. It's not practical to lift and carry. In fact, just lifting it up onto our bike carrier was a two-person job, even with the battery removed. This bike will work well for those who store it in a garage and take it out to drive directly from home. 
The BK15M is designed for casual, fun rides on nice days. This is not a mud-whomper or long-distance bike for enthusiasts, which suits us perfectly. If you want a bike for some rail-trail or beach boardwalk cruising, the Colorway BK15M from Walmart fits the bill and does so at a very low price. 
Author Note: The bicycle in this test was not a demo or loaner. We paid full price for it, and we paid full price for the assembly. 
Images of Colorway BK15M e-bike by John Goreham.
John Goreham is an experienced New England Motor Press Association member and expert vehicle tester. John completed an engineering program with a focus on electric vehicles, followed by two decades of work in high-tech, biopharma, and the automotive supply chain before becoming a news contributor. In addition to his eleven years of work at Torque News, John has published thousands of articles and reviews at American news outlets. He is known for offering unfiltered opinions on vehicle topics. You can follow John on Twitter, and connect with him at Linkedin.