Before Acura became a crossover company that dabbled in cars, it was a car company. And the cars had real names. Cool names. And they fit. They just seemed right. One of the best examples of a car with a name that defined it perfectly is the Acura Legend. We love the Legend for many reasons, but if it had been called by its internal name, the "Acura HX," would we be writing about it today? Doubtful.
Acura Brand Begins With Legend and Integra
The Acura brand had a simple mission. Its role was to provide loyal, happy Honda customers a way to step-up from the Civics and Accords they had previously owned and loved. Acura's cars were better than the cars Honda offered in pretty much every measurable way and the Legend was the flagship of the company in America.
Related Story: Cars We Miss - Honda Accord V6 Coupe
Tom Elliott, senior vice president of automobile operations, was the person responsible for the Legend. His task was to bring to market a sedan to compete with the heavy-hitters Volvo, BMW, and Mercedes-Benz. The Legend would have a 24-valve, overhead cam, fuel-injected V-6 engine that was not just powerful but also sophisticated. Every trim would have independent suspension, four-wheel disc brakes and the handling of a European sport sedan. Add to that a more compliant ride to lure in American luxury car buyers and the formula was complete.
Features of the Legend included a premium stereo, air conditioning, anti-lock brakes, and power accessories. Almost shockingly, the Legend would also cost about $20,000. At the time, that price was nearly double the base price of a Honda Accord. $20K in 1986 adjusted for today's dollar value is about $47K.
Acura invited the media to drive the new Legend before its debut in Japan. Motor Trend said of the car, "We think the odds of Acura's success are heavily in Honda's favor, for the Legend is a terrific debut automobile." The media accolades just snowballed from there. The Legend was a Car and Driver ten Best car many times.
The Legend debuted in 1985 as a 1986 model year car. In its first full year of sales, Acura sold over 25,000 units. Sales peaked three years later at over 70,000 units. To put that into some perspective, Acura's full line of cars in 2019 earned a total sales volume of just 42,490 units. Acura's Legend also blew the doors off of the sales of its competitors at the time.

The Legend entered its second generation in 1990. Power was up by about 35% from its introduction with 161 hp to 200 hp in the first year of the second generation, and eventually reached 230 hp. Unusual even for the times, the car was offered with a five-speed manual transmission for those that wanted to shift themselves. Sales were robust for a few more years, and in its last full year of production were still above 35,000 units. Acura has no car model that comes anywhere close to that volume today.
Why do we miss the Legend? The name of the brand is a clue. The name Acura was inspired by the root "acu" in Latin which means precise. The Acura brand and the Legend, in particular, were at a level of design and execution the world had not previously seen. Most car enthusiasts remember the NSX as the car that shook up the German brands' design and engineering departments. And it did. But the Legend shook up the German brands' sales and accounting departments.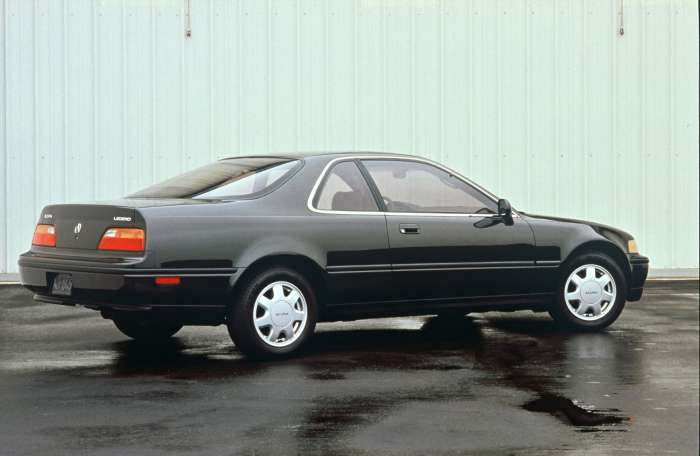 Available as a coupe and sedan, the Acura Legend earned high-profile sales from celebrities and athletes. It became an aspirational car for many Americans driving Accords. The Acura Legend, like the Genesis G series today, proved that when a company built on affordability matures past the quality stage it can step into a premium market if it so wishes.
If you owned or still own an Acura Legend, tell us about your car in the comments below.
John Goreham is a life-long car nut and recovering engineer. John's focus areas are technology, safety, and green vehicles. In the 1990s, he was part of a team that built a solar-electric vehicle from scratch. His was the role of battery thermal control designer. For 20 years he applied his engineering and sales talents in the high tech world and published numerous articles in technical journals such as Chemical Processing Magazine. In 2008 he retired from that career to chase his dream of being an auto writer. In addition to Torque News, John's work has appeared in print in dozens of American newspapers and he provides reviews to many vehicle shopping sites. You can follow John on Twitter, and view his credentials at Linkedin.
All images courtesy of Acura media support.