The Ram line of trucks is known for comfort, capability, and as of late, quality. For 2023 Ram updates its 2500 Heavy Duty line. We took a close look at the Ram 2500 Heavy Duty Rebel to see what sets it apart from the offerings from Ford, GMC, Chevrolet, and lesser Ram trucks. Here is what we found.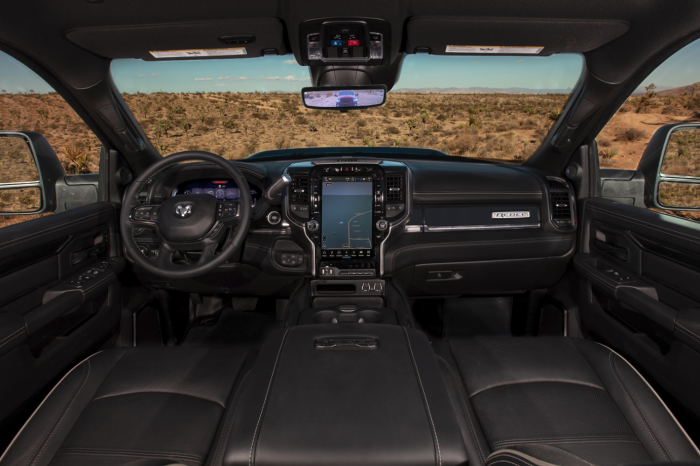 2023 Ram 2500 Heavy Duty Rebel By the Numbers:
The new 2023 Ram Heavy Duty has some impressive specs. Here is a quick rundown of the most commonly searched-for spec:
Horsepower: 410 horsepower (gas) / 370 horsepower (diesel)
Torque: 429 lb.-ft. (gas) / 850 lb.-ft. (diesel)
Towing: 16,870 pounds
Payload: 3,140 pounds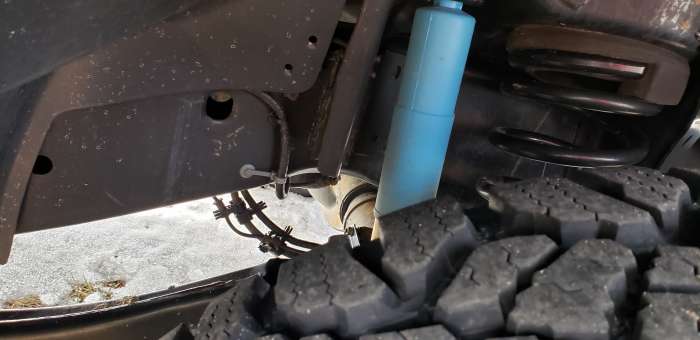 What Makes the Rebel Trim Special?
The Rebel trim of the 2023 Ram 2500 Heavy Duty is slots in between Laramie and Power Wagon. The Rebel is this line's off-road and performance leader in its family. "Ram Heavy Duty Rebel buyers will enjoy that the newest addition to our versatile lineup offers a combination of off-road performance without having to sacrifice capability," said Mike Koval Jr., Ram brand CEO – Stellantis. "Ram has a deep, rich and strong history of the most capable off-road trucks, and the new 2023 Ram Heavy Duty Rebel adds to that history while delivering the segment's benchmarks in comfort, luxury materials, innovation and technology."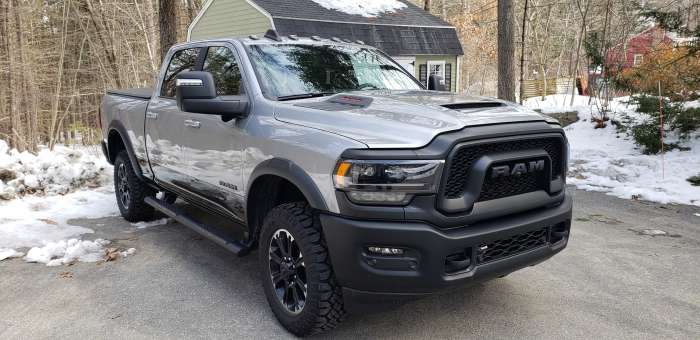 2023 Ram 2500 Heavy Duty Rebel - Interesting Features
In addition to the option of a diesel engine, here is the list of what Ram says makes thie Rebel so special:
-Unique badging
-Sport performance hood from Mopar
-Unique to the line off-road suspension with five-link coil design
-Rear limited-slip differential and rear electronic locker
-20-inch wheels (optional 18-inch wheels – late availability)
-33-inch off-road tires
-Skid plates that protect the fuel tank and transfer case
-Available front-mounted WARN Zeon-12 winch, rated at 12,000 lbs
-Available Natura Plus leather bucket seat
-Available Trailer Reverse Steering Control
-Available digital rearview mirror with side camera integration
2023 Ram 2500 Heavy Duty Rebel - What Does It Cost?
The 2023 Ram 2500 Heavy Duty Rebel starts at $ 68,840. The one we tested had a sticker price of $81,290.
Those looking for a heavy Duty truck with a strong personality should check out the 2023 Ram 2500 Heavy Duty Rebel.
Interior image courtesy of Ram media support. All other images by the author.
John Goreham is an experienced New England Motor Press Association member and expert vehicle tester. John completed an engineering program with a focus on electric vehicles, followed by two decades of work in high-tech, biopharma, and the automotive supply chain before becoming a news contributor. In addition to his ten years of work at Torque News, John has published thousands of articles and reviews at American news outlets. He is known for offering unfiltered opinions on vehicle topics. You can follow John on Twitter, and TikTok @ToknCars, and view his credentials at Linkedin