The 2023 Mazda3 will have meaningful changes to the 2.5-liter engine. For the new Model year, Mazda has bumped up the peak horsepower. In addition, the magicians at Mazda's Skyactiv laboratory have found a way to increase the fuel economy.
Related Story: 2022 Mazda3 2.5 Turbo AWD Premium Plus Hatchback

For 2023, the Skyactiv-G-equipped Mazda3 will have 191 hp. That's an increase of its peak horsepower of 5 hp. More power is always welcome, but is there a catch? No, there is no catch. In fact, the fuel economy goes up. All Mazda3 models with this engine include updated cylinder-deactivation technology designed by the Mazda team to be more efficient in specific operating conditions. These engine efficiency enhancements allow naturally aspirated Mazda3 models to achieve an impressive EPA estimated rating of 28 mpg in the city and 37 mpg on the highway, for a combined 31 mpg.
The Mazda3 is a very versatile vehicle line. It comes in two body styles. The first is a traditional sedan layout. The second is a five-door hatchback. Our favorite is the hatchback. Its extra cargo capacity makes it a fantastic option for those considering a small crossover. There are also two engine options. The first is the one described above, and the second is the turbocharged 2.5-liter engine making up to 320 lb-ft of torque. All-wheel drive is optional, but if you get the more powerful engine, it is standard. Looking for a stick shift? Mazda has it available on its Mazda3 2.5 S Premium Package (6MT) trim.
Here are the prices for the 2023 Mazda3. These prices do not include $1,065 for destination and handling ($1,110 in Alaska) or additional dealer fees.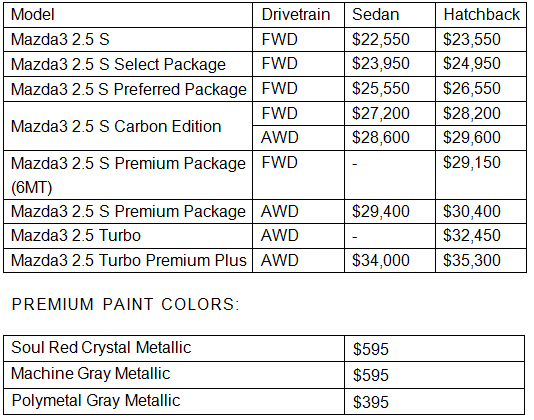 Mazda3 hatchback models will arrive at dealerships in the fall, followed by the sedan this winter.
John Goreham is a long-time New England Motor Press Association member and recovering engineer. John's interest in EVs goes back to 1990 when he designed the thermal control system for an EV battery as part of an academic team. After earning his mechanical engineering degree, John completed a marketing program at Northeastern University and worked with automotive component manufacturers, in the semiconductor industry, and in biotech. In addition to Torque News, John's work has appeared in print in dozens of American news outlets and he provides reviews to many vehicle shopping sites. You can follow John on TikTok @ToknCars, on Twitter, and view his credentials at Linkedin
Re-Publication. If you wish to re-use this content, please contact Torque News for terms and conditions.
Image of Mazda3 courtesy of Mazda media support.