Review: 2022 Mazda3 2.5 Turbo AWD Premium Plus Hatchback
Cars are down but not out. Those car models that manufacturers have not canceled to make room for more crossovers tend to be very good overall, and the Mazda3 is better than good. In this review, we look at a fully-optioned 2.5 Turbo AWD Premium Plus Mazda3 and explain why for those looking for a car it may be the perfect fit.
Related Story: There Are Only 2 Reasons Not To Buy The Mazda3 2.5 Turbo Premium Plus Sedan
2022 Mazda3 2.5 Turbo AWD Premium Plus - What is it?
The Mazda3 is a compact five-passenger car available in either sedan or five-door hatchback body styles. We are reviewing our favorite of the two, the hatchback. The Mazda3 counts among its peers the Acura Integra, Honda Civic, Toyota Corolla, and Hyundai Elantra.
2022 Mazda3 2.5 Turbo AWD Premium Plus - How Much Does It Cost?
The Mazda3 hatchback starts at about $25K. The fully-optioned trim we are reviewing has a price of $35,810 including its Delivery, Processing, and Handling fee, but not including any dealer Document fees or added content.
2022 Mazda3 2.5 Turbo AWD Premium Plus - What Powers It? What's Its MPG Rating?
Mazda offers two engines for the Mazda3. Our test vehicle was equipped with the up-powered turbocharged 2.5-liter engine. It can create up to 310 lb-ft of torque at very low RPMs. The engine mates to a 6-speed geared automatic with Sport mode and paddle shifters. All-wheel drive is necessary to put all that power to the ground, and we found the Mazda3's powertrain to be exemplary.
The Mazda3 can operate happily on Regular Unleaded and has an EPA Combined estimate of 26 MPG. During our time with the Mazda3, it displayed an average of 29.5 MPG. That high number included quite a few times when we (safely) dropped the hammer and let the Mazda3 do its thing. None of the Mazda3's competitors have an engine with this much torque and this level of refinement.
2022 Mazda3 2.5 Turbo AWD Premium Plus - How Does It Drive?
The Mazda3 has sharp steering, a firm brake pedal, and handles bumps well. On back roads, it wants to play, and the car is an outstanding grand touring car. On the highway, the Mazda3 is silky smooth and easily gobbles up miles on long trips comfortably. It is easy to say Mazda has perfected the premium sporty hatchback with its Mazda3.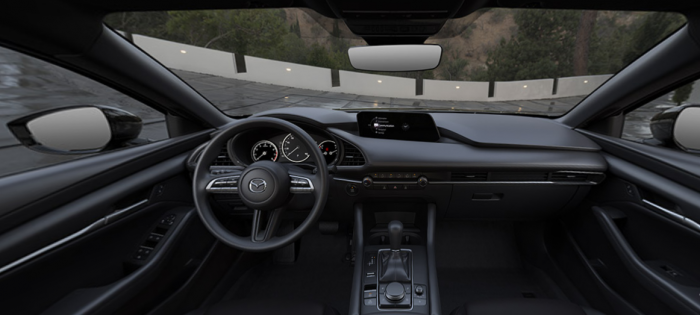 2022 Mazda3 2.5 Turbo AWD Premium Plus - Infotainment, Features, Interior
Mazda is known for its excellent interiors, and the Mazda3 Premium Plus is upscale and feels modern. Materials are top of the class. Notable features include heated seats and steering wheel, a head-up display, adaptive (swinging side to side in curves) headlights, and active safety systems that won't drive you crazy. There is also a spare tire in the Mazda3 under its cargo floor.
Infotainment is a B-. There is a useful volume knob, but the menus and the rotary mouse are not intuitive to use. The screen doesn't accept touch inputs. Apple Car Play and Android Auto are wired.
2022 Mazda3 2.5 Turbo AWD Premium Plus - Safety, Quality Ratings
The Mazda3 earns the IIHS Top Safety Pick Plus rating. Consumer Reports gives the Mazda3 its "Recommended" stamp, and in 2021 the Mazda3 had a perfect 5/5 reliability rating. The Mazda3 is not just fun and upscale, it is also a sensible choice.
2022 Mazda3 2.5 Turbo AWD Premium Plus - What's Missing?
The only thing missing from the Mazda3 line is a green powertrain option. There is no hybrid, plug-in hybrid, or battery-electric version. However, the battery-electric MX-30 from Mazda has a similar vibe if that is your top priority when shopping.
2022 Mazda3 2.5 Turbo AWD Premium Plus - Conclusion
Based on this author's testing, the Mazda3 is one of the best cars one can buy today in its size. The hatchback is the better option of the two body styles. What strikes a driver most about the Mazda3 Premium Plus is how refined and upscale it is. With 310 ft-lbs of torque, the Mazda3 is always a quick car, and is downright fast in many situations if you want it to be.
Those looking for a compact hatchback car will find the Mazda3 2.5 Turbo AWD Premium Plus is nearly impossible to top. It is one of the last surviving great cars for sale today.
Mazda3 images courtesy of Mazda.
John Goreham is a long-time New England Motor Press Association member and recovering engineer. John's interest in EVs goes back to 1990, when he designed the thermal control system for an EV battery as part of an academic team. After earning his mechanical engineering degree, John completed a marketing program at Northeastern University and worked with automotive component manufacturers, in the semiconductor industry, and in biotech. In addition to Torque News, John's work has appeared in print in dozens of American news outlets and he provides reviews to many vehicle shopping sites. You can follow John on TikTok @ToknCars, on Twitter, and view his credentials at Linkedin
Re-Publication. If you wish to re-use this content, please contact Torque News for terms and conditions.