Mazda MX-30 Battery-Electric Crossover Review - There's More To The Story
Mazda is an interesting brand. Presently undergoing a successful transition from mainstream to the premium market segment, the company is well-known among automotive testing publications as the brand that builds the most engaging vehicles in the segments in which it opts to compete. One segment Mazda didn't opt to compete in is green vehicles. Until now. Here's what the MX-30 is all about, and why many reviews you might find are not as positive as the ones Mazda usually earns.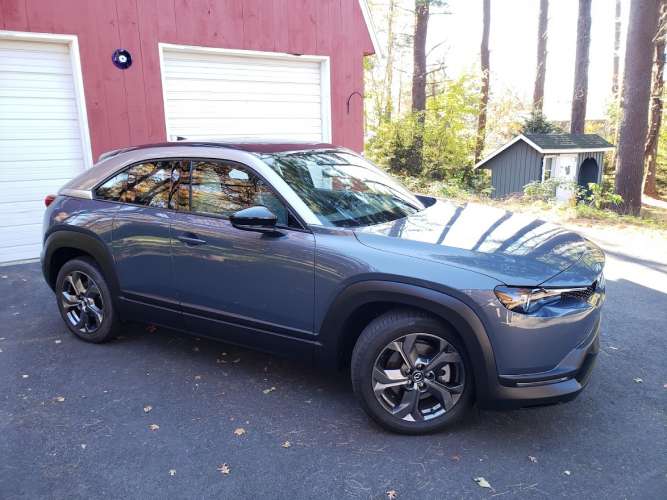 Mazda MX-30 What Is It?
The Mazda MX-30 is a smaller-than-compact crossover vehicle. It seats five passengers and has four side doors and a rear hatch. So far, it sounds pretty typical. But there's more. The rear side doors are unusual in that they open outward from their rear, not the front, as in most vehicle doors. The MX-30 also is front-wheel drive only, which is a tough sell for crossover shoppers in many wintery climates. Finally, the Mazda MX-30 is a battery-electric vehicle (battery-only) with a range of 100 miles. So what is the Mazda MX-30 really? It's a vehicle that puts the brand ahead of Tesla, Lincoln, Subaru, Acura, Infiniti, Genesis, and Lexus in a very important segment. It is also a test-bed for many new things Mazda is planning.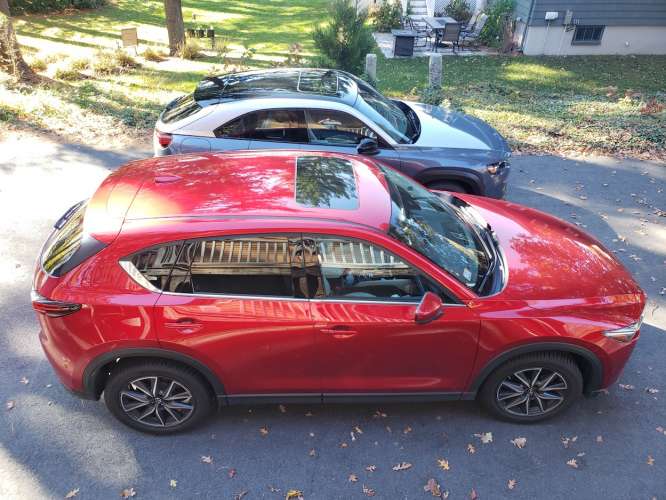 Mazda MX-30 - How Big Is It?
Mazda says the MX-30 has a 90 cubic foot passenger volume and 21 cubic foot cargo volume behind the rear seats. That is very close to the size of a Hyundai Kona EV, Nissan Leaf, or Chevy Bolt EUV. The front is roomy in the way a Mazda CX-30 is, but the rear seats and cargo area seem a bit smaller to us. We posed the MX-30 side by side with the compact CX-5 for a photo and the size difference between the CX-5 and MX-30 was pretty obvious.
Mazda MX-30 - How Does It Drive?
The MX-30 has a small electric motor with just 143 hp. The torque number is more respectable at 200 lb-ft. Off the line, the MX-30 is smooth, but not quick in any sense of the word. The Bolt EUV feels a bit snappier. Once underway, the motor pulls its weight pretty well as long as you are not expecting a sporty vehicle, and why would you? The consumer cost of this vehicle is no place close to that of a sporty vehicle.
Handling is fine. The MX-30 feels a lot like any other smaller-than-compact front-wheel drive crossover vehicle. We found braking to feel normal in all regards. The best way to summarize the MX-30 would be to say it is unremarkable. It does not feel slow in normal driving, and it has no bad habits in the suburbs, city, or on the highway.

Related: See More MX-30 Features and Details Here.
MX-30 - What Will the Consumer Cost Be?
We predict that consumers in California will end up with a cost between $20K and $25K for the MX-30 after incentives and discounts are factored in. Mazda plans to introduce the MX-30 in California first. Let's circle back to how much this vehicle will cost a consumer after the corporate welfare bill is signed into law and manufacturers have a fighting chance at the parts they need to build vehicles. We'll know more then.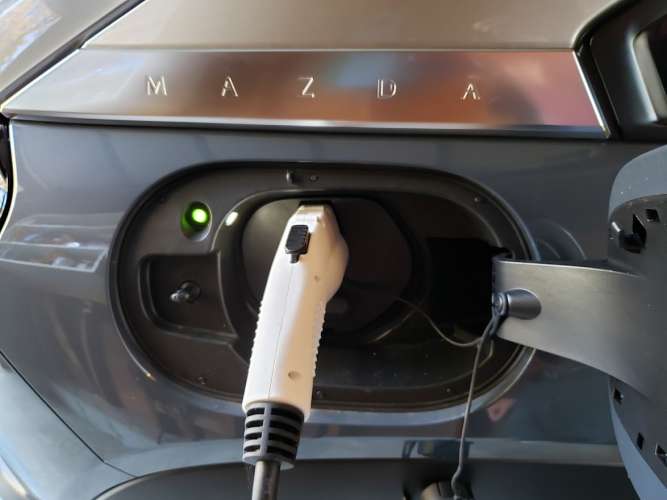 Mazda MX-30 - Living Electric
The range of the MX-30 will seem low compared to the Bolt EUV, Hyundai Kona, and Kia Niro EV. With just 100 miles in ideal weather, the Mazda MX-30 seems to be a bit short of the 200-mile+ range consumers have come to expect. Unless the consumers are those who shop for a MINI EV (110 Miles) or who have owned past Leafs (less than 100 miles). Range is subjective and also objective. How much is enough for your plans for the vehicle is all that matters.
When the modern age of EVs began, EV experts told anyone who would listen that most Americans drive less than 50 miles per day and that trips of more than 70 miles made up just one-percent of journeys. The average urban-based vehicle had a 36.5-mile daily driving average. The experts seemed convinced that the range of EVs was not important.
We used the MX-30 every day it was in our driveway and it never once kept us from going where we wished to go. However, had we wished to go see our son away at college or visit our vacation spot, the MX-30 would not have been a viable option. So we would have instead taken one of our other vehicles. No biggie. So what will the folks do who wish to jam a square peg into a round hole? Mazda says the company will set them up with a loaner car for up to 10 days per year for each of the first three years they own (or lease) the vehicle. If that car could reliably be a Miata, I'd lease an MX-30 tomorrow.
At home, we have a Level 2 charger (EVSE) that operates on a 20 A 240 V circuit. It put about 11 miles of range into the MX-30 for every hour it was charging. Including the last hour. The MX-30 did not seem to slow its rate of charge at all after 80%, something most EVs do. Most EV owners will have a Level 2 charger with a 50 A circuit which will charge the vehicle much more quickly.
It's hard for us to see the MX-30 being a vehicle that folks will publicly charge out of necessity. With a range so short, we suspect this will be more of a second car option for most operating well within its 50-mile radius from home. However, if while shopping a charging space is free at the mall, why not grab some miles? If the charger is a ChargePoint branded unit you won't have to pay. Every MX-30 comes with a $500 ChargePoint account credit. That is roughly equivalent to a full year of charging miles.
What Is the Mazda MX-30's Mission?
Don't expect any happy cross-country road trip stories featuring the MX-30. That's not its mission. In its press materials, Mazda says the MX-30 is designed to meet the needs of urban residents. Presumably, urban residents who don't use public transportation or take frequent long trips out of said urban area.
Mazda MX-30 - Who Will Buy It - How Will They Use It?
Having lived with the MX-30 for a week in a household that has three gasoline-powered crossovers serving four drivers, we feel the MX-30 would be a great substitute for one or two of those gas burners. One of us works about 25 miles from home and it would be a great commuter vehicle in most weather. Two other drivers almost never drive more than 50 miles per trip. So, the MX-30, or a vehicle like it, could also substitute for a second of our three gas-burners. We really only need one vehicle with a radius of operation from home longer than 50 miles.
Chevy Bolt leases were costing owners in our state of Massachusetts under $150 per month with no money down (due to a state EV rebate) earlier this year. If this Mazda MX-30 had a similar deal, it would be a slam dunk for our family. We own a CX-5, and Mazda's dealer support network is fantastic in our area. Would the MX-30 replace our CX-5 if we only had one vehicle? Of course not. It was not designed to fill that role. Would the MX-30 be a viable alternative to a longer-range Bolt EUV or Hyundai Kona EV? Sure it would. Mazda's crossovers earn the highest possible scores from Consumer Reports and also earn the highest possible scores in IIHS safety testing. Range is only one consideration when purchasing a second vehicle.
Conclusion - Mazda MX-30
Those publications that took the opportunity to bash Mazda's first battery-electric vehicle should compare it to the affordable crossover BEVs from Mitsubishi, Subaru, Acura, Lincoln, Tesla, Lexus, and Infiniti they have driven. Let's also bear in mind that the Bolt and Bolt EUV are not presently for sale. The market for a small crossover with a consumer cost in the low $20Ks has been wide open. Mazda stepped up.
Image of MX-30 charging publicly courtesy of Mazda. Others by the author.
John Goreham is a long-time New England Motor Press Association member and recovering engineer. John's interest in EVs goes back to 1990 when he designed the thermal control system for an EV battery as part of an academic team. After earning his mechanical engineering degree, John completed a marketing program at Northeastern University and worked with automotive component manufacturers, in the semiconductor industry, and in biotech. In addition to Torque News, John's work has appeared in print in dozens of American news outlets and he provides reviews to many vehicle shopping sites. You can follow John on TikTok @ToknCars, on Twitter, and view his credentials at Linkedin
Re-Publication. If you wish to re-use this content, please contact Torque News for terms and conditions.