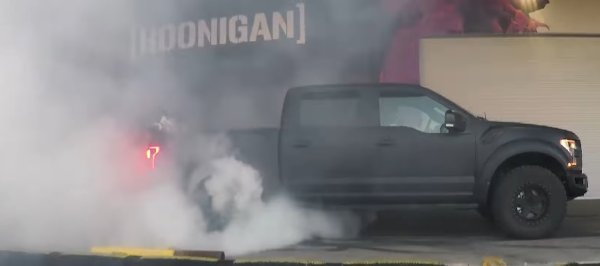 Ken Block Loves His New F150 Raptor, Celebrates Ownership with a Huge Burnout
Please
SHARE
with friends and include TorqueNews in
Google Alerts
for tomorrow's interesting stories.
Over the past few years, we have seen Ken Block pilot a variety of Ford vehicles in action packed videos, including a handful of Fiesta and Focus rally cars as well as various F150 Raptor pickups. Block has previously shown off his own high performance Ford pickups, including a 1st gen Raptor with tank-like tracks rather than tires, but with the arrival of the 2017 Raptor – the Head Hoonigan in Charge has moved on to the 450hp F150.
Based on the information in the video below, Ken Block has recently taken delivery of his 2017 Ford F150 Raptor so it is mechanically stock, although the matte black exterior layout looks like it might be an aftermarket job. Shortly after getting the new Raptor, Block and his family were planning a 1,000-mile trip when they stopped by the Hoonigan World Headquarters. While there, his team talked him into doing a quick burnout before hitting the road – and he did just that.
Block Loves the New Raptor
Before getting into the tire smoking action, Ken Block talks a bit about his new Ford F150 Raptor, praising the performance capabilities along with the fit and finish of the Motor Company's newest high performance pickup. He talks about the length at which he has tested the new Raptor, including plenty of time tossing it through the air, and the world renowned rally racer leaves no question that he loves his new F150.
Ken Block also thanks his tire sponsor Toyo, as their support allows him to do things like a big, nasty burnout with brand new tires. After that, the good stuff starts.
While Ken Block may have planned to do a quick burnout with his 2017 F150 Raptor, he ends up roasting the tires for roughly 51 seconds. During that time, smoke practically fills the Hoonigan HQ loading dock as the throaty 3.5L EcoBoost roars. It is an epic burnout and it is likely to be one of the best we see from the new Raptor, thanks to the fact that Ken Block doesn't need to worry about replacing those expensive rear tires.
The video ends with some local friends of the Hoonigan team walking up to check out the cause of the smoke show while Ken's kids – all wearing superimposed Ken Block masks to protect their privacy – play with the fistfuls of discarded rubber dust.
Please
SHARE
with friends and include TorqueNews in
Google Alerts
for tomorrow's interesting stories.